The Incredible Hulk Coaster is being slowly demolished, piece by piece at Universal Orlando's Islands of Adventure. The park isn't completely taking it out, but it is replacing the track. The track is laying in pieces in a junk yard in Orlando. So the big question is, what company will be replacing it? There are several rumors out there, and most come from pretty credible sources. So which is going to happen?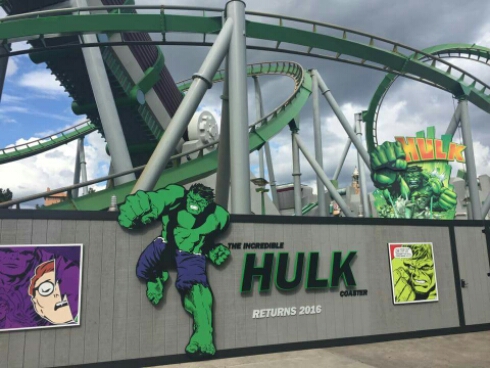 Alright, first up is Screamscape. According to the rumor juggernaut, the coaster could be redone by another company. The simple fact is, that B&M is just too busy to produce another coaster for 2016. Universal has another company in place, though he's not exactly sure.
Next up is Theme Park Insider.According to them, they contacted Universal, and they were told flat out…YES, B&M will be providing the track. The manufacturer and the park apparently have had this deal locked down for a long time, and there's no worry, the coaster will be the original manufacturer.
Then there's another rumor, albeit, from an untested source. Hulk is going to be a coaster from another park, that will be transplanted to Universal. This one sounds off, and most likely isn't in any way true, simply because (as of right now) the park has not started removing supports, and tearing up footers. If the park went this route, it would have to completely and totally change the ride layout to fit this used coaster. It doesn't seem feasible, especially when the park can simply (at worst) hire another company to build the coaster.
Another rumor, which is equally as odd, is to have coaster company Giovanola make the track. This could be a logical move, since Giovanola has designed coasters very similar to B&M's and has even worked with the company in the past to make track for B&M coasters.
So what is the answer? Really, it's anyone's guess, but it looks like we'll just have to keep watching the coaster as track comes down, and new track goes up.

Stay tuned for more from Universal, and be sure to get social with us on Facebook and follow along with us on Twitter @BehindThrills for the latest updates!
For our latest theme park videos please be sure to subscribe to us on YouTube!
For more information about Universal Orlando, including tickets, visit the official website by clicking here!