It's been a gut wrenching process, but the Incredible Hulk Coaster at Universal Orlando finally seems to have hit the end of the demolition process. The coaster is undergoing a heavy refurbishment, for a Summer 2016 reopening. The coaster will return, with the same green track, same layout, and same coaster company making the beast roar again. A reader sent in some pics of the area, now that the entire coaster has been removed…and it's a bit of a shock.
The only piece that remains of the coaster, is the huge launch tube. The iconic green track which used to stretch into the Lagoon has been completely and totally removed, all the way down to the supports. The only thing that remains are the footers for the coaster, which anchor the supports and track to the ground. The area is also eerily quiet, with the only major noise now coming from Dr. Doom's FearFall.
Video-Check out the area without a Hulk
It's enough to give longtime fans a panic attack, but don't worry, the big guy is coming back and better than ever! Track will start to roll in, in just a few months, and will be ready to install. It's not clear if the park will use the existing footers, or if they will tear those out, and put brand new ones in. That is usually the most lengthy and tedious part of a roller coaster installation.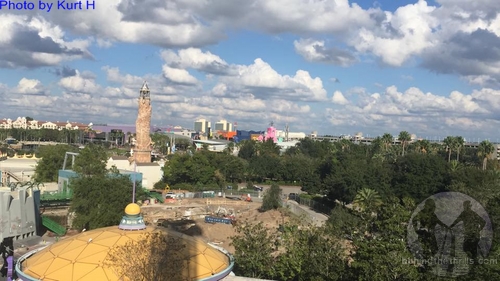 From the pictures, you can see that the coaster, and any supporting nets and and pieces are gone from the area. The launch tube sits like a big purple cannon waiting to blast something out of the sky. When the coaster opens, it will most likely have the all new B&M Launch system, the same that made it's debut on Thunderbird at Holiday World this past Spring. It will also have all new trains, queue elements, and obviously new track. The coaster will be 100% brand new, which begs the question for those who count "Coaster Credits", will this count as an all new coaster credit?
Slideshow-Check out even more pictures from Hulk



Click here if you can't view the slideshow
Stay tuned for more from Universal Orlando, and be sure to get social with us on Facebook and follow along with us on Twitter @BehindThrills for the latest updates!
For our latest theme park videos please be sure to subscribe to us on YouTube!
For more information about Universal Orlando, including tickets, visit the official website by clicking here!