Last week, Universal Orlando announced that Beetlejuice and his band of music making monsters will be staying on for another month. The park announced that despite the construction for the brand new Fast & Furious Supercharged, slated to open in 2017, they will not close the show in December as originally planned. In fact, rumors suggest that not only will the park keep the show open a little longer, but there could be a movement within management to keep it open permanently.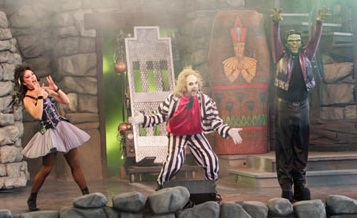 The show was originally slated to close this week at Universal Studios Florida, but due to huge complaints from fans, and the on coming Christmas season, the park has decided to keep it open just a little longer. The new closing date will be January 5th. Right after the busy holiday season comes to a close, the park will shutter the ghost with the most forever…or will it?
According to a few inside sources, there's been a bit of a movement to keep the show open throughout construction. The park could move it to a new venue as a permanent home, with the obvious choice being the Fear Factor Live stage. The only problem with that is the show would close in late August, in order to be converted into the Bill and Ted show for Halloween Horror Nights. Another suggestion is that the show will be moved to Islands of Adventure, and into the empty Toon Lagoon Ampitheatre, temporarily. Still, one more suggestion has the show taking over the Animal Actors stage.
While fans would love to see the show live on, it's highly unlikely at this point. Fast and Furious has already laid claim to Disaster, and will most likely use a large portion of that attraction as the ride building. Beetlejuice will more than likely serve as the queue and pre-show area for the attraction, as the ride is said to being much larger than the Hollywood version by far.
What do you think, do you want to see Beetlejuice stay or is it time to say it three times and send him back to the grave?
Stay tuned for more from Universal Orlando, and be sure to get social with us on Facebook and follow along with us on Twitter @BehindThrills for the latest updates!
For our latest theme park videos please be sure to subscribe to us on YouTube!
For more information about Universal Orlando, including tickets, visit the official website by clicking here!