Today, Motiongate Dubai announced all the details, the attraction line up, and the 13 movies guests will be able to experience when the all new park opens this October. The park is bringing together three Hollywood studio legends: DreamWorks Animation, Sony Pictures Studios & Lionsgate for five themed zones, 27 new attractions and all of it one place.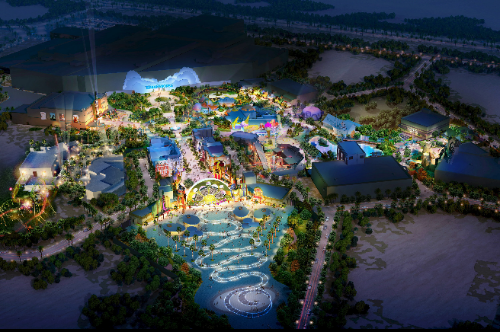 The details came today from Dubai's next major family destination. The ambitious details will all come to life this October when the park is scheduled to open. The park will feature attractions based on Ghostbusters, The Hunger Games, Smurfs, Shrek and much more.
"We are taking guests beyond the screen, into a world of cinematic adventure at motiongate™ Dubai. With an action-packed line-up of Hollywood-inspired rides and attractions from fast-paced roller coasters, multi-sensory theatre shows to imaginative play areas, plus a full line-up of live entertainment shows, there is something for everyone," said Guido Zucchi, General Manager of motiongate™ Dubai.

"Movies are a favourite leisure pursuit in this region, and motiongate™ Dubai is combining the best of Hollywood cinema, theme parks and live entertainment to create an amazing experience for our guests throughout their journey at Dubai Parks and Resorts. With so much on offer in our destination, we are confident Dubai Parks and Resorts will be creating unforgettable memories for everyone," said Stanford Pinto, Chief Parks Operating Officer, Dubai Parks and Resorts.
So eat can guests expect?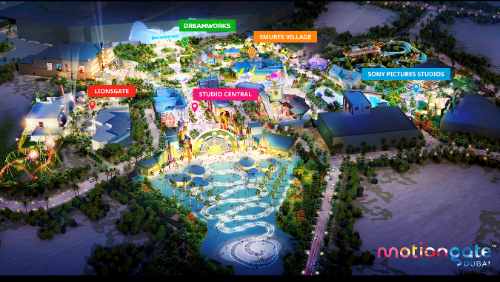 Five movie-themed zones will take guests through different studios and films: Sony Pictures Studios, Smurfs Village, DreamWorks, Lionsgate and Studio Central. 27 key rides and attractions for all age groups, including 5 roller coasters
will make up the new park including many dark rides and experiences you can only find in Dubai. 15 live entertainment experiences
will also level out the offerings, by giving guests a break from the attractions.
We'll take you through each zone and break down the attractions.
The cinematic journey begins at Studio Central, the park's entry boulevard which transports guests to the Golden Age of Hollywood.
ZONE: STUDIO CENTRAL

TWO LIVE ENTERTAINMENT SHOWS

LIVE ENTERTAINMENT EXPERIENCES

Opening Ceremony A daily song and dance production featuring favourite Hollywood characters to welcome guests into the park.
Backlot Crew A roaming interactive show led by a quirky film director character and his comedic film crew.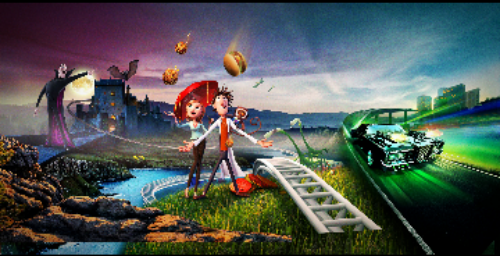 ZONE: SONY PICTURES STUDIOS –
SEVEN RIDES & ATTRACTIONS / SIX LIVE ENTERTAINMENT SHOWS

Hotel Transylvania: A frenetic, fun dark ride inside the world's only hotel for monsters.
Cloudy with a Chance of Meatballs-River Expedition: A splashing water rapids family ride, where guests voyage through Swallow Falls aboard an inflatable raft.
Flint's Imagination Lab

(Cloudy with a Chance of Meatballs): An interactive and experimental play lab with larger than life foam food objects.
Zombieland: Blast Off A 58m drop tower that blasts guests up, down and more!
Ghostbusters: Battle for New York An interactive dark ride and shooting game where guests can shoot at various targets for points.
The Green Hornet: High Speed Chase A fast-paced roller coaster that sends guests speeding through sharp turns and dizzying drops.
Underworld 4D : A multi-sensory experience with 4D theatre effects including seat vibration, air blasts, mist, wind and lighting effects.
LIVE ENTERTAINMENT EXPERIENCES
Backlot Beat: A group of young artists dancing and singing the top hits of yesterday and today.
Ghostbusters The Ghostbusters as a singing, dancing boy band.
Hotel Transylvania Count Dracula and his family of monsters perform song and dance numbers.
Cloudy with a Chance of Meatballs Curious young inventor Flint Lockwood and Sam Sparks meet with fans.
The Green Hornet The Green Hornet and Kato share crime fighting tips with guests.
Underworld Selene, the vampire heroine of the Underworld poses for photos.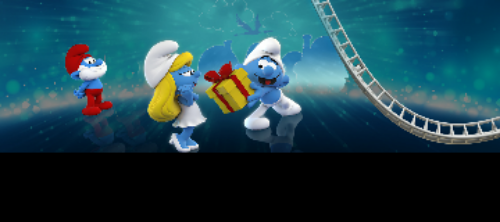 ZONE: SMURFS VILLAGE

5 RIDES & ATTRACTIONS / 1 LIVE ENTERTAINMENT SHOW

RIDE
Smurfs Studio Tour A family ride that takes guests behind the scenes of the Smurfs working studio.
Smurfs Village Playhouse A live theatre show where guests can interact with animated Smurfs.
Smurfs Village Express A family-friendly roller coaster journey through Smurfs Village.
Woodland Play Park An adventure playground with rope bridges, slides and mushroom-shaped houses.
Smurfberry Factory An interactive soft play area with large foam Smurfberries.
LIVE SHOW EXPERIENCE
The Smurfs Character encounters with the colony of little blue friends.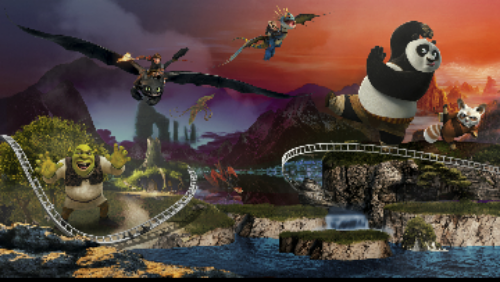 ZONE: DREAMWORKS

12 RIDES & ATTRACTIONS / FOUR LIVE ENTERTAINMENT SHOWS

RIDE
Shrek's Merry Fairy Tale Journey: An interactive dark ride which revisits the story of how Shrek and Fiona met in a memorable way.
Swamp Celebration
(Shrek) :A family ride where guests sit in a hollowed out log that glides and spins.
Madagascar Mad Pursuit: A white knuckle roller coaster ride that takes guests on a windy course filled with sharp turns.
Melman Go-Round
(Madagascar): An animated carousel family ride featuring Madagascar characters.
Penguin Air
(Madagascar): A family ride where guests ride on rotating hang glider aircrafts.
Kung Fu Panda: Unstoppable Awesomeness A 3D multi-sensory theatre experience with special theatre effects.
Mr. Ping's Noodle Fling
(Kung Fu Panda): A classic teacup ride, but in whimsical noodle bowls where guests can control how fast they spin.
Kung Fu Panda Academy: An interactive, live stage show, where participants can learn the art of kung fu from the masters.
Dragon Gliders
(How To Train Your Dragon): An exhilarating suspended roller coaster that soars high above.
Camp Viking
(How To Train Your Dragon) An interactive, adventure water play area for families with wet and dry areas.
Swinging Viking A classic swinging ride on a Viking ship which glides back and forth.
Fountain of Dreams A multi-media fountain with water and light displays which showcases some of DreamWorks' favourite characters.
LIVE ENTERTAINMENT EXPERIENCES
Shrek Shrek, Fiona and friends meet and greet fans.
em King Julian and the characters from Madagascar put on a comedic show for diners.
Madagascar: King Julien's Side Show Café Captain Chantel DuBois entertains diners as she hunts the escaped Zoosters.
How To Train Your Dragon A not-to-miss photo opportunity with a larger-than-life Toothless and his friends Astrid and Hiccup.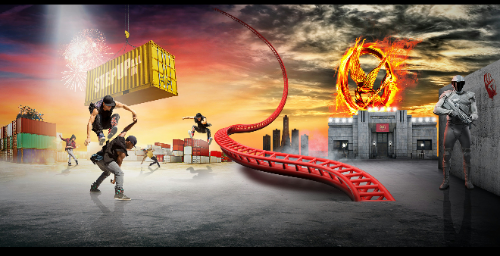 ZONE: LIONSGATE
3 RIDES & ATTRACTIONS
RIDE
Capitol Bullet Train
(The Hunger Games) An adrenaline-fuelled roller coaster experience which launches guests in all directions.
Panem Aerial Tour
(The Hunger Games) An immersive 3D motion simulator where guests ride a soaring hovercraft.
Step Up Dubai, All In! A high energy stage show featuring live hip hop dancers, pop singers and rappers.
That's a massive line up, and quite impressive. It will be interesting to see how all the dark ride and coaster experiences work out, but there certainly seems to be a pretty level attraction base for all members of the family.
Stay tuned for more from Motiongate Dubai, and be sure to get social with us on Facebook and follow along with us on Twitter @BehindThrills for the latest updates!
For our latest theme park videos please be sure to subscribe to us on YouTube!
For more information about Motiongate Dubai, including tickets, visit the official website by clicking here!