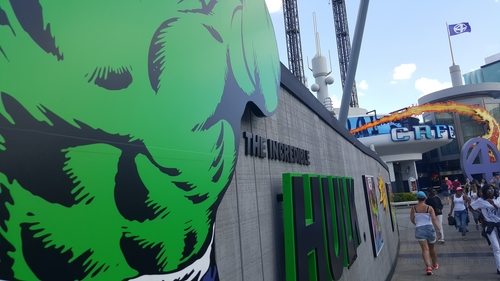 One of the most anticipated new rides this year isn't even new…well, not exactly new. The Incredible Hulk at Universal Orlando is undergoing a huge restructuring. From the track, the trains, the launch system…even the queue and storyline! The Hulk coaster is going to be an all new beast, all while sticking to the same coaster layout you love.
We stopped by Islands of Adventure for a look at the massive green monster.
The coaster has been testing the trains periodically, though we didn't get to see them while we were visiting. Those who have seen the coaster has said that while it still has it's signature "ROAR" the track does seem a little quieter. The roar comes from the supports and rails being hollow. Filling the supports and rails with sand or gravel makes it quieter, though the coaster still gets a great signature sound as you scream by.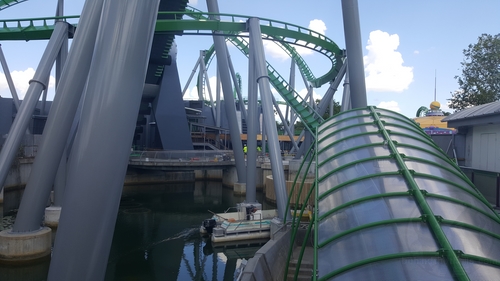 The construction site has given guests a great look at what's going on by adding some cool little peepholes. The look of the building looks like it's going to be an all new beast, with an all new layout. There will be more story in the queue, as well as new storyline. You'll also get to actually see Hulk as you board the coaster.
There is no opening date on the coaster currently, but many people are pointing at a mid-July opening date. While that is a bit later than many hoped, it's still in the "Summer" time frame that Universal promised. Regardless, it's going to be an amazing ride, worth waiting for.
Slideshow-Check out even more pictures from Universal Orlando
Click here if you can't view the slideshow
Stay tuned for more from Universal, and be sure to get social with us on Facebook and follow along with us on Twitter @BehindThrills for the latest updates!
For our latest theme park videos please be sure to subscribe to us on YouTube!
For more information about Universal Orlando, including tickets, visit the official website by clicking here!