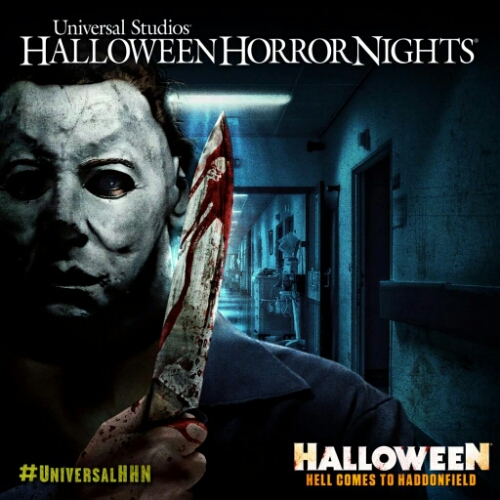 In all of horror, there is no face or name more recognizable than Michael Myers. The white faced, knife wielding maniac has been terrorizing audiences for almost 40 years in the Halloween series. He is one of the most requested names at Halloween Horror Nights in both Orlando and Hollywood, and now…he has come back to finish what he started.
Today, Universal Orlando and Hollywood announced that they will once again bring Michael Myers to life in all new houses at both events.
http://www.youtube.com/watch?v=1i-65y0CPEQ
"Hell Comes to Haddonfield" will bring a new story to life as the h9use explores the second film. You'll explore all the places from the second film, including the hospital where Michael will stalk you. You'll even get to see Myers meet his "fiery end".
In 2014, Universal Orlando brought Michael Myers to life with a scene for scene recreation of the John Carpenter Classic, Halloween. It was one of the best mazes that the event had ever done, and stands as one of the biggest fan favorites.

Last year at Halloween Horror Nights Hollywood, they brought the story of Michael Myers to life in their own way.

This year, both coasts will be working with producer Malek Akkad, who brought so many films in the series to life.
This comes at the perfect time, as this is the 35th anniversary of Halloween 2, which was released in 1981. The film is also getting a major reboot by Blumhouse, and the master of horror John Carpenter next year!
Stay tuned for more from Halloween Horror Nights, and be sure to get social with us on Facebook and follow along with us on Twitter @BehindThrills for the latest updates!
For our latest theme park videos please be sure to subscribe to us on YouTube!
For more information about HHN, including tickets, visit the official website by clicking here!