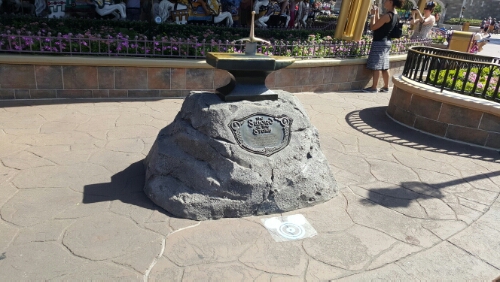 Over the busy 4th of July holiday week, Walt Disney World began testing an all new feature for capturing photos that could be coming to the My Disney Experience app.
We had the opportunity to check out the new experience, and it's definitely an interesting look at where the company is going with products like PhotoPass.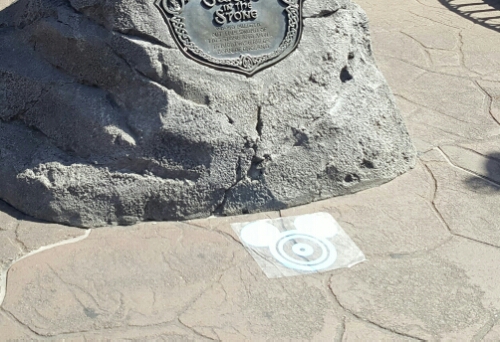 The option uses the My Disney Experience app for hidden photo opportunities. Using a cell phone that Disney provided, we were given the chance to take a picture in front of the sword in the stone in Fanatasyland. The option makes your phone vibrate when a spot is nearby, and pops up with a notification. From there you simply stand on the blue Mickey ears and hit the "ready button in the app.
There is a countdown and you instantly get a picture sent to your phone.
The feature was testing, and not available on our personal phones, but only on the Research Team Members phone, so we could not get videos or pictures. We were given a photo pass card, but it wasn't linking to anything at the time.
The idea is definitely a neat one, and could make for some great photo opportunities. It was easy to use, but there was no direction of which way to face, so there were several pictures of us looking in other areas.
The upside with an app like this is that you will not have to wait for a photographer. The downside is that once everyone finds out about the hidden spots, the lines could get huge.
Still, the idea is kind of fun. As you walk along the park, your phone tells you there's a hidden spot, and you take a picture that not everyone might know about. While the feature is only in the testing stage (and the early.stage from what we gather), the one way this could work would be if the areas change, and they are off the beaten path.
While everyone wants a picture in front of the castle, not many may want a spot on the side of the castle, or in a quiet garden. It could provide a very unique experience to a park that makes it hard to get a decent quiet picture.
Stay tuned for more from Disney, and be sure to get social with us on Facebook and follow along with us on Twitter @BehindThrills for the latest updates!
For our latest theme park videos please be sure to subscribe to us on YouTube!
For more information about Walt Disney World, including tickets, visit the official website by clicking here!