Today during ScareLA panel Horror Nights made a major announcement during the 2016 Halloween Horror Nights panel. The whole panel began with a closer look at the Krampus attraction which was announced earlier this week. Lots of new details were revealed, a Krampus placed atop the facade as well as the fact that Krampus will be this year's twitter interactive maze. If you walk up to the front of the maze and give a special password, you'll get a custom made old German inspired Christmas card!
John Murdy and Chris Williams then talked about The Exorcist maze.  John started by talking about his history with the Catholic Church as an alter boy and how that affects him personally. Both Chris and John consider The Exorcist the scariest movie ever made and how they'll do the film justice.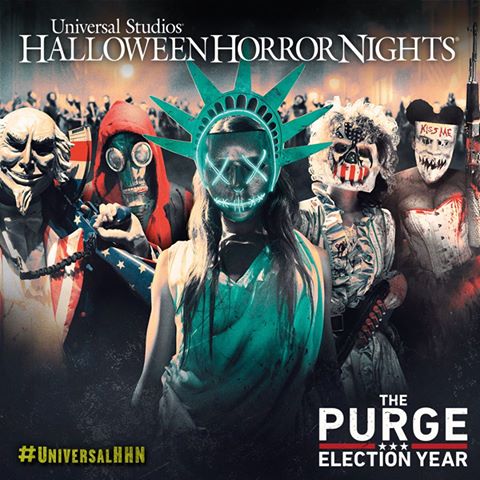 At the end of the panel John announced that The Purge Election Year will be coming to HHN 2016 as a "Mega Scare Zone". It'll not just be a street, but multiple dedicated section of the park encompassing Universal Plaza and Parisian Plaza as the epicenter. LOTS of actors, and thematic details. The purge will also be featured on the Lower Lot as well as the Opening Scaremony. Nothing on this scare has ever been done in Hollywood, but a few years back HHN Orlando featured a park-wide Walking Dead scarezone. This will be a similar scale but themed completely to all of the Purge movies.
The purge has been a major part of HHN Hollywood since 2013 as a scare zone, and last year it was featured primarily on Terror Tram as a 15 minute experience.
There's still another huge Maze announcement to be made for Hollywood as well as Terror Tram. This promises to be the biggest years in HHN Hollywood history.
Stay tuned for more from Halloween Horror Nights, and be sure to get social with us on Facebook and follow along with us on Twitter @BehindThrills for the latest updates!
For our latest theme park videos please be sure to subscribe to us on YouTube!
For more information about HHN, including tickets, visit the official website by clicking here!