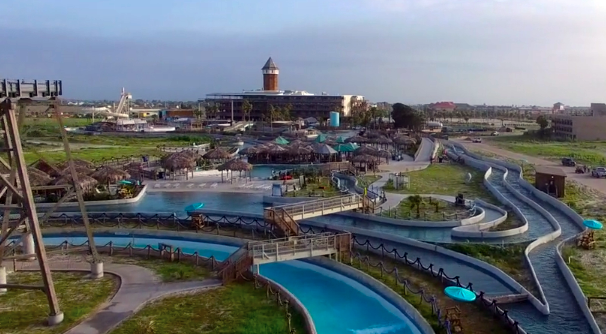 Schlitterbahn Waterparks have had some rough going over the past two years, pretty much ever since the death of a ten year old boy on Verrukt at Schlitterbahn Kansas City.
The owners are facing 2nd degree murder charges, and several parks in the Schlitterbahn chain have not been cleared to open this weekend, with the state citing numerous safety violations.
The financial woes don't stop there, as the Corpus Christi location was recently sold in auction to IBC bank. The foreclosure came after Schlitterbahn failed to pay their debts, and IBC was forced to foreclose. The property sold for $20 million, for the park and 203 surrounding acres, making it pretty much a steal.
Our friends over at InPark have a story  about how EPR Properties is expressing concern about the potential murder charges and how that Schlitterbahn execs are facing, and the continued financial woes of the Waterpark chain. In the SEC documents filed, the property management company says "Recent criminal indictments against [the] waterpark mortgagor and certain related parties may negatively impact the likelihood of repayment of the related mortgage loans secured by the waterpark and other collateral and have a material adverse effect on [EPR Properties'] business, operating results, cash flows, financial condition and liquidity."
Put in short, Schlitterbahn is in big trouble and they could be facing tons of legal action, which will keep the waterpark chain from paying EPR Properties back the money that they are owed.
So what's the solution? Where could EPR be heading with this?
Like the Corpus Christi location, the other locations could go up for auction, in order for the debt to EPR to be paid off. Another possible scenario is that EPR could actually take over the properties from Schlitterbahn, and could become the new owners. It's a very likely scenario, especially if EPR takes the case to court.
So what could happen to Schlitterbahn after that?
Premier Properties has just sold leasing and operation rights for five parks that are owned by EPR properties. Six Flags now has operations and leasing rights for those five parks, all of which will be under the Six Flags name.
EPR, Premier and Six Flags all have a long standing relationship with each other, so it's not too outside the realm of possibility to think that Six Flags could acquire and operate the remaining Schlitterbahn properties.
So you could end up having several new Six Flags waterparks and properties within the next few years.
Keep in mind that this is merely conjecture, and in no way actually happening, though the possibility for it is growing with every safety violation that Schlitterbahn receives, which seems to be growing daily.
What do you think? Will Schlitterbahn end up being a Six Flags park, and do you see good things coming from that?
Stay tuned for more, and be sure to get social with us on Facebook and follow along with us on Twitter @BehindThrills for the latest updates!
For our latest theme park videos please be sure to subscribe to us on YouTube!