Earlier this week, Zhonghong Co Ltd. announced official plans for the first SeaWorld park in Asia. According to our friends at Zoo Nation the new park will be located off the coast of Haikou, located on the Hainan Island in China. The new park will be located on a man-made island, that is currently under construction. It will be built in three phases, and will be in the shape of a "Ruyi", which if you can tell from the picture kind of looks like a scepter.
In a press release, Zhonghon Co said:
"Ruyi Island brings together the valuable coastal and riverside resources in Haikou, the original natural features and the ecological advantages of zero industrial pollution, and is very suitable for the development, construction, and operation of a SeaWorld theme park."
The news comes at a time when the Chinese government announced a policy that will allow tourists from 59 countries stay in the Chinese province for up to 30 days without a Visa. It seems like the perfect storm to launch not only a new theme park, but a whole new island aimed at tourism.
This is not the first international SeaWorld park announced, as SeaWorld Abu Dhabi is currently under construction and slated for a 2022. It was announced as the first SeaWorld park to not include Orcas. The big question for the new SeaWorld China park, of course, "will it have Orcas"?
In 2016, then CEO Joel Manby announced that SeaWorld would be phasing out Orcas, with a ban on breeding in park, and a huge change to the Killer Whale shows. It was a move that seemed to give into activists, and hurt relations with longtime fans. He also announced that moving forward, no SeaWorld park in China will have Orcas. Joel Manby is no long with the company.
Will SeaWorld China have Orcas, just as Joel Manby predicted, or will the company stock the new park with the key ingredient that has made them so successful in the past? That's one we will have to watch out for.
Also, if the idea of an Island based SeaWorld park seems familiar, then you have to remember the plans for Nakheel Island in Dubai.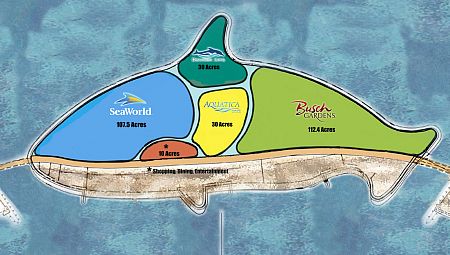 Those original plans called for a 107.5 acre, whale shaped island in Dubai. While the plans were announced in 2008, it wasn't long after before the plan was eventually scrapped. The current SeaWorld Abu Dhabi is being planned for Yas Island, and will be built and managed by the same company that operates Ferrari World.
As for SeaWorld China, there are currently no confirmed dates for the park opening, but the earliest I would expect anything would be in 2023, a year after Abu Dhabi.
Update
The first quarter conference call happened today for SeaWorld. The question was asked about the new park to which the response was "We have nothing to announce, we are working with Zhonghong".
Sounds like it could be still too early for a worldwide roll out.
Stay tuned for more from Sea World Orlando, and be sure to get social with us on Facebook and follow along with us on Twitter @BehindThrills for the latest updates!
For our latest theme park videos please be sure to subscribe to us on YouTube!
For more information about SeaWorld Orlando, including tickets, visit the official website by clicking here!