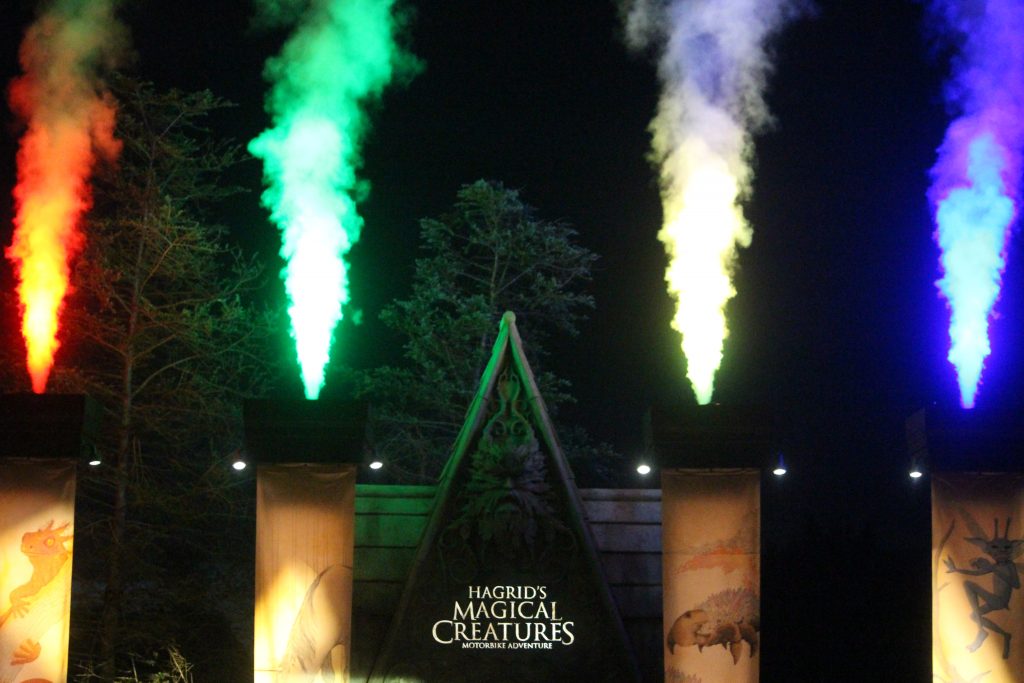 I'm sure you've seen it by now. 10 hour waits on opening day, huge lines, and insane amounts of people. There might have even been blogs that chastised Universal for it. But, at the end of the day, Universal crafted a massive new attraction that isn't a new land, isn't connected to a screen and breaks the rules of what many thought a roller coaster was supposed to be. Why did line get so long, and how can you avoid it? What happened at the grand opening, and can you avoid the lines? We'll tell you all about it and how you can avoid the long lines. Did we tell you that we can tell you how to avoid the long lines? Well…okay, maybe you'll still wait, but we do have a bit of an inside track on how to make the lines less at any rate.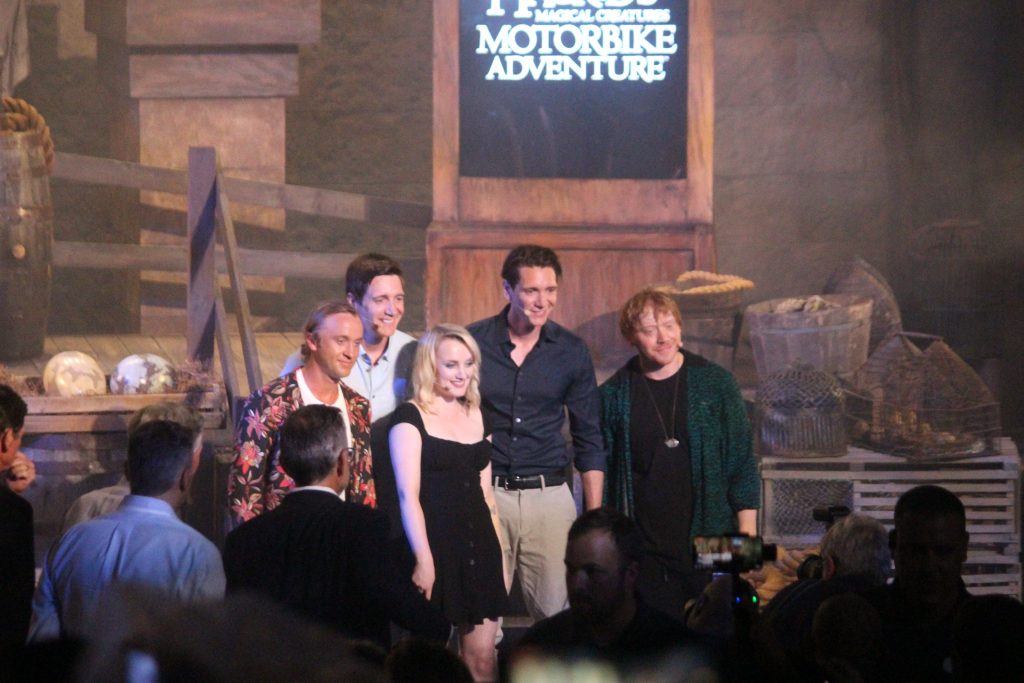 The cast of several Harry Potter films, including James and Oliver Phelps, Tom Felton, Ivanna Lynch, Rupert Grint and Warwick Davis were on hand for both the media grand opening as well as the day grand opening. They were among the first to ride, and during the day even surprised and rode with guests on the coaster.
Video-Check out the amazing grand opening celebration of Hagrid's Magical Motorbike Adventure!
While the grand opening saw the cast, what it also saw was massive waits. Yes, that part was real. At one point, the Universal Orlando app was showing 10 hour waits. The park opened at 5 am to let guests line up, but they didn't start allowing guests into the land until much later (I think around 8 am). The line was massive, and yes, as any opening day attraction there were some glitches and downtime. The ride is very susceptible to weather, just like other launch coasters like Cheetah Hunt, and naturally June is a very wet time of year.
Over the past few days, the attraction has found it's footing and there have been average waits of about 3-6 hours. It's a new ride folks, of course there will be a long wait.
Honestly the best thing about the long lines are the interactions from other major Twitter Accounts. Other parks and business are poking fun, and just having fun. One of our favorites includes The Orlando International Airport.
You'll be on before you know it. #HagridsMotorbikeAdventure pic.twitter.com/prb9F1ixWV

— Orlando International Airport (@MCO) June 13, 2019

And hands down the winner of the best tweet comes from Kentucky Kingdom:
Okay… @UniversalORL WE GET IT! Your new $300 million coaster is cool but you need to keep your que inside your own park. Please and Thank you 😂 -KK pic.twitter.com/XWj5zQVHct

— Kentucky Kingdom (@KentuckyKingdom) June 15, 2019
The interaction between them and Universal Orlando is the stuff of epic social media presences.
So how are you going to "skip" those long lines? You're not, at least not completely. The ride has been going through opening delays, and of course that means longer waits. But if you're willing to wait for it, there is one sure fire way to get through and it's the tried and true method we've been preaching for 11 years on Behind the Thrills. EARLY!
Check the park opening times, if the park opens at 9, get there at 7:30. Get in line and wait. Of course, you can also get an even earlier start on the wait by staying at an onsite hotel. Guests staying onsite get park entry a full hour before the park opens, and that gives you a better spot in line. Might as well get in line and pull up a spot.
The ride will have an Express Option, as well as a Single Riders option, but for now both of those are not open. Once Single Riders opens, you'll have the chance to ride along in an open slot, but at a much reduced wait. Express will be the best way to beat the line, but if past attractions are any indication (especially Gringotts and Forbidden Journey) you're going to be waiting for a few years before those kick in.
Honestly though, the best bet is to pick a weekday, get to the park early and wait it out. While I don't know if it's worth a ten hour wait (sorry, my back and bladder can't handle that!), it is a definite must do at Universal Orlando.
Update
Everything I just said about getting there early? Forget it. Universal has just released a statement about the operation of Hagrid.
Universal will use the mornings to work on the coaster and get things ship shape, and will open it midday and keep it open late. Who could have seen that coming?
The ride capacity will eventually be worked out, so it looks like for now at least that anyone hoping to ride will just have to be waiting around starting at about 11 am. At least the park is opening the ride a bit, it could go how Kong did and not open at all until August, and even with the reopening of Hulk. At least there's still daily openings and still a chance to see it.
Want to see a ton of pics from the opening of Hagrid? Of course you do! Check out our massive gallery below!
Stay tuned for more from Universal, and be sure to get social with us on Facebook and follow along with us on Twitter @BehindThrills for the latest updates!
For our latest theme park videos please be sure to subscribe to us on YouTube!
For more information about Universal Orlando,including tickets, visit the official website by clicking here!