Star wars is coming to Disney Parks on both coasts in a big, big way. The all new land was officially announced during this year's D23 Expo for both Disneyland AND Walt Disney World. It was also announced they would be built at the same time, for a targeted opening date of around the same time. Now The Hollywood Reporter confirms that Disney is pretty much fast tracking the project, with construction slated to start soon. With construction starting, we can also get a general idea of when we can see an opening.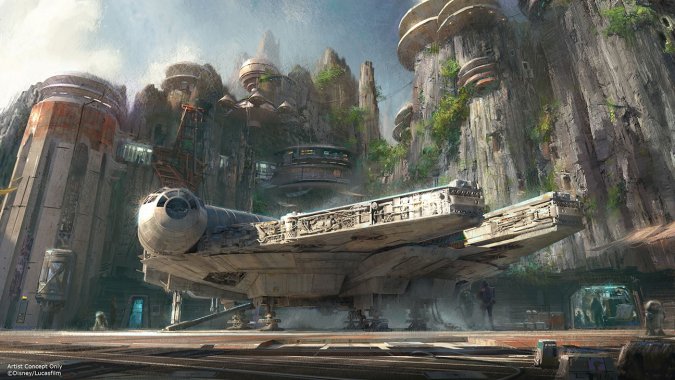 Chief Operating Officer, Tom Staggs said in a conference Thursday that Star Wars Land would start construction in January of 2016, but gave no definitive time table on when it would open.
The new land was announced with huge fanfare, and very few details at Disney's D23 Expo this past August.
Disney has received public scrutiny for the length of time that it has taken to compete many new attractions, from announcement to opening. Avatar Land, for example, will be more than five years in development when it finally opens in 2017.
With Star Wars, many have speculated that the parks will take their time, and not see the attractions open for at least ten years. With the announcement that construction is starting in just a few months, we could possibly see the land opening in less than five years, with a 2020 opening likely.
In contrast, Universal Orlando opened the first Wizarding World Expansion in 2010, after a 2007 announcement, and Diagon Alley in less than two years. Their transformers attraction took less than a year, from demolition start to opening day, and they will be opening their newest hotel in just over two years from the opening date of the last hotel opening.
The big difference, however, is that Disney foes almost double the attendance at their Orlando parks than Universal does, so they can afford to take their time.
The new Star Wars film is expected to smash records, when it opens in December, and the new lands are expected to have elements of the new film incorporated into it. That reason alone could speed up the construction, and an opening date, but we'll just have to wait and see.
Stay tuned for more from Disney, and be sure to get social with us on Facebook and follow along with us on Twitter @BehindThrills for the latest updates!