Testing continues, as does the construction which must be going on at a frantic pace. No word on soft openings, and by the state of things the area may not soft open, but things change everyday and we may see it happen still. Gift shops haven't been receiving merchandise in the area yet, and Cheetah Run is still slowly taking shape. So much excitement as the countdown nears that magic day!

If you are an annual passholder at Busch Gardens Tampa, the park has announced via the Passholder page on their official site that there will be a special preview for passholders after the coaster officially opens to the public on May 27th.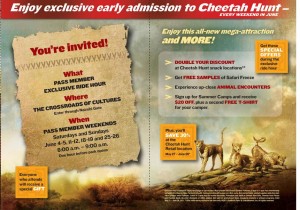 This falls right in line with what was done for Manta at Sea World, and Sheikra when it opened as well. While it would be great to ride it before the crowds, you do miss a lot of the crowds with the special hour before the park opens ERT. If you're not a passholder, I strongly suggest you become one!
On top of being able to ride early, you'll save money at the Cheetah Hunt gift shop from May 27th to June 26th, plus get a "free gift". The preview will be every Saturday and Sunday in June.
Construction continues on the project, though we are starting to see a whole lot of little details wrap up.

Cheetah Run is dashing along, with more glass being put in place, and even more work coming along.

Walls are coming down and even more is being revealed.
Even more construction pics:
[flickr-gallery mode="photoset" photoset="72157626676624142″]