Grad Nite is over, and it will never soil the hallowed steps of the Magic Kingdom or any other park at Walt Disney World again..EVER! So now that's out of the way, construction goes full steam at the New Fantasyland site.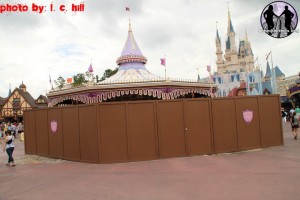 A wall has gone up in front of the carousel. Not around it, not a partial wall…a whole wall in front of the carousel.


More rock work continues to be readied all around the area, and Barnstormer finally seems to have the barn area getting work done to it.

Even more Fantasyland pics:
[flickr-gallery mode="photoset" photoset="72157626551730757″]
Over at Hollywood Studios, not much is happening as the Force is collectively holding it's breath that the public will get a sneak peek at the attraction before the it's Unleashed on the public May 20th.


Cast members and construction workers can be seen scurrying back and forth as final preparations are made for the grand opening.


And now we wait! Cast member previews are said to be this coming weekend, and the media will get a preview the day before it opens while those who follow @Disneyparks on Twitter were given a chance to get a special screening and chat with Imagineers.
Meanwhile, the park is gorgeous at night, so enjoy more Disney Hollywood Studios pics:
[flickr-gallery mode="photoset" photoset="72157626676459736″]