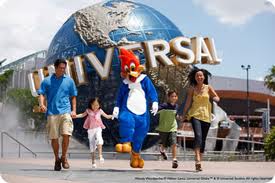 Disney has Mickey Mouse, SeaWorld has Shamu, and Six Flags has (had) Mr. Six. Few theme park mascots are as iconic as these in theme park world. Whether you know it, or not, Universal Studios also has a mascot. A crazy odd laughing bird named Woody Woodpecker.
Woody Woodpecker came to life in the 1940's along with an already established character, Andy Panda. Universal Studios would show these short films before their feature length films much as Disney did with Mickey Mouse, and Warner Brothers did with Bugs Bunny. It wasn't long until Woody became more popular than Andy Panda, and started appearing in his own shorts. The character made a jump to syndicated television in the 50's and had his own cartoon show until well into the 70's. Co-creator Walter Lantz closed his studios, and later sold the rights to Universal in 1985. Fun facts-The very first Woody cartoon was voiced by Mel Blanc, the original voice of Bugs Bunny. Woody developed a girlfriend, nephews, and an arch enemy in his decades of cartoons.
Since buying the rights Universal has done little with the character. In the early 90's the Woody became a mascot of sorts for the studios theme parks. The character made appearances on hats, shirts, a walk around character and even has his own ride at Universal studios Florida. But the appeal of Woody as a mega popular mascot never seemed to catch on.
That seems likely to change. Before Universal Orlando has relied on outside licences from companies such as Nickelodeon and Dreamworks to build attractions and mascots around. Recently Universal teamed up with a partner to create feature animated films. The new animation partner, Illumination entertainment has given Universal Studios a small list if characters they can call their own from the hit Despicable Me, to the animation/live action smash HOP,and soon the Lorax. Illumination and Universal have now dug into their vaults and are bringing Woody Woodpecker to the big screen.
There is no word on whether this will be a straight animated feature, or if it will mix live action into the formula as well. The script is being developed by the writers of Blades of Glory.
If this film is a major hit, could we possibly see a revival of Woody Woodpecker as the OFFICIAL mascot of the Universal theme parks? Could we even see a larger attraction area for Woody and his gang?
Let is know what you think in the comments below!