There's one thing that all theme parks have in common: lines. No matter where you go in a theme park, there are bound to be lines. Lines for rides, food, and even to use the restroom. Unless you got lucky enough to visit a park on a very slow day, you can at least expect some wait times, some as short as just a few minutes, and some a few hours long.
Theme Park Queues have changed over the last several decades. From just the standard line, they have transformed into something fun for kids and families to pass by the time. Some have interactive elements, like games. Space Mountain at Magic Kingdom is a perfect example in that aspect. But what if you're in line that doesn't offer games or other interactive features?
Simple, before you head out to a park, be sure to pick up a copy of "Things to Do In Theme Park Queues", or download the app for your iPhone or Android phone.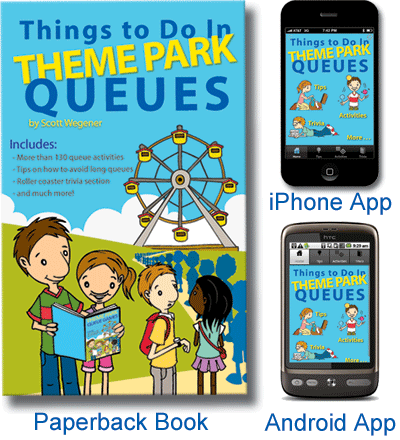 Scott Wegener, the author of the book, was nice enough to send us a copy to check out and use in the parks. Unfortunatley with the Christmas season upon us, we haven't been able to use it in the parks yet, but we will be taking it with us on our next adventure with the kids.
The book is relatively small, clocking in at 114 pages of fun and information. Some of the information is a bit outdated, but keep in mind the book was published before the 2010 attendance report was released. Regardless, there is a lot of other great information in the book including different facts on roller coasters.
The book is great for families or a group of friends who don't mind playing games in a queue line together. Don't worry! If you're not the type to carry around a backpack in a park and only bring what's absolutely necessary (car keys, wallet, phone, ect.), you can also download the iPhone or Android app for just 99 cents. If you'll be playing games all day, make sure you have a spare charger or battery just in case.
So, what's my take on the book? There's a lot of activities in it that is sure to keep you and your family busy through out the day, and possibly the entire week of your vacation. It's a great investment and easily fits into a backpack. If it came down to choosing the Android app or the book, I would hands down choose the book. Because of the kids, we always carry a bag of some sort, and with light use, my phone is dead in hours (thanks to my gigantic screen). Otherwise, I think the app is a great investment too if your battery doesn't die as quickly as mine does.
You can pick up a copy for yourself for just under $10 before shipping through Amazon. Click here to purchase your copy!
 Or you can download the iPhone or Android app.
To download the app for your iPhone, scan the barcode:
To download the app for your Android phone, scan the barcode:
For more information about the book, apps, or the author, visit http://themeparkqueues.com.