Nigloland is a theme park located in France a couple of hours from Paris with a bunch of MACK Rides manufactured roller coasters. They seem to only purchase quality and you can tell they believe they've found it in MACK's products. If you've been following our Europe Trip this is our second stop, a trip around a big chunk of Europe, stopping at most major theme parks along the way and riding more than 200 different roller coasters.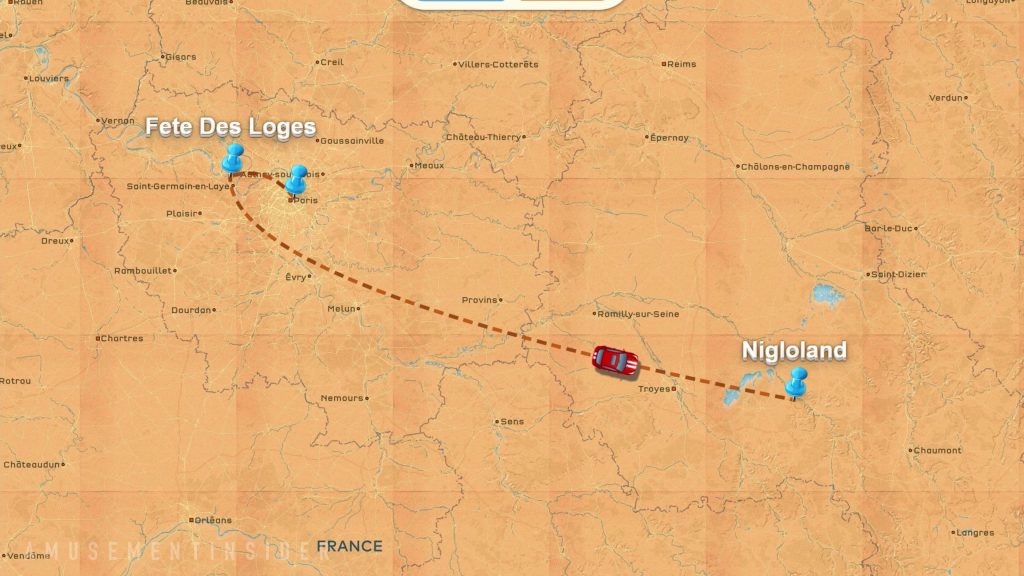 Notable Attractions:
Alpina Blitz: A MACK-Manufactured roller coaster with a bunch of airtime and a super comfortable ride.
Krampus: One of the newest water coasters around with a themed queue and epic splashdown.
Donjon de l'Extrême: The highest rotating free-fall drop tower in Europe.
Spatiale Experience: An indoor roller coaster, a journey in outer space.
Manoir Hanté: An old haunted mansion-style ride. Old stones, endless corridors, and sinister traps.
---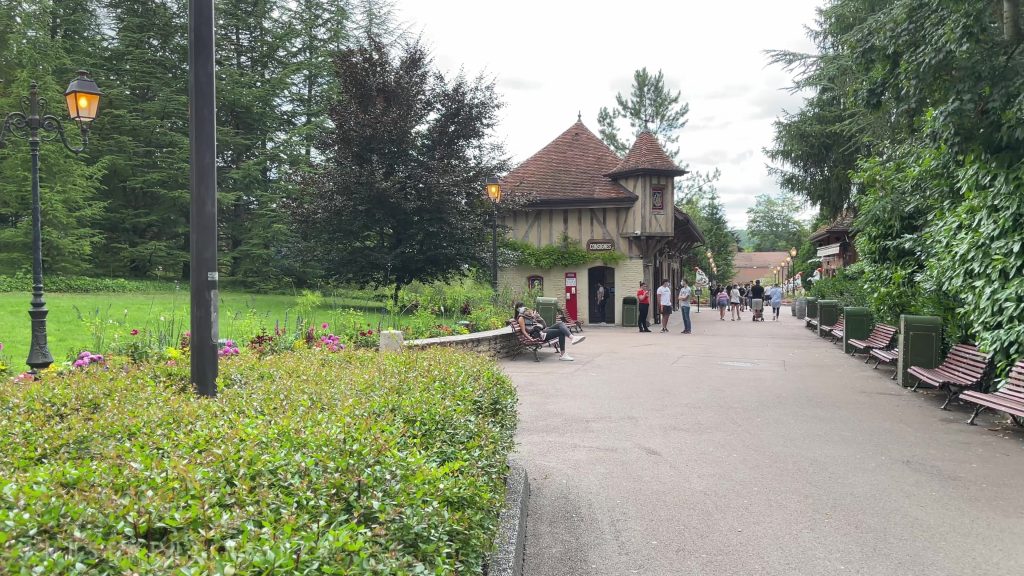 After a night's stay just outside of Paris, we were off to Nigloland, a 2.5-hour drive from the city. Right as we walked into this park, Nigloland's quality maintenance and cleanliness were extremely noticeable, probably more so than any other park I've ever stepped foot into. The roller coasters rode smoother than any counterpart models I had ever been on, and downtime was not noticed throughout the day on any ride. Nigloland cares about upkeep and long ride life. The park also kindly showed us into the maintenance area to take a look at the spotless and organized train storage facility which was extremely cool. I've seen other maintenance areas and ridden coasters from manufacturers around the World, honestly, I can say I've never seen better quality, taken-care-of rides than this park has.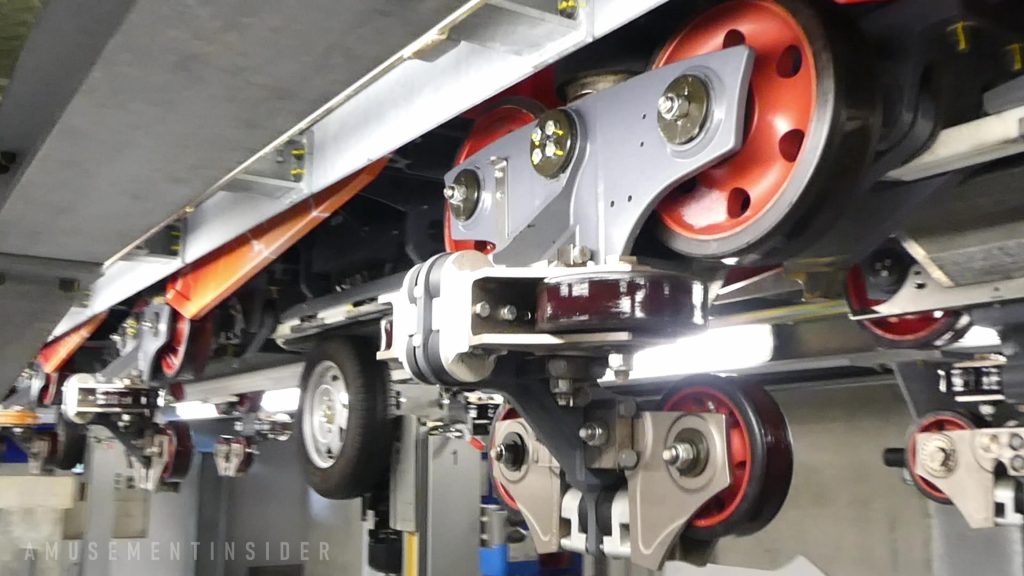 Interested in watching a video instead? Check it out below!
Our first ride of the day was on the MACK Rides Alpina Blitz, a very sought-after coaster for me with a layout based on the Intamin Megalite, however, the park went with this manufacturer instead of Intamin because they preferred the trains that MACK rides were producing at the time. And just like that many call this the MACK Megalite. Even though they've made similarly-sized layouts, slight differences can be found in the exact overhead layout from Intamin to MACK, and shaping changes from element to element are also apparent.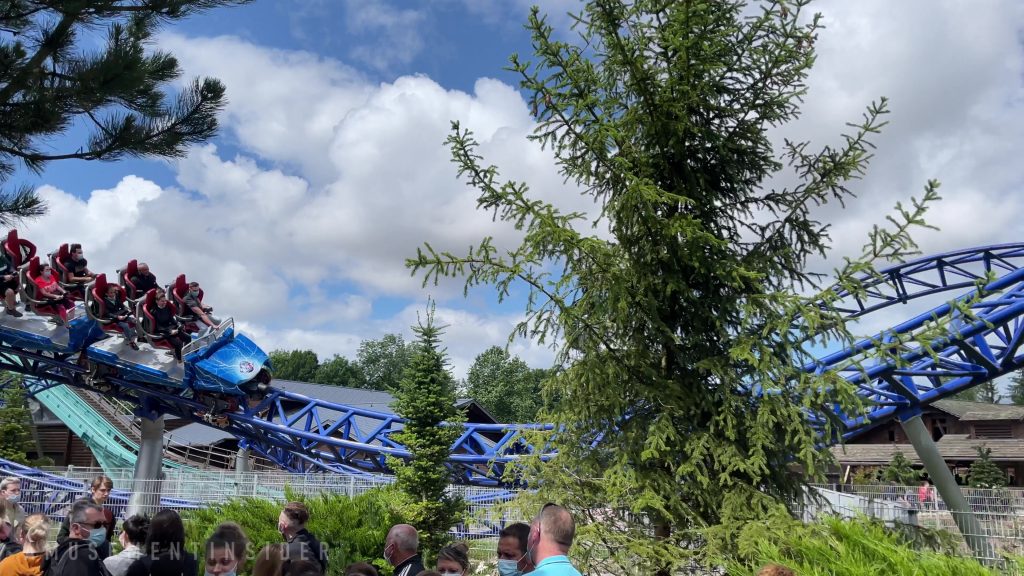 Alpina Blitz was smooth, had fun airtime, and I am in love with the comfort of MACK's trains, so it was all around an A+ ride. There are times when the trains feel bulky through some of the smaller turns and elements, and I feel this train just belongs on coasters than are over 150ft tall because of their high seats and large size. It's a compact layout that fits the area great, the operations are incredible, and it's filled with excellent airtime, especially the S-hills in the middle of the layout. Will I enjoy the Intamin version better, I'd soon find out once we head to Djurs Sommerland in Denmark later on in the trip.
Next up was the new water coaster, Expedition Krampus, this uses a new track type compared to the other coasters, if you look closely at the crossties you'll see its a bit different than previous water coasters, this was the smoothest water coaster I've ever been on, and the cleanest water I've ever seen in a park, it just felt refreshing instead of gross after getting off.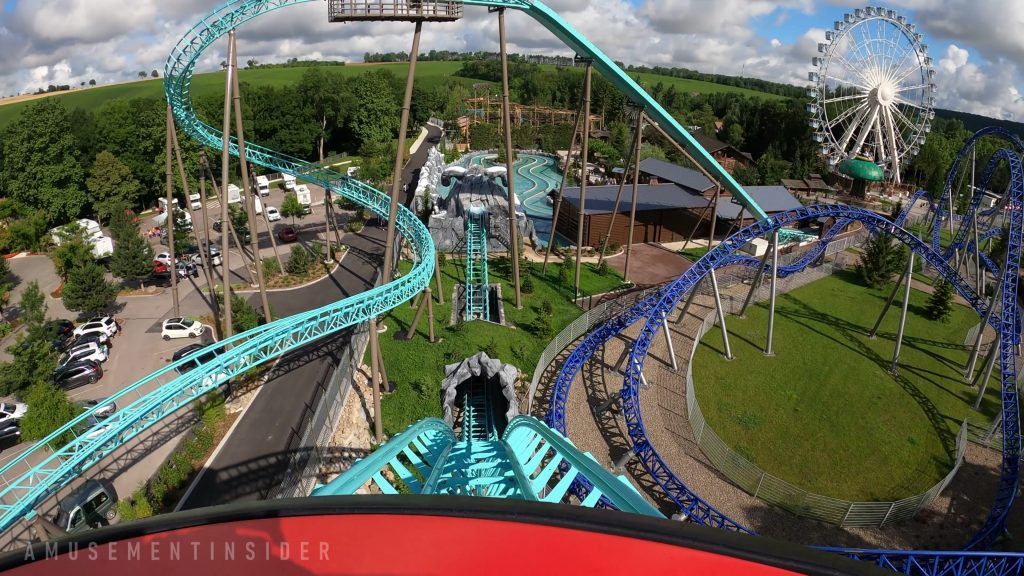 The ride itself is straightforward and exactly how it looks; short, and the theming ends after the queue. I wish that some more elements could be enclosed, even as simple as that first turn out of the station, but the music on the lift hill is a nice touch and better than nothing. There's no airtime on the curved hill, but the drop is shaped in a way that gives a nice surprise pop of airtime before the second airhill and splashdown. It's a fun coaster that's worth getting on.
A Wild Mouse was next, again, smooth as ever and one of the best examples of its kind, it felt like it opened the day before with how well taken care of it was.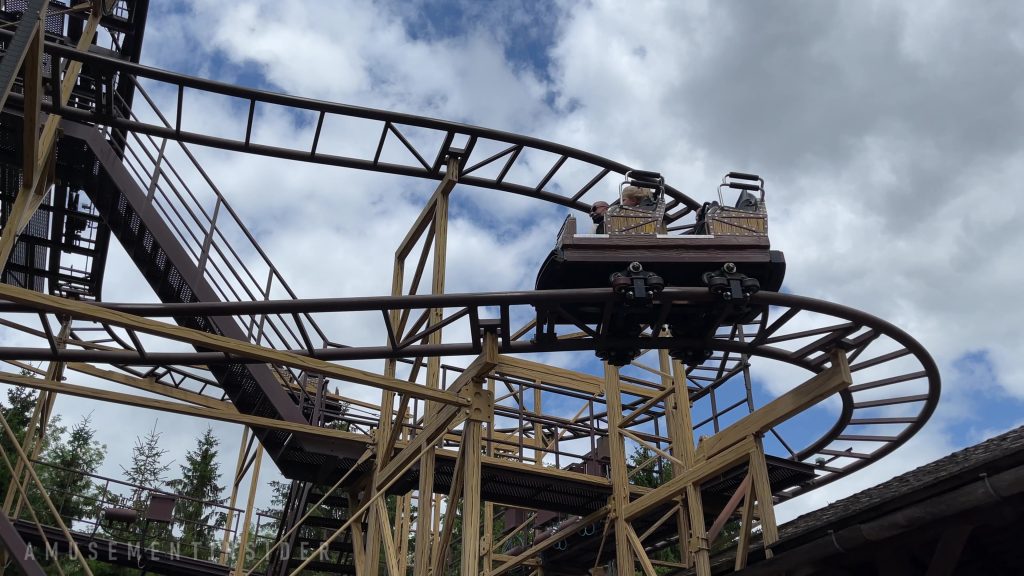 A family coaster created by ART Engineering, which you can guess by now, MACK Rides manufactures track for, so the trend continues. Great theming on a small coaster and nice layout, really fun family coasters from this manufacturer.
The park also has Spatial Experience, an indoor MACK Ride, and the only other coaster similar to Eurosat in the world, which we would be visiting the next day at Europa Park. It has a spiral lift hill and is a great indoor ride with some nice space theming.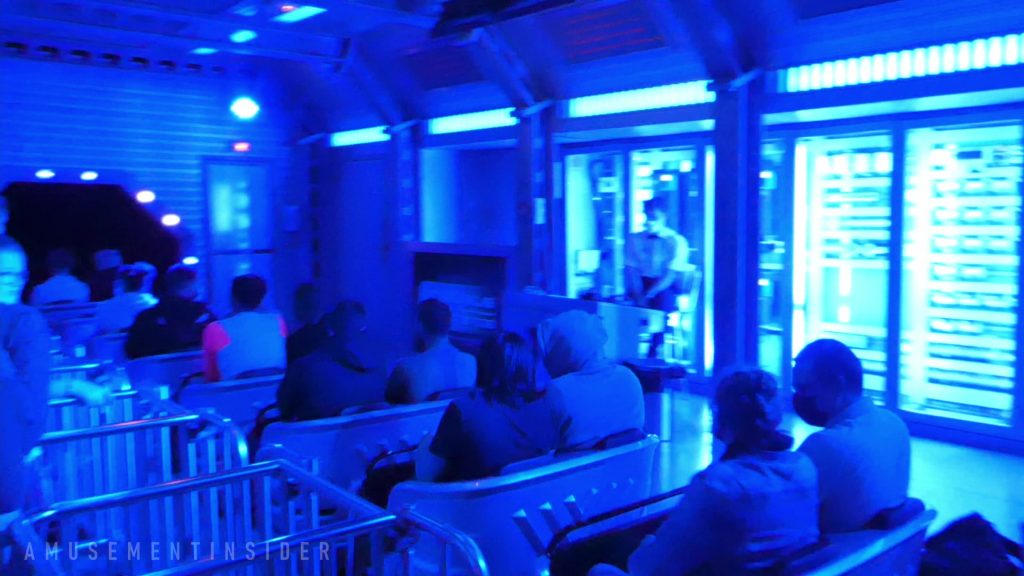 While the park looks small from the outside it is really just because many attractions cannot be seen due to the vast gardens throughout the park. Attractions blended right into the area. We had some fun on the Disco, "Grizzly," and then made our way to a dark ride that was similar to the Haunted Mansion at Disney. Theming was incredible here, very overgrown and convincing. A good ride worth our time with that nostalgic vibe. Nigloland also has the Niglo show but it was not running due to COVID on our visit. The park has a log ride and a safari-themed cruise ride complete with some Palm trees as well.
Lines were long throughout the day, but we were able to grab a few more rides on Alpina Blitz thanks to the addition of a second train. The park is on the ball and adds a train when it is needed. This is the star of Nigloland for me along with the drop tower, log flume, and other rides around the park. As a whole, we found this to be a very well-rounded park for everyone to enjoy & the overall atmosphere of the park is an A+. Nigloland is a full-day stop for me, and you can stay overnight right on-site if you wish. I definitely recommend a stop here if you are in the area, and it's a park that I would include again if I were to travel around Europe again.
Days recommended: One Full Day to make sure you have enough time to ride each attraction once and ride Alpina Blitz a few times. The park is busy at opening and seems to slow down around 3:00-4:00pm.
Join us at our next stop! Walygator!
Follow Austin & AmusementInsider over on Instagram & Twitter, and Subscribe on YouTube to keep up with all the latest!