An email survey sent out today from Six Flags parks reveals a possible move for the coaster parks to give their passholders a reason to stay in the park. A cheaper way to dine.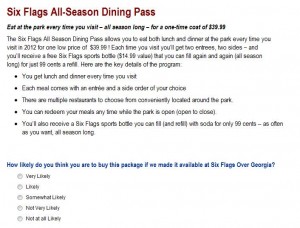 The survey calls for a season long dining pass that gives guests lunch, and dinner each time they visit. Most parks offer a dining plan that gives them unlimited meals for a set price. This plan, if it goes into effect, will give you two entrees, two sides and two desserts every time you visit the park for the entire season.
It also boasts a relatively low pricepoint of $40.00, and again, it would be for the entire season. Compare it to other parks such as SeaWorld, Busch Gardens and Universal, you can pay as much as $30.00 per person per visit.
Compared to add on tickets such as Flash Pass, this seems like it could almost be too good to be true.
No definite word if it will actually be available this season, or if it will be available at all parks.
What do you think? Is it worth it for $40.00 all season?