I love my family. I think I've talked about it before, at length. But for as much as I love my family, I really wish that sometimes I could just stop doing everything that I do. I wish I could be like those of you that I see out there, without responsibilities, without cares, and just enjoy the time. Then I stop and I realize…well, I do enjoy my time. A lot. It's just that sometimes situations tend to weigh on you quite heavily, and you feel that there's no space to breathe. I'm feeling like that now. Like I just want to go away and never come back. I'll go away…for a few hours, maybe even for a day. But I'll come back, batteries charged and fully refreshed. That's the thing that all of us need to do. Do what what he have to do, and take a little time out for ourselves. What do you expect me to do? Run away from all my problems and pretend like it was everyone else's fault things go wrong? No..own your problems, take care of them the best you can, but always remember…even death takes a holiday.
My theme park news wants to be sitting on a beach somewhere, sipping a pina colada and looking at beautiful women….HELLO HONEY!
Disney
The Tree of Life at Disney's Animal Kingdom has lost branches. That's a pretty big deal considering that the branches are huge and artificial and attached to an oil tanker rig. For now the attraction contained in the Tree of Life is closed. It's Tough to Be a Bug will remain closed until the tree can be repaired, and probably until the park can figure out if other branches will fall off and clunk guests in the head. Full story
Cinderella's Castle at the Magic Kingdom is a pretty amazing weenie (that's what they call visual landmarks in the parks…honest!). It's been named one of the top 100 buildings in Florida by the Florida Association of the American Institute of Architects. It's part of the AIA's 100 years, 100 places. Of course it's most likely the fact that Disney has brought in more money to Florida than any other organization with a building. Full story
Disney is trying to fill it's rooms, a good portion of which  stay empty during really busy times. Instead of lowering prices and making the hotel prices more attractive, they are instead gutting the older rooms and updating, adding things like free wi-fi, mini fridges and better televisions. Disney is hoping that guests see the value in the rooms and decide to fork out 30% more at their hotels rooms at competing hotels off property. Hey, go figure. Full story
Tokyo Disneyland will offer a full line up of Summer entertainment starting July 1st. The Tanabata Star Festival program kicks off, as well as other programs later in the summer. Full story
Get a look at the all new Marquee's for Carsland. The Marquees will hang over each of the three new attractions, and adds a feeling of authenticity from the movies. Full story
Speaking of Carsland it's one of several new areas being adapted for the Art of Animation resort. That will open in June, meanwhile the all new Finding Nemo area will open in May. A new video gives a great look at how the characters were made, plus some really cool details such as underwater speakers…yeah, I'll leave the lame "do you speak whale" joke out.
httpvh://youtu.be/GW8fCs9a8Qc
Disney has had a tough time getting people excited about the newest Pixar Film-Brave. Call it the John Carter effect, decent movie…crappy marketing. The latest trailer gives a great look at the film and actually fleshes out the story a bit.
httpvh://www.youtube.com/watch?v=xKsYv6E6anM

Disney's The Lone Ranger is going to be The Tonto Show…let's face it. Everyone was up in arms about the whole look of Tonto…actually it make sense. It was based on a painting called "Crow" by Kirby Sattler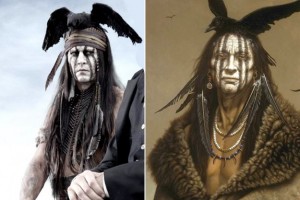 I think it fits. In other Lone Ranger news, Jack White will score the film. Jack White from the White Stripes. Hey, Trent Reznor scored the Social Network…so it could work. Full story
Finally in Disney new Pixar has a full release date for many of it's new films:
-The formerly untitled Pixar dinosaur film now has a titled: The Good Dinosaur and will be released on May 30, 2014.
-Monsters, Inc gets a 3-D rerelease January 18th, 2013
-Oscar-winning Toy Story 3 director Lee Unkrich's upcoming project has been given the title Dia de los Muertos (Yes, Day of the Dead!).
-The untitled Pete Docter film that takes you inside your mind has been pushed from May 30, 2014 to June 19, 2015, and will begin after Dia de Los Muertos
No other details have been released about those films…yet.
Other
Schlitterbahn is back in talks to build another waterpark in Cedar Park. The talks stalled and it appeared the park would not be built afterall, but after all, things change.
Schlitterbahn Cedar Park back on table: kxan.com
Manta at SeaWorld San Diego is testing. The coaster will be the first launched Mack coaster in the U.S. and will feature a maximum drop of about 30 feet. It will still feature quite a kick and will have an all new effect not seen on any coaster as the park will put stingrays on top of riders through the use of projections.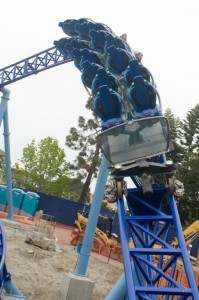 Legoland Florida has expanded their schedule for the busy spring holidays. The park will go back to normal operation, but as of May 29th, the park will be back to a full seven day a week schedule. This will continue until after Labor Day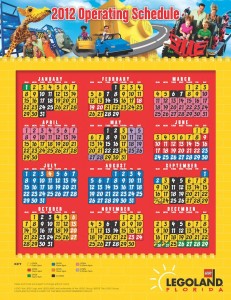 Hersheypark opens very soon. As part of the new season, of course they will feature Skyrush…but until that's open the park has TAP:The Show
httpvh://youtu.be/rHatRYIZHFU
I'm all for monsters. I love seeing as many monsters as I possibly can in films. That's why I LOVED Cabin in the Woods….but…I'm kind of eh about the latest animated film by Adam Sandler