Disney has given a sneak preview to what it hopes is the model for the next generation in queue systems. Dumbo's Big Top will feature a "queue-less" wait system in which guests make a reservation for a ride. While guests wait, they can then play in the interactive "big top" area which will feature a huge new interactive area. How does it work? What will it look like? Disney answers those questions in an all new video.
httpvh://youtu.be/rrc1kSl_05s
The official Disney Parks Blog released the video, along with a slew of pictures all about the new attraction. Instead of waiting in line, getting a Fastpass for the attraction, guests simply make a reservation.
They are then given a pager that notifies them when their ride is ready. It looks similar to those of large restaurant chains, and most likely works the same way.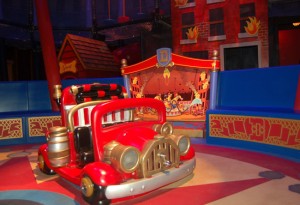 Families are then free to play in the interactive big top area. The area will feature, slides, nets and a burning building that kids can climb into and play in. The whole area is inspired from the classic Disney film.
The interactive area will open in July as part of the New Fantasyland expansion. Earlier this year a portion of the Storybook Circus area opened featuring the single Dumbo attraction, with all new lighting and water effects.
httpvh://www.youtube.com/watch?v=hZ6YEhNxk9k
Disney hopes this new queue system will become the model for all their attractions. Will it really save time and eliminate waiting in a line? Traditionally speaking, it certainly appears so.
What do you think? Let us know in the comments below.
For more information, including tickets, visit the official Walt Disney World website.