The Travel Channel is a great place to find some of your favorite theme parks. This year features Xtreme and Insane rides, as the Travel Channel takes a look at some of the most thrilling attractions you might find during your next visit to a theme park.
From 8pm ET until 10pm ET tonight, you can check out "Xtreme Water Parks" and "Insane Coaster Wars" on the Travel Channel.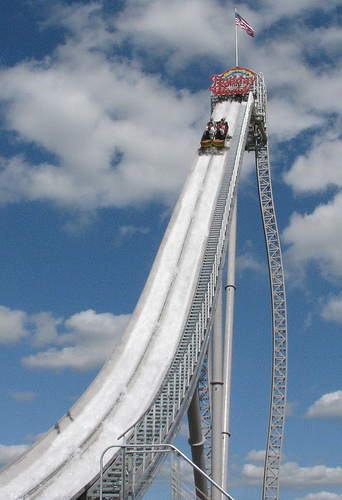 Xtreme Water Parks at 8:30pm ET tonight will feature Pilgrim's Plunge and the brand new water coaster, Mammoth, at Holiday World. Pilgrim's Plunge, a classic "shoot the chute" ride, opened in 2009. It features an open air elevator that takes riders to the top of the drop, and then riders descend down a 131 foot drop at a 45-degree angle.
Tonight at 9pm ET, Travel Channel will feature some of the roller coasters at Busch Gardens Williamsburg on "Insane Coaster Wars".
If you aren't going to be home tonight, don't forget to set your DVR to record it so you don't miss it! If you do miss it, Xtreme Water Parks will re-run tonight's episode again tomorrow, July 9th, at 2:30pm ET, Thursday, July 12th at 10:30pm ET, and again on Saturday, July 14th at 2:30pm ET.
For more information about Holiday World or Busch Gardens Williamsburg, visit their official websites at http://holidayworld.com/ or http://buschgardenswilliamsburg.com/.