Discovery Cove has always been the ultimate relaxation destination when it comes to vacations. Where else can you swim in tropical reefs, interact with a dolphin or just lounge on a beach with a relaxing drink. Now Discovery Cove offers even more for guests to discover in true Discovery Cove fashion with Freshwater Oasis. Freshwater Oasis is a sunken rainforest getaway for those looking to interact with new animals and relax. It opened last weekend, and as luck would have it, we were able to check it out firsthand.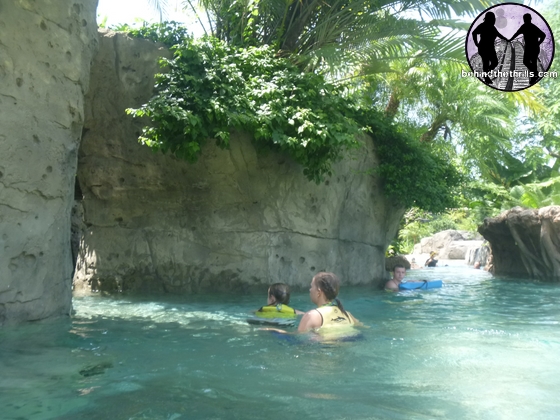 Freshwater Oasis combines several elements to make one amazing new experience. The first and foremost are the freshwater pools. Discovery Cove has an amazing array of saltwater fish and great places to swim and discover on the Grand Reef, but Freshwater Oasis offers just a tad more. While there are no fish, there are tons of places to swim and explore.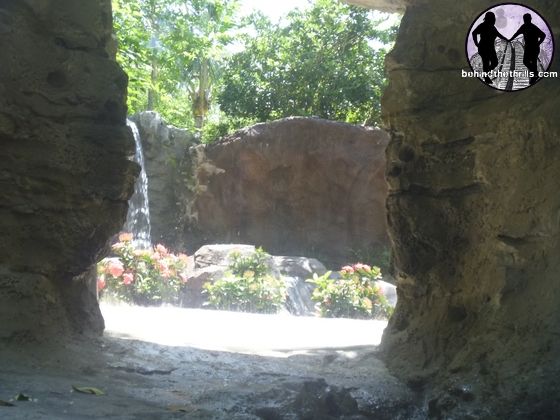 Crevices, crannies and waterfalls dot the landscape with tons of shade and trees overheard to provide a perfect spot for swimming, exploring or relaxing.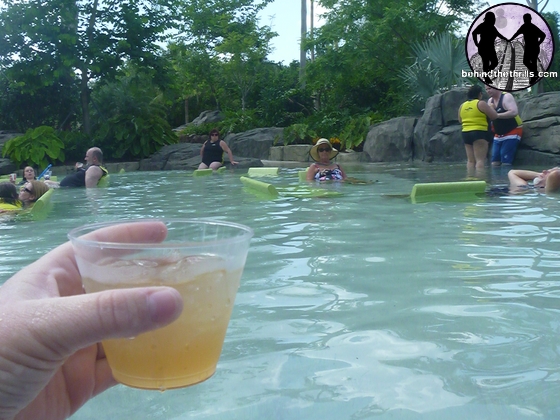 Sunken lounge chairs and waist deep water make a perfect place to relax and enjoy a drink. This is a first at Discovery Cove, you can actually take food and drinks into certain areas of Freshwater Oasis, which is a pretty good thing considering everything is included with your admission. So what better way to relax than to sit in the water with a refreshing cocktail?
More of the relaxing oasis:

Relaxation isn't the only item on the agenda at Freshwater Oasis. In true Discovery Cove tradition, one of the key elements are animals. In fact there are two different animals to interact with, and discover in Freshwater Oasis.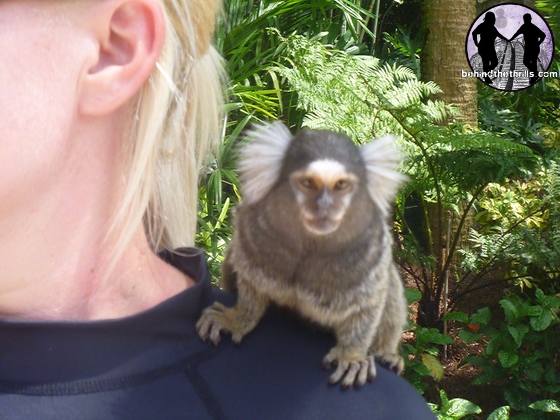 Marmosets are small monkeys native to the rainforest. At Freshwater Oasis, they live on their own little island right smack dab in the middle of it all.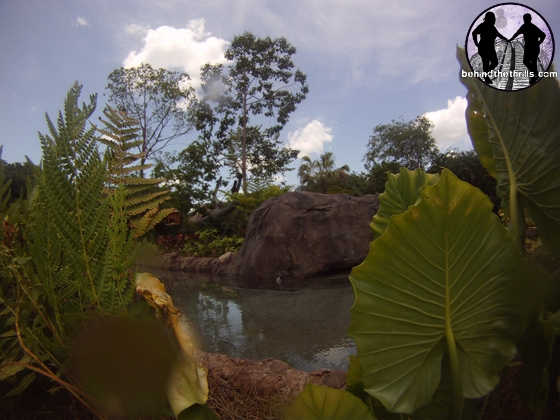 The island is right in the middle of the oasis, and you swim right up to it. There is also a wall with a separate moat, so guests can't walk on the island with the marmosets. The marmosets also aren't huge fans of water, so they don't venture past their moat, and are quite happy hanging in the trees.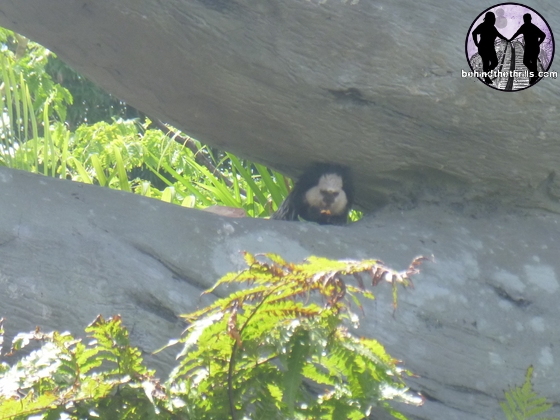 While you can't interact with the marmosets on "Marmoset Island" (or super monkey island, as I like to call it) there is a guide walking around the moat answering questions and telling you all about the marmosets.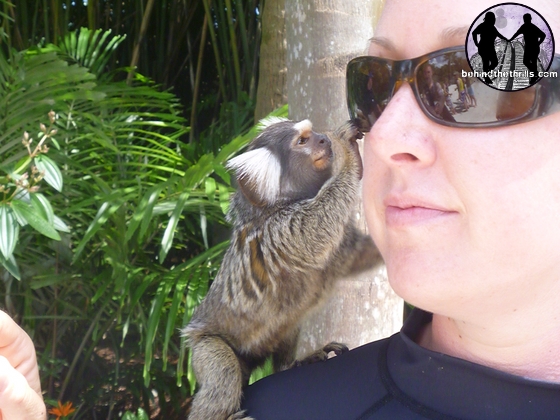 You can also meet a marmoset when SeaWorld animal trainers bring them out and walk them around. You're not allowed to touch the animals, but you can get very close to them. In the picture above the marmoset is playing with her handlers glasses.
More Marmosets:
Marmosets aren't the only animal. It wouldn't be an aquatic adventure without an aquatic animal. And the Asian Small-clawed otters really steal the show.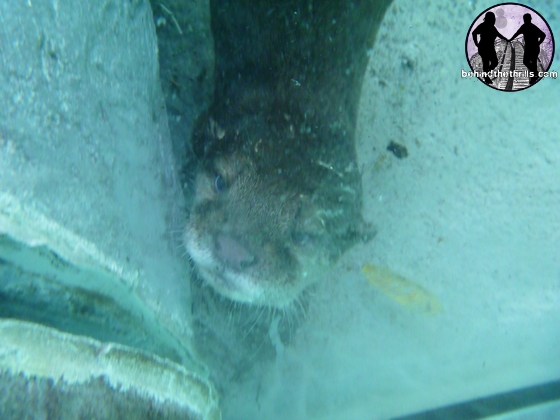 The Asian small clawed otters have a huge habitat that they swim, play and eat in. The animals are known for being playful, and they are free to play, fight and eat right in front of you. Now all the fighting is just playful bickering between brothers and sisters (because all of the otters are brothers and sisters from the same litter) and it is really fun to watch. Guests are behind glass as the otters swim and play around them, but you are able to get extremely close to all of the fun.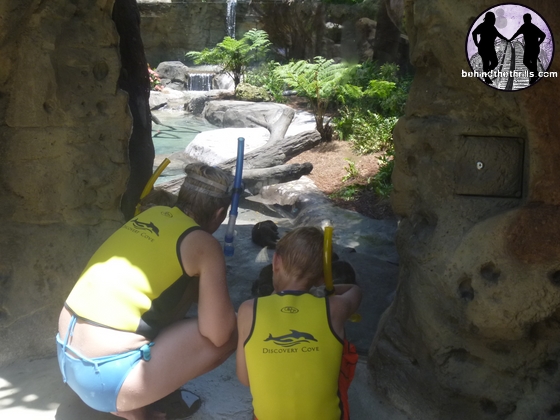 More from the otters:
Freshwater Oasis is included with park admission, and has no additional fees. Now that you've seen all the pictures and read all about Freshwater Oasis, come swim along with us as we put on our GoPro camera and take a tour of the all new Freshwater Oasis. There is no music, and everything is all natural just as you will see it when you swim through Freshwater Oasis.
httpvh://www.youtube.com/watch?v=hQJp4JG61RE
Here are some fun facts and tips about Freshwater Oasis:
Freshwater Oasis sits on the original saltwater reef at Discovery Cove. When the park opened this area was the only reef in the park. When Grand Reef opened, the original reef closed and work on Freshwater Oasis began.
The deepest point in Freshwater Oasis is just 8 feet. The majority of it is waist deep which makes it a great place for non swimmers
The Tropical River, a warm water lazy river, surrounds the Oasis and even has points where it connects with it
Otters are power nappers. They typically play for about an hour and sleep for about 30 minutes. If the otters are sleeping, come back in about half an hour and chances are they'll be playing again
Marmosets stick to the trees, so as you swim around Marmoset Island keep looking up, you'll see them nestled in a tree branch or leaping from top to top
Snacks and drinks are allowed in Freshwater Oasis and sunken lounge chairs are provided in a shallow pool for you to just relax in
For more information, or to book your Discovery Cove vacation, visit the official Discovery Cove website!
Continue reading below!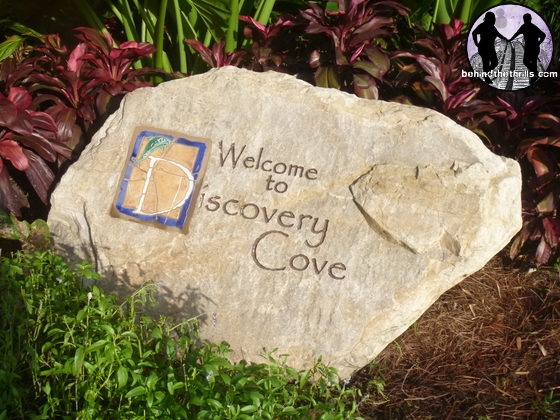 Freshwater Oasis is just one part of the total package that makes up Discovery Cove. The main attraction is of course, the Grand Reef, but there is also the tropical river, and the free flight aviary. Guests can also swim with dolphins, which gets you closer than ever.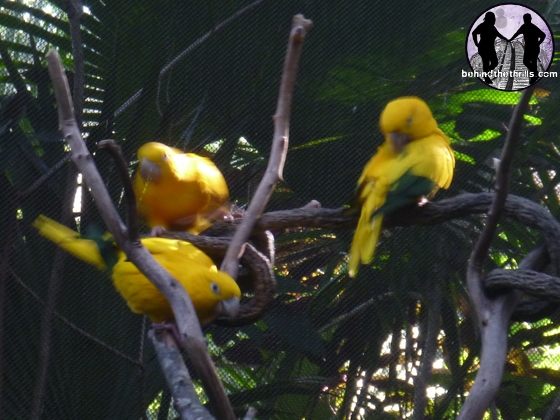 The aviary gives you access to hundreds of birds of all shapes and sizes. You can watch, feed and even touch most of the birds. The area is free flight, which means the birds are free to fly wherever they please, including on you!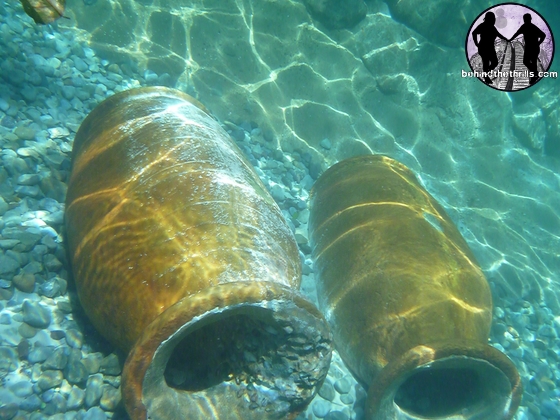 The tropical river is a slow flowing river that takes you around the Freshwater Oasis, through the aviary and over ancient ruins. It gets deep in some places (up to 8 feet) and provides a few areas to snorkle around, but mostly it's meant to give you a relaxing place to drift away.
More birds and rivers!

The Grand Reef is a huge saltwater aquarium where guests can swim and see thousands of tropical fish, sharks, eels and stingrays!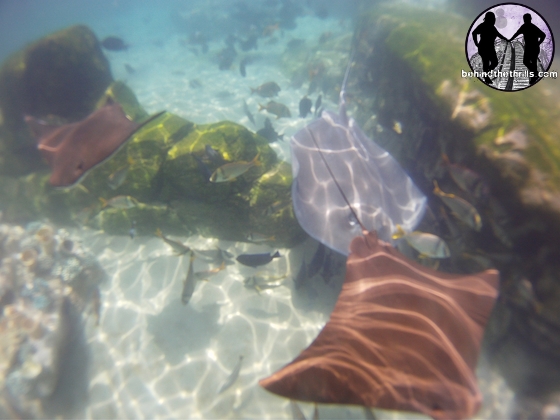 The more dangerous animals such as sharks, eels and scorpionfish are kept behind glass that you can swim up to, and feel as if you are right next to them. Or if you want to get a better view, you can walk on the pathways and see them from above.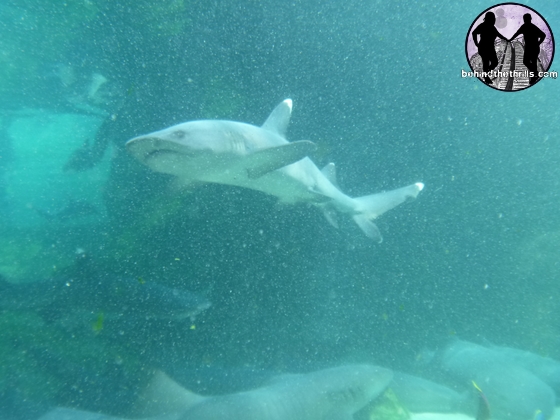 Come take a swim with us around the Grand Reef! There is no music, only us and the water, this is exactly how you'll see the reef when you book your vacation.
httpvh://www.youtube.com/watch?v=emEfUuhaozo
If you want to get just a little closer, you can also book SeaVenture, which allows you to wear a diving helmet and actually walk along the bottom of the Grand Reef. You'll get a chance to not only see, but touch and interact with some of the sea life.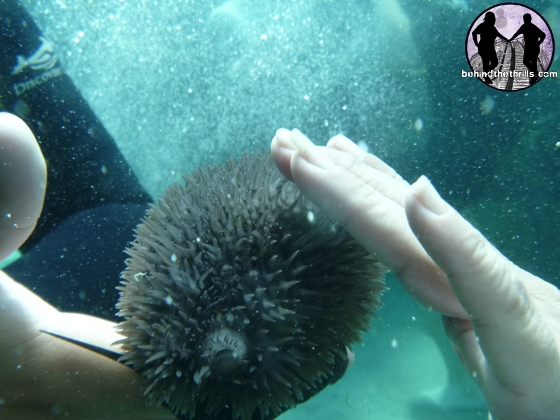 Some Grand Reef and SeaVenture Fun Facts and tips:
The Grand Reef is huge! There are thousands of stingrays, fish and different animals to explore. If you're not a swimmer, there are tons of places to wade into and even walk around and see from above
Sharks are behind glass, don't freak out! You can get really close to them by swimming, or you can see them from the bridges above. If you want to get really close, book SeaVenture and walk up to the huge glass area
SeaVenture is a separate experience, and is not included in your admission to Discovery Cove. It runs around $60 dollars, and lasts about 30 minutes
SeaVenture puts you in groups of about 9 people. It is recommended for those over 10. 14 and under must have a parent with them
A new feature to SeaVenture-You can now take your own underwater camera! If you have an underwater camera you can use it and film or snap pics. If you do not, you can use the Discovery Cove cameras which are a really high quality camera and take professional grade pictures. You can buy the CD with your pictures for around $50 dollars, and they will include the pictures that divers take of you on your adventure.
Food is included with your Discovery Cove ticket. Tons of great snacks, drinks and refreshments await you, plus you get breakfast and lunch, and it's all you care to eat. If you like to enjoy cocktails while you relax, those are included as well
Wetsuits, snorkels, masks and sunscreen are provided. All you have to bring is a bathing suit!
We highly recommend water shoes. The sand gets rather hot, and the pathways are concrete which also get hot. Plus you can walk around on the submerged rocks in the water without poking your feet as well.
Dolphin Swims take around 45 minutes and happen in Dolphin Lagoon. You are not allowed in Dolphin Lagoon if you have not booked a dolphin swim, but you are invited to walk to the edge and watch. The dolphins can be seen quite well, and if you're lucky, even come pretty close to the edge of the lagoon
More Grand Reef and SeaVenture pictures:
For more information on Grand Reef, Freshwater Oasis or the Dolphin Swim be sure to visit the official Discovery Cove website!