This Sunday, another episode of "Insane Coaster Wars" will air on the Travel Channel. Insane Coaster Wars features some of the nation's most insane coasters. They might not be all that insane, but they are all geared toward thrill seekers. On last week's episode, Apollo's Chariot at Busch Gardens Williamsburg was the spotlight of the show. This week's episode will air on Sunday, July 15th at 9pm ET.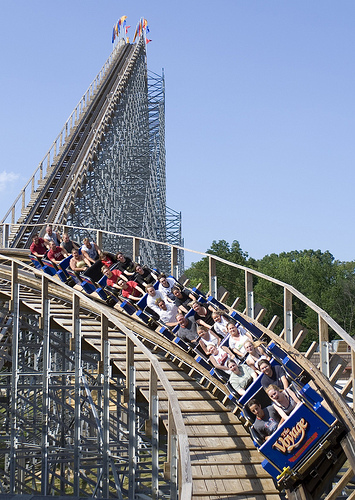 This week's episode will feature Holiday World's roller coaster, Voyage.Voyage has been voted as the number 1 wooden roller coaster in the world by Amusement Today's "Golden Ticket Awards". Voyage is 1.2 miles long (a total of 6,642′ feet of track) and reaches a top speed of 67 miles per hour. The ride offers more "air time" than any other wooden coaster in the world does. Voyage stands at a height of 163′ tall and features a 154′ drop at a 66 degree angle.
httpvh://www.youtube.com/watch?v=JtUj-sEq3JE
If you miss "Insane Coaster Wars" this week, it will reair again on July 16 at 12am ET, July 19 at 11pm ET, July 20 at 2am ET, July 22 at 9:30pm ET, and July 23 at 12:30am ET. Be sure to set your DVR so you don't miss this week's episode on Travel Channel.
For more information about Holiday World, visit the official website.