Coca-Cola is becoming the beverage of choice among theme parks. Six Flags announced today they are extending and expanding their partnership with The Coca-Cola Company for another 10 years. Coke will now be the official beverage for all domestic parks. The new agreement will begin in January 2013 and will continue to build on the relationship that started 50 years ago at Six Flags Over Texas.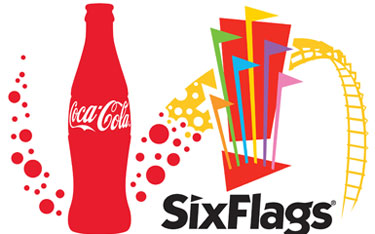 "This new agreement builds on 50 years of refreshing visitors at Six Flags parks. With acres of thrilling rides and attractions to explore, friends and families are sure to work up a thirst enjoying a day outdoors at one of Six Flags' 17 U.S. parks," said Stefanie Miller, Group Vice President of Strategic Partnership Marketing, Coca-Cola Refreshments. "Our diverse portfolio of full, low and no-calorie beverages offers the perfect choice for delicious, ice-cold refreshment for every Six Flags visitor."
Coke products will be available through out the parks, including restaurants, drink carts, and dining locations. Six Flags is even trying to launch "unique beverage innovation concepts", including the Coca-Freestyle Zone, which made it's grand debut at Six Flags Great Adventure.
A wide variety of Coke products will be available in the parks, including: Coke, Diet Coke, Coke Zero, Sprite, Dasani, PowerAde, energy drinks, teas, juices, and frozen carbonated beverages.
Coca-Cola will also be the official sponsor of many special events at Six Flags parks, including spring and summer music festivals, and more. Six Flags will also market Coke products in several different areas including park TVs, the Coke's Swelter Stopper Tour, SixFlags.com, and more.
For more information about Six Flags, visit the official website.