The excitement is building, and the building is getting close to being almost done as we get closer to the grand opening of the New Fantasyland at Walt Disney World's Magic Kingdom! Still tons of construction is to be seen, and new details are popping up every day. The extended castle turrets are taking form, as well as the Snow White Mine Coaster. We also take a look at construction happening at The Grand Floridian hotel, just next door, where they are building a whole new wing for Disney Vacation Club members.
Work on the Snow White Mine Coaster exterior really seems to be progressing amazingly fast. The outer metal is going up, and odd shapes are starting to pop up.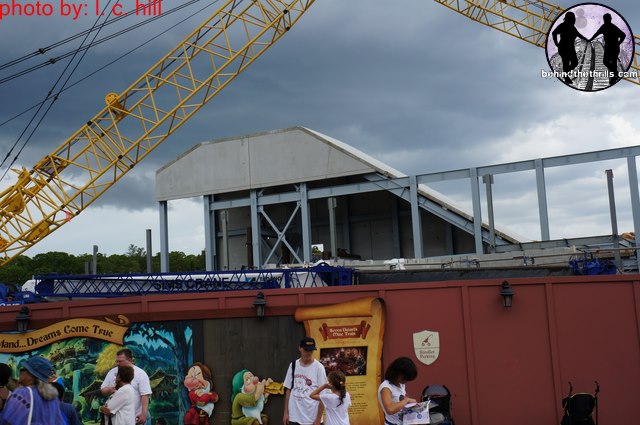 What appears to be a main show building is taking shape along the way as well. The coaster will be a standard mine coaster, with a twist. The cars will actually swivel at the base. Riders will see scenes from Snow White, including the static figures that were once in the Scary Adventures of Snow White.
Elsewhere, extended castle walls begin to form. Huge turrets pop up, and you get the feeling that the Fantasy is just beginning.
Clouds loom in the distance, as if someone knows…there's a beast in that castle! Some of the work being done includes little touches of snow on the mountain tops to give it that look of being in a really far away land.
The new Fastpass system is in place, and ready to test at Haunted Mansion. The new system uses a different technology than previously, which is supposed to allow you to make reservations instead of getting a hard ticket.
Check out our latest construction walk around video from Magic Kingdom:
httpvh://www.youtube.com/watch?v=9iUqcIa5NIQ
More construction photos from The New Fantasyland:
Over at the Grand Floridian, work continues on the all new wing for the Disney Vacation Club members.

Not sure, but it appears that an all new pool area is going in as well. Maybe we're wrong (and I'm sure we are) but it appears that some new slide (or at least piping) is being put into place.
More from the Grand Floridian:
Disney is getting ready to wind down the summer festivities and hours. We just happened to visit during a normal afternoon rainstorm. Typically the storms roll in at around 4p.m. and last just a few hours. The bad news, you can get wet and the outdoor rides shut down. The good news is that it chases a lot of the crowds away.
Check out some random pics from a rainy Disney Day: