I was told that there would be another huge attraction announcement coming to Knott's Scary Farm this year that would come from far left field, and this is definitely out of the blue. Today via Facebook, Knott's Scary Farm announced that Evil Dead would be coming to this years Halloween Haunt. This announcement is so far out of left field, that we're going to have to deal with it from two sides…Bad Ash (Erik) and Good Ash (Kyle)…little goodie two shoes!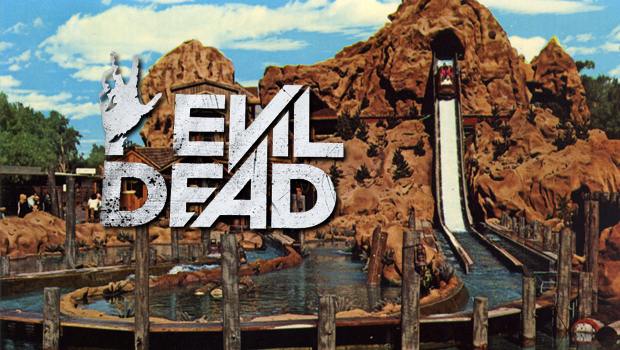 Here is the official announcement from the Knott's Facebook Page
Knott's Scary Farm Halloween Haunt 2012 Update:

The Rumors are true….

Hail to the King, Baby.

Evil Dead comes to Scary Farm!The legendary film is being remade and what better way to celebrate than to experience the terror firsthand…

The Timber Mountain Log Ride will become The Evil Dead for Scary Farm 2012.

Come to Papa.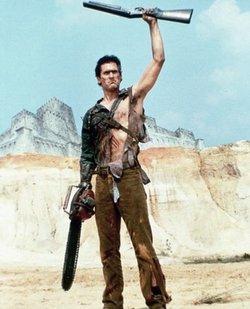 Good Ash (Kyle Goodie Two Shoes)
Not much to work off of but there are things we do know. The Timber Mountain Log Ride will receive the overlay theme of The Evil Dead. The past few years it has run with the wildly popular Sleepy Hallow Mountain theme during it's Halloween Event. It's pretty much confirmed that this will be based on the new upcoming remake of the cult horror movie directed by Sam Raimi, scheduled for release Spring 2013. There are still a lot of questions regarding this film, but it is safe to say that we will be shown a trailer before Halloween Haunt begins. Traditionally whenever Knott's is given a movie property, the maze is wildly popular. That was the case with The Grudge 2, Quarantine, and Beowulf. But a movie property on an attraction like this is a first for Knott's Haunt and the designer of the overlay is still a big question mark.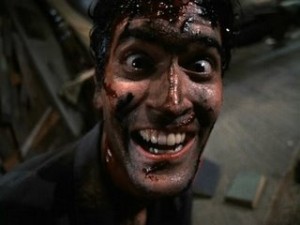 Bad Ash (Erik)
Not much to work off of? EVIL DEAD! THAT'S ALL! This movie is the sick and twisted horror ride that launched the career of Sam Raimi and Bruce Campbell. Yes, Disney's Sam Raimi…Oz Great and Powerful…thought up, wrote and directed one of the most perverse gory pieces of cinematic goo ever! The first film in the trilogy was extremely dark, very gory and very very graphic.
(Warning…this is graphic…)
The second two films took a bit of a lighter approach, especially Army of Darkness, but were no less gory and graphic.
httpvh://www.youtube.com/watch?v=KIxetRsd_2c
What can we expect? As Kyle pointed out, this is going to based off of the upcoming Evil Dead remake. If you're unfamiliar with the concept, the story tells of five teenagers that go up to a remote cabin in the woods and find the Necronomicon…the book of the dead. They unwittingly unleash demons who eat, torment and tear them apart. The hero from the first three films is named Ash, played by Bruce Campbell. This time they're going with a female lead. I'm not as familiar with Knott's Scary Farm as Kyle, but they have an amazing story to play with. Tons of gore, lots of atmospheric horror and just really screwed up imagery. It's really not a safe property for a theme park. While Universal will have Silent Hill, and Walking Dead…those aren't near graphic, sexual or freakish as Evil Dead. For god's sake, a naked woman gets her head cut off, then dances around naked outside with her head, before popping her eyeball into another woman's mouth! And let's not forget the tree attack from the first one from above! If the remake is anywhere near as depraved as the original, then guests at Knott's are in for a really fun experience. I mean, you're basically getting Evil Dead Splash Mountain….how much more amazing can you get than that?
(Evil Ash is dead)
Good Ash (Kyle Goodie Two Shoes)
It was thought up until this point that both The Timber Mountain Log Ride and Calico Mine Ride would not be receiving Halloween Overlays this year due to the actors being too close to the moving vehicles, and it being deemed unsafe. Currently it's unknown whether Evil Dead will have talent (aka scare-actors) at all. But this exciting announcement does leave open a brand new question. The Calico Mine Ride, and it's anybodies guess what Knott's will have in store for that. Needless to say we are incredibly excited for this year's 40th Anniversary of Haunt at Knott's Scary Farm, it's going to be unlike any other year of Haunt before. Knott's Scary Farm opens September 21, 2012 and ends Oct. 31, 2012.