Greetings…you may call me…keeper, for I am the keeper of theme park tales. Today your pal keeper feels more like a detective than adventurer, come with me and I'll explain.
About a month or so a giant full color add appeared in the Calendar section of the Orlando Sentinel advertising a new dinner show called Camelot Knights with a description and 50% introductory offer. Now I can't get me enough dinner shows so they had me at hello but the description really interested me.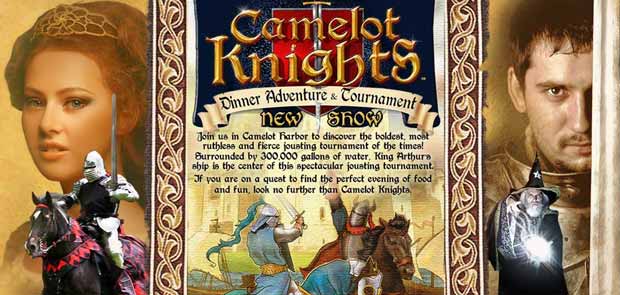 The Knights Of Camelot background is to celebrate the romance and wedding between dashing King Arthur and the beautiful Lady Guinevere one of the greatest love stories of all time. It's an action-packed show with Knights of the round-table, horses, Merlin the magician and a right royal feast. Everything happens in the extraordinary world of Camelot Harbor, surrounded by 300,000 gallons of water, where King Arthur's ship is the centerpiece of this spectacular new presentation.
Wait a minute surrounded by water, a boat? What's that have to do with King Arthur. Where is this located? 6400 Carrier Drive hmmm why does that address sound familiar? Why haven't we heard about this coming to the I-Drive area? WAIT 6400 Carrier Drive that's the Pirate Dinner Theatre complex—home to both the best (Treasure Tavern) and worst (Pirate's Dinner Theater) dinner shows in town. How do they even have room for this show? Water…a boat…are they using the main Pirate theatre for this show? I was hooked—it already sounded like a train-wreck, I HAD TO see this. We let a couple weeks pass due to scheduling conflicts then tried to book the show. The Mrs. got a run-around on the phone saying that it was not playing that night but would begin than coming Friday. They were kind enough to remind her that they had two other dinner shows they would be happy to sell us tickets for. A couple days later I checked their web site again and found it a blank page.
Yesterday in my travels I thought I'd pay a visit to the Pirates and see if I could get any answers. Most dinner shows maintain a box office during the day to sell tickets for the evening shows. Pirates box office was closed but in the back of the building was a trailer labeled office which had a sign on the door saying "tickets available here". I noticed that there was no reference to the Camelot show anywhere on the building, signage, or office. I walked in and told the receptionist/phone operator/ ticket seller that I was trying to find out some info about the Camelot Knights dinner show…when is it playing. She looked at me with deer in the headlights look, picked up a phone and spoke in a different language to someone on the other end. I was intrigued now, must be some info I didn't need to know. A women came out of a back office asking if she could help me, I repeated my question, she said they don't know when it would be playing and had no other info. I relayed the timeline with my wife's and my interactions with the show and asked if it ever showed. She said it was showing up until this past Saturday (which was completely contrary to the info we received before) but they didn't know the next show. I said that I never had to expend this type of energy to just get tickets for a dinner show. She apologized and reminded me that they had two other shows available. I thanked them and left—still puzzling this mystery. I went home and then found someone on the Sentinel staff had done the research for me.
Aparently Medieval Times was threatening a legal action against Pirates for stealing distinctive show elements and thus hurting MT's business and causing confusion in the marketplace. It seems Pirates hired away a former horse person from MT. By the look of the ad I'd be willing to wager they grabbed a marketing person also! MT was looking for an immediate injunction to shut Camelot Knights down until the case could be looked at by a judge. I sure don't know anything about the law but it sure seems that they have a case and we may never get to see King Arthur's ship. Too bad 'cause I'm sure it would have made a remarkable tale.
What do you think?
Every Day's An Adventure
Keeper