It's that time again, convention season is now in full swing and the next large geek-gathering is about to go underway in Anaheim, California just a few feet (quite literally) from the Happiest Place on Earth, the Disneyland Resort. So what is new this year and what is a must see at this years convention? We'll we've got  you covered with the 411 on this 3-day Event.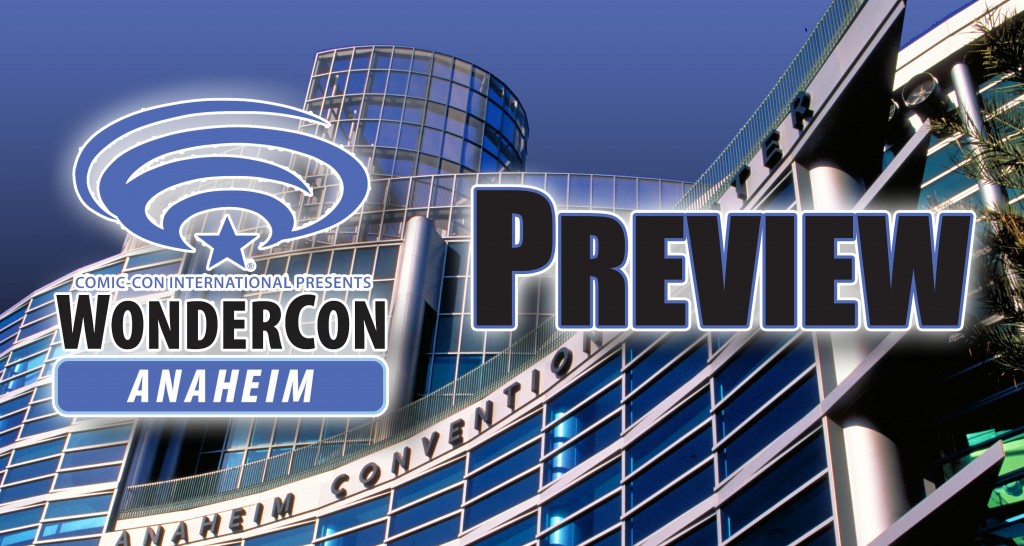 We'll start this preview with a look at some panels that we think you should check out.
FRIDAY:
35th Anniversary Battlestar
Host Richard Hatch (Capt. Apollo, Tom Zarek), Kevin Grazier (science advisor, Battlestar, Caprica, Defiance), Michael Taylor (writer/producer, Battlestar, Defiance, Caprica), and special surprise guests discuss the 35-year history of Battlestar Galactica. Includes Q&A and special 35th BSG trailer presentation screening.
DC Entertainment All Access
A lot can happen in a year! Come by for unfiltered access to DC creators as they talk all things DCE! Find out what they have to share from behind the scenes at your favorite and most talked about comic publisher! Joining the All-Access party will be some of the industry's top talents.
The Psychology of Star Wars vs. Star Trek
Boldly go where no one has gone before and explore a galaxy far, far away! Psychologists
Dr. Andrea Letamendi
(UCLA) and
Dr. Ali Mattu
(NYU) are joined by writers
Hugh Sterbakov
(
Robot Chicken
,
City Under the Moon
) and
Larry "Dr. Trek" Nemecek
(
The Con of Wrath
,
Trekland: On Speaker
) for an epic sci-fi battle as they throw down the science behind the heroes, villains, galactic governments, and even the fandom of
Star Trek
and
Star Wars
. Join a side and cast your vote as we crown one the winner of WonderCon Anaheim! Refereed by
Brian Ward
(
Shout! Factory
).
Friday March 29, 2013 1:30pm – 2:30pm
Room 213
The Disney/ABC's of TV Writing: Through the Looking Glass of the TV Writers Room
What actually happens in the TV writers room is shrouded in secrecy, but
Disney/ABC's Writing Program will demystify what goes on behind the doors of your favorite TV shows. The program's
Frank Bennett Gonzalez
and
Ollie Ashtari-Larki
will share exclusive details on how they groom writers to be part of that world. Declassifying what goes on in the writers room are alumni
Jane Espenson
(ABC's
Once Upon a Time
,
Battlestar Galactica
,
Buffy the Vampire Slayer
),
Samantha Humphrey
(ABC's
Body of Proof
), and
Silvia Cardenas Olivas
(Disney Channel's
Jesse
) and current program participants
Severiano Canales
(
Private Practice
) and
Kristine Huntley
(
Legend of the Seeker
). Essential creative and business presentation tips abound. Sorcerer's hat and pixie dust not necessary. Moderated by
Ken Choy
(
Hyphen
magazine).
Friday March 29, 2013 2:00pm – 3:00pm
Room 207
How To Build Your Own R2-D2
Do you want to know what it takes to build your own
Star Wars
droid? Southern California R2 builders
Chris Romines
,
Michael McMaster
, and
William Miyamoto
, builder Godfather
Mike Senna
, and builder/moderator
Victor Franco
discuss how their robots were built and how they work. Topics include materials, blueprints, building techniques, tools, and the electronics used to bring R2 to life. Special guest
Don Post
is scheduled to join the group for part of the panel discussion. Hear Don talk about his involvement in producing the licensed replica R2-D2, along with other props and costume pieces.
Friday March 29, 2013 4:30pm – 5:30pm
Room 213
SATURDAY:
Living The Vikings
Join members of the
Vikings
cast for an inside look at creating the characters for HISTORY's new scripted series. Catch up with a series recap and get to know the cast during a Q&A session before an exclusive sneak peek at Episode 6.
Saturday March 30, 2013 10:30am – 11:30am
Room 300DE
Warner Bros. and Legendary Pictures
Pacific Rim
with director
Guillermo del Toro
and New Line Cinema's
The Conjuring
with director
James Wan
.
Saturday March 30, 2013 11:30am – 12:30pm
Arena
Sony Pictures: Mortal Instruments, City of Bones, EVIL DEAD, and This Is The End
Mortal Instruments: City of Bones
— Set in contemporary New York City, a seemingly ordinary teenager, Clary Fray (Lily Collins), discovers she is the descendant of a line of Shadowhunters, a secret cadre of half-angel warriors locked in an ancient battle to protect our world from demons. After the disappearance of her mother (Lena Headey), Clary must join forces with a group of Shadowhunters, who introduce her to a dangerous alternate New York called Downworld, filled with demons, warlocks, vampires, werewolves and other deadly creatures. Based on the worldwide best-selling book series. Please join the book's author,
Cassandra Clare
, along with director
Harald Zwart
and stars
Lily Collins
and
Jamie Campbell Bower
for an exclusive preview and discussion of
The Mortal Instruments: City of Bones
.
Evil Dead — Producers Sam Raimi, Rob Tapert and Bruce Campbell have teamed up with director Fede Alvarez to bring you the much-anticipated remake of the 1981 cult-hit horror film, The Evil Dead. When five twenty-something friends become holed up in a remote cabin, they discover a Book of the Dead, which unwittingly summons up dormant demons living in the nearby woods. The youngsters become possessed in succession until only one is left intact to fight for survival. Please join producer Bruce Campbell and director Fede Alvarez, along with stars Jane Levy (Suburgatory) and Jessica Lucas (Cult) for questions and exclusive clips.
This Is The End — The Mayans predicted that the world was supposed to end last December, but we're still here. So join Seth Rogen, Evan Goldberg, Danny McBride, and Craig Robinson as they stop by to show the new trailer for This Is The End, which hits theaters June 14. The comedy This Is The End follows six friends trapped in a house after a series of strange and catastrophic events devastate Los Angeles. As the world unravels outside, dwindling supplies and cabin fever threaten to tear apart the friendships inside. Eventually, they are forced to leave the house, facing their fate and the true meaning of friendship and redemption.
Saturday March 30, 2013 2:30pm – 4:00pm
Arena
Exclusive Hannibal Screening
From acclaimed executive producer Bryan Fuller (
Pushing Daisies
), this is the only public screening of the first two episodes of NBC's new drama series
Hannibal
, starring Hugh Dancy (
The Big C
), Mads Mikkelsen (
Casino Royale
), and Laurence Fishburne (
The Matrix
).
Hannibal
premieres on NBC on Thursday, April 4 at 10:00 PM ET/PT.
Saturday March 30, 2013 8:30pm – 10:00pm
Room 213
SUNDAY:
Much Ado About Nothing
Shakespeare's classic comedy is given a contemporary spin in Joss Whedon's film
Much Ado About Nothing
. Shot in just 12 days (and using the original text), the story of sparring lovers Beatrice and Benedick offers a dark, sexy, and occasionally absurd view of the intricate game that is love. Please join us for an exclusive panel with very special guest(s) including
Nathan Fillion,
Clark Gregg,
Sean Maher,
Fran Kranz,
Jillian Morgese,
Riki Lindhome, Tom Lenk,
Joss Whedon,
Romy Rosemont,
Brian McElhaney,
Ashley Johnson,
Jay Hunter,
Nick Kocher
and
Spencer Treat Clark.
Sunday March 31, 2013 11:00am – 12:00pm
Arena
Nerdist Industries
Join
Chris Hardwick
(host of BBC America's
The Nerdist
and AMC's
Talking Dead
) and some very relevant-to-your-interests talent from across the many-headed beast that is Nerdist Industries. Chris and friends will engage in lively conversation about the big things to come for Nerdist in the near future. Surprises, big announcements and, of course, quemments await!
Sunday March 31, 2013 12:00pm – 1:00pm
Arena
TheOneRing.net's Unauthorized Sneak Peek: The Hobbit: The Desolation of Smaug
Staffers
Cliff "Quickbeam" Broadway
and
Larry "MrCere" Curtis
, fresh from set visits in New Zealand, discuss, in a multimedia extravaganza format, the next billion-dollar installment of
The Hobbit
. They will preview new characters, Tolkien's non-Hobbit lore in the film adaptation, dragons, hints, clues, and potential spoilers, as well as the latest breaking info along with glimpses into what might be on the first
Hobbit
film's Extended Edition Blu-ray. Plus, unmentionable surprises from the biggest and best Tolkien news source in the world.
Sunday March 31, 2013 12:00pm – 1:00pm
Room 207
LEGO Batman The Movie – DC Superheroes Unite!
The ultimate blend of action and humor guaranteed to entertain fanboys of all ages,
LEGO Batman: The Movie-DC Superheroes Unite
finds Lex Luthor taking jealousy to new heights when fellow billionaire Bruce Wayne wins the Man of the Year Award. To top Wayne's accomplishment, Lex begins a campaign for President; and to create the atmosphere for his type of fear-based politics, he recruits the Joker to perfect a Black LEGO Destructor Ray. While wreaking havoc on Gotham, Lex successfully destroys Batman's technology, forcing the Caped Crusader to reluctantly turn to Superman for help. WonderCon Anaheim presents the West Coast premiere of
LEGO Batman: The Movie-DC Superheroes Unite,
followed by a star-studded panel featuring the preeminent voice of Lex Luthor,
Clancy Brown
(
The Shawshank Redemption, SpongeBob SquarePants
) and TT Animation's award-winning director/producer
Jon Burton
, as well as renowned videogame/animation actors
Troy Baker
(Bioshock Infinite, Batman: Arkham City) as Batman,
Travis Willingham
(
Avengers Assemble, The Super Hero Squad Show
) as Superman,
Christopher Smith
(Mortal Combat vs. DC Universe) as the Joker, and
Charlie Schlatter
(
Diagnosis Murder
) as Robin. Special prizes for special audience questions from moderator
Gary Miereanu
. From TT Animation, creators of the bestselling video game on which the film is based,
LEGO Batman: The Movie-DC Superheroes Unite
will be released May 21 via Warner Bros. Home Entertainment on Blu-ray and DVD.
Now, that is only a small taste of what is being offered at WonderCon, there is a handful of panels going on at all times of the day so your options are very saturated. This is just what we personally would like to see, and catching all them would even be a tall order. For the full list of panels be sure to check out the programming webpage.
http://www.comic-con.org/wca/programming-schedule
The Exhibit hall has also nearly doubled in size since last year which means TONS of new offerings and shopping locations for you to get your nerd on.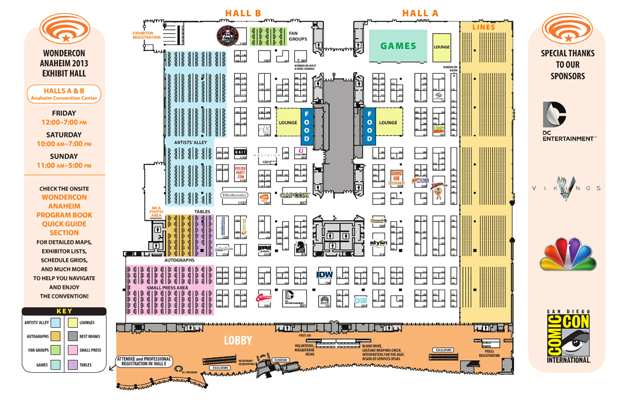 With a list of hundreds of venders, there just too many good ones to list. But the most notable ones would be the Universal booth featuring OBLIVION, and DC Comics. For a full look at the list of Exhibitors this year be sure to visit this page.
http://www.comic-con.org/wca/2013/exhibitors
Stay Tunes for our full coverage of the even and keep checking our twitter
@BehindThrills
all weekend for announcements and show floor action and sexy Cosplay babes!