Some tradeshows are known for their massive show floor sales, some are known for their social activities, and some are known for their educational aspect. HAuNTcon successfully combines the best of all three into one amazing 4 day haunt convention! Instead of staying in one signature location year after year, HAuNTcon is hosted in a different city each year. This year HAuNTcon invades Texas! April 25-28 HAuNTcon will take over the Sheraton DFW Airport Hotel in Dallas/Ft.Worth Texas. By traveling to a different city each year, HAuNTcon offers awesome haunt tours and activities based off of the area.
HAuNTcon is a convention "Designed by Haunters, for Haunters" of every age and level of experience. The celebrity filled convention provides four days of awesome haunt tours, educational seminars, workshops, a trade show, a haunted garage sale, a custom hearse car show and networking socials like the incredible costume ball!
HAuNTcon bus tour

Pre-Show Tours (April 24 & 25,)
Leaving on the morning of Wednesday, April 24, the famous HAuNTcon bus tour includes transportation, meals on the road, and attraction admissions for each day of the tour. Unlike most years, the buses will return to the host hotel, Sheraton DFW Wednesday night, so hotel arrangements are up to the attendees. Throughout Wednesday and Thursday, the tour will include the following locations:
Milton's Manor
The Haunt House
Creekside Manor
The Moxley Manor
Fatal End: Dollz
Slaughterhouse
Tayman Graveyard (4 attractions)

Tayman Mines
Fappy the Clown's Theatre of Wonders
Gravedigger's Hollow
Tayman Funeral Home

The Parker House (inside & outside)
Lunch on Wednesday is at the infamous Ole' Spaghetti Warehouse (reportedly haunted).
Munster Mansion (replica of the Munsters house)
Dallas Cowboys Stadium
Thursday Night Kick-Off Tour (April 25 / 7:30pm)

Dallas' Scariest's Haunted Houses ( 3 attractions, 1 location)

13th Street Morgue (full october show)
Dungeon of Doom (full october show)
Reindeer Manor (behind-the-scenes / lights-on)
The 13th Street Morgue and Dungeon of Doom will both be in Full October Mode. Reindeer Manor will be a behind the scenes, lights-on tour staffed by the design team explaining the scares and pyro effects. Reindeer Manor, is now in its 40th season, Dungeon of Doom in its 25th season and the 13th Street Morgue in its 10th year of operations. Click here for tickets
Friday Night Tours (2 locations) (April 26 / 7:30pm)
Cutting Edge (full actor tour)
Hangman's House of Horrors (3 attractions, 1 location)

Classic Hangman's Houuse of horrors
McDagenville
3-D Wonderland
Hangman's Haunted House in Ft. Worth, one of the most popular multi-element events in the market, is right down the road from The Cutting Edge Haunted House, therefore; HAuNTcon decided to tour BOTH of these fantastic events on the same night! The Cutting Edge Haunted House is one of the world's largest haunted attractions by Guinness Book of World Records. Hangman's Haunted House of Horrors offers 3 great attractions in 1 location.
Sunday Night Tour (April 28 / 6:30pm)
Zombie Manor (full actor tour)
For tickets to all of the HAuNTcon events as well as the tours, click here
2012 trade show floor
The tradeshow floor features haunt industry heavy-weights such as Haunted Enterprises, Fright Props, and Gore Galore. HAuNTcon is heavily attended by pro-haunters as there are more than 20 pro-haunts within an hour drive of the 2013 show. The trade show floor is the perfect place to find everything from props to POS systems to costumes for haunted attractions, home haunts, or any haunt related event! The show floor is open Friday, Saturday, and Sunday and costs $35.00 to register for any 1 day. A combo pass to attend all 3 days is also available for $95.00 which also includes admission to the seminars, garage sale, and hearse car show rally.

The 2013 Costume Ball theme (in honor of it's host location) is the "Texas Chainsaw Masquerade!" This is without a doubt THE BEST costume party of the year! Join Haunt owners  actors, makeup artists, and Halloween fanatics from around the world for one kick-ass evening of networking and haunting fun. Most haunters are working in October and don't get to dress up in freaky costumes just for the fun of it. The costume ball gives attendees a chance to get back to what got them into haunting in the first place: Halloween! Included in your ball ticket are party favors, t-shirt toss, prom photo, Texas Bar-B-Q buffet, free beer sponsored by Froggy's Fog, and a cash bar. Furthermore, it wouldn't be a party without a live DJ and haunted dancing! Costumes are suggested but not required for this party, but dress nicely if you decide not to wear a costume as this is an upscale event. The costumes that show up are AMAZING but the costume ball is all about SOCIALIZING AND FUN! Therefore, there is no competitive costume contest.
When: Saturday April 27, 2013
Location: Convention hotel ballroom
Time: 8:00 PM until Midnight
Cost: $65.00 (click here for tickets)
HAuNTcon seminar

Over 40 hours of haunt education is included in the 3 day trade show admission. Creative sessions, business seminars, hands-on workshops, makeup, and product demonstrations are designed to provide information and teach attendees techniques to do what they do better, faster, and easier.  Topics range from Haunted House Marketing and Business Plans, through Cheap Scares, Haunted House Design, Actor Training, Character Development, Prop building, and even full Set Design. Anyone that has a haunt or is thinking about opening a haunt, will walk away with a ton of fresh ideas and new knowledge!
2012 hearse car show

HAuNTcon even features a CAR SHOW FOR HAUNTERS! If you are driving to HAuNTcon, make plans to bring your hearse or haunt promotional parade-car and be a part of one of the most unique car shows of the year. The annual "Hearse and Parade Car Show" is a blast! Many haunted attractions have a hearse or parade car that they use to promote their event, and the Hearse Car Show is a way for the local attractions to show off their tricked out rides. The car show gives hearse owners a chance to share tips on restoring and re-purposing their rides, and gives attendees an opportunity to see these magnificent vehicles.  Just because you don't have a hearse, doesn't mean you can't participate. Bring a stretch limo, bus, tricked out two-wheelers, or your mom's shrink-wrapped mini-van and display them with pride!
When: Sunday April 28, 2013
Location: Sheraton DFW Airport Hotel
Time: 10am – 3pm
Cost to attend: FREE (with all weekend registration)
Cost to Enter your ride: $10.00 per vehicle and includes one FREE convention pass to HAuNTcon for Sunday.
Looking for a unique haunt item or have an over-sized prop that patrons are bored with?  The HAuNTcon Garage Sale is the perfect place to buy and sale used items! This event can easily be described as a huge yard sale for haunters. Visit the HAuNTers Garage Sale and see what's available! You never know what you'll find….maybe that "special prop" you've been hunting for to complete your most important haunt room or yard display! Admission is included with your show registration to shop. To register as a seller, you better act fast as space is LIMITED! The seller fee is $35.00 which includes a 6 ft. un-draped table in a 6′x6′ square area. No power or air is included. If you have an item that you don't want to worry about getting to or from the convention, they can hold a silent auction for large or expensive items during the Garage Sale. click here to register as a seller.
HAuNTcon all-day workshops

To wrap up this horror crazed convention, Monday April 29th, three different "ALL DAY ADVANCED WORKSHOPS" will be offered from 9.00am – 5.00pm. After selecting one of the three all day workshops, you will learn the insides and out of designing a haunted house, horror face painting, or even how to build an elaborate graveyard! Take your attraction to the next level with these great hands-on workshops taught by haunt industry professionals! Since these are hands-on classes, they are limited to a set number of attendees. Be sure to register soon before they are filled!
All-Day Worksops: (April 29 / 9:00am – 5:00pm)
Horror Face Painting: Makeup for Haunted Attractions
Teacher: Nick Wolfe, Evil Twin FX
Workshop Fee: $140
Class Limit: 20
Building Elaborate Graveyard Monuments
Teachers: Jeff and Chris Davis, Davis Graveyard
Workshop Fee: $150
Class Limit: 25
Haunted House Design: From the Inside Out
Teacher: Leonard Pickel, Hauntrepreneurs(R)
Workshop Fee: $160
Class Limit: 25
Every year HAuNTcon releases merchandise themed to the specific year and location of the convention. Since the convention takes place in Texas, this year's design is Texas Chainsaw Massacre themed!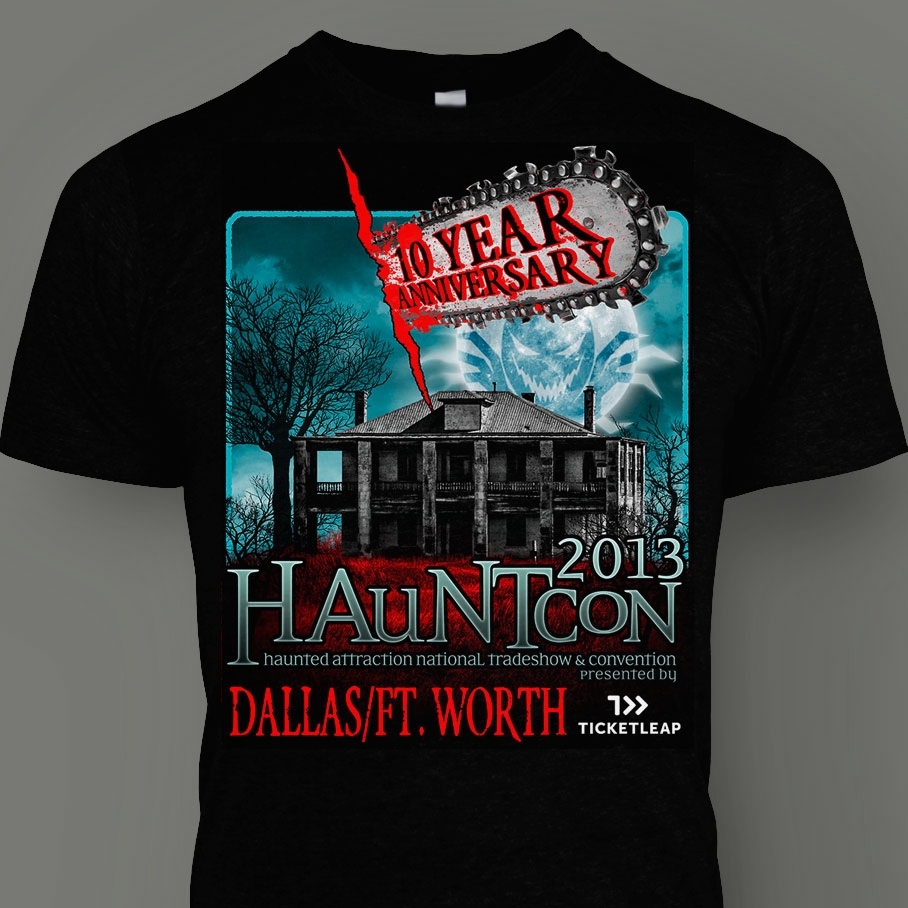 With 2013 marking the 10-year anniversary of HAuNTcon, also released is a Limited Edition "Retro Shirt" from the very first HAuNTcon! Click Here to check out all the HAuNTcon merchandise that is available!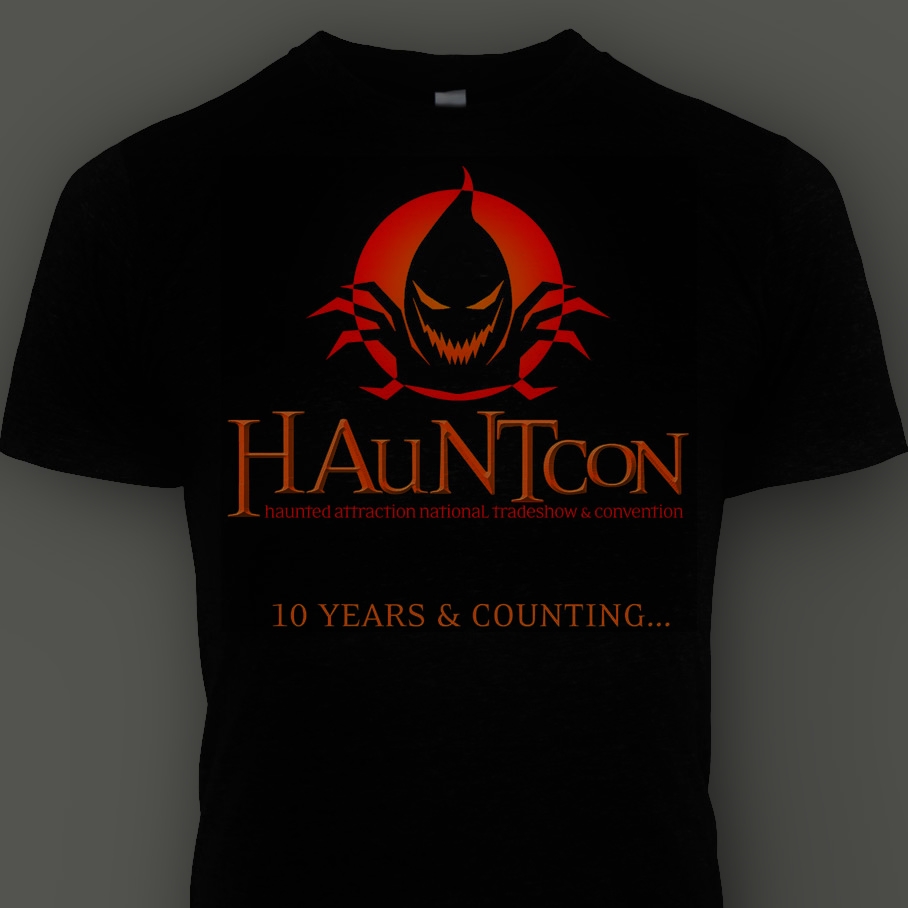 If you have a Halloween related event, Haunted Attraction, or Home Haunt, or if you have a dream of someday opening a Halloween event, Haunted House, or Home Haunt, then attending HAuNTcon is a great investment!
The 2013 HAuNTcon is sure to be a blast! If you can't make it to Texas, follow along on twitter (@BehindThrills) as we bring you live updates from the convention!
BehindTheThrills.com is a proud sponsor of HAuNTcon
For more information and tickets please visit the official HAuNTcon website at www.hauntcon.com