With Halloween season fast approaching, haunted attractions worldwide are prepping for their openings.  Many attractions are celebrating milestones in 2013. Pennsylvania is packed full of amazing haunted attractions, but a few stand a cut above the rest… no pun intended. Ghoul Mansion has built itself to become a solid front runner among the best in PA.
The business landscape in Sharon, PA has changed drastically over the past 20 years, but the one constant has been the seasonal haunted attraction, Ghoul Mansion. Since 1994, Ghoul Mansion has been providing a safe, fun and fear filled entertainment option for residents and visitors of Northeast Ohio and Western Pennsylvania.
"20 Years of Fear is a huge milestone for us. There are not many attractions across the country that can claim that, especially in a small market like the Mahoning and Shenango Valleys. " says Jim Bugos, Managing Partner.
Over the years, Ghoul Mansion constantly changes up their scares and attractions. The current edition of the attraction features six themed areas including; The Dungeon of Doom, The Gauntlet of Ghouls, Scarin' Behavioral Institute (SBI), Ghoul Mansion, The Body Shop and CarnEvil Fear 3D.
"The advantage we have over other haunts in the area is that we are a permanent haunt and can work on the building year round. We do not have to tear our scenes down every November and our sets do not get worn from the winters like haunted hayrides." says Jim Bugos.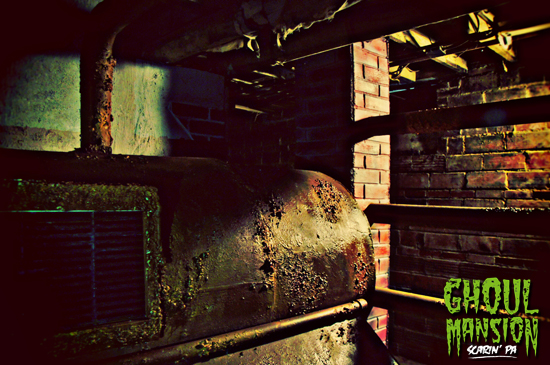 Ghoul Mansion is a proud member of the community. Their actors and staff live in Sharon PA,  buy the majority of their supplies locally and feed their entire staff each weekend with food purchased from local businesses. They also donate a portion of their proceeds to The Akron Children's Hospital Mahoning Valley in partnership with Clear Channel Radio Youngstown.
Ghoul Mansion is also a member of HAA (The Haunted Attraction Association) and regularly attends conventions and training seminars such as TransWorld's Halloween & Attractions Show, Midwest Haunters Convention and HauntCon – Haunted Attraction National Tradeshow and Convention.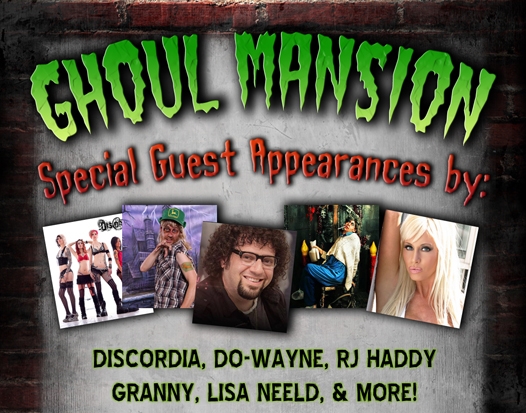 Ghoul Mansion opens for the 2013 season on Friday September 13th and will be open every weekend through November 2nd. On September 27th and 28th, RJ Haddy from SyFy's FaceOff will be making a guest appearance and signing autographs for fans. A full schedule of events is available on their website. Tickets are $15 for adults and $10 for children under 10, with discount coupons and specials available throughout the year. As always, #FearIsGood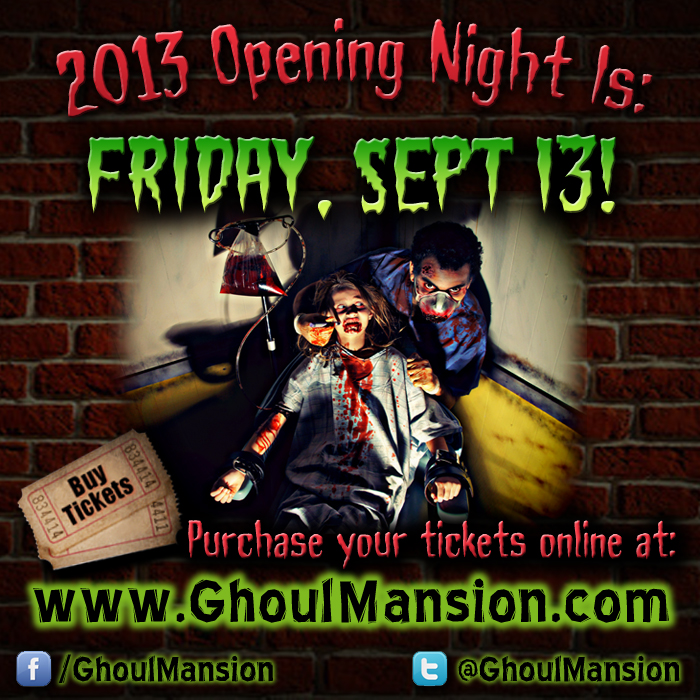 Get more information on their official site www.GhoulMansion.com and be sure to follow them on FaceBook and Twitter for social media specials!