Midnight Syndicate has been bringing the sounds of your nightmares to life for almost two decades. With 17 studio albums, countless soundtracks, a feature film and haunted attractions all over the country using their music for years, the band is about to go beyond the music and bring the worlds they create to life in a huge way. Midnight Syndicate will go live! That's right, cue Dr. Frankenstein!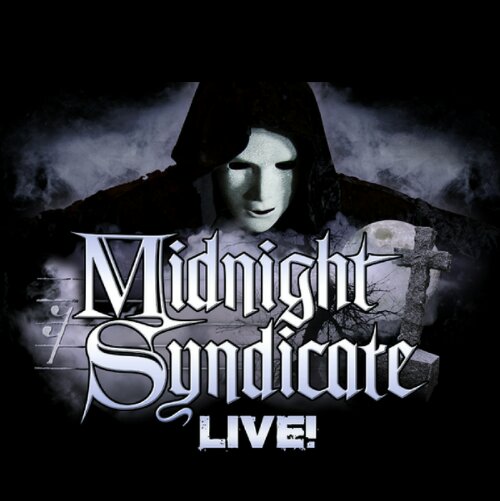 The group has released two all new CD's this year with their amazing original album Monsters of Legend and the original soundtrack to Axe Giant. The group has brought your nightmares to life with soundtracks to imaginary films, but now they hope to bring the nightmares to the stage.
We want it to be a feast for the eyes as much as the ears," said Gavin Goszka, "a unique show that is not only a Midnight Syndicate concert but also something that stands on its own as a great horror multimedia experience."  In order create the visual elements of the show, the band is teaming up with of veterans from the special FX, film, and haunted house industries.   The initial group includes special FX legend  Robert Kurtzman (Creature Corps, FROM DUSK TILL DAWN, KNB EFX), director Gary Jones (XENA, AXE GIANT), David "House" Greathouse (FACEOFF, Mushroomhead), Jason Carter (BABYLON 5, THE DEAD MATTER), Beki Ingram (FACEOFF), and Jason Blaszczak of Screamline Studios (Rob Zombie's AMERICAN NIGHTMARE).  "Because of the style of our music and our ties to the film, roleplaying game, and haunted house industries we're in the perfect position to put together a unique show that blends the best of these different worlds," said Edward Douglas.  "It's a project almost two decades in the making.   We want to bring your nightmares to life," added Gavin Goszka. 
To help get the project going, the group is asking for your help by means of an all new Kickstarter.
"We've always been our own label and distributor with little commercial radio airplay, so it's really been the fans' support over these past seventeen years that has allowed Midnight Syndicate to continue to grow.  They really are the best fans in the world," said Edward Douglas.   "This live concert is something that our fans have been asking us to do for many years.  The Kickstarter campaign is giving us the opportunity to involve them from the beginning and allowing us to take this exciting next step together."
Click here to view the Kickstarter campaign, and donate!
While this is sure to be a huge touring production, Midnight Syndicate has always been a huge supporter of Halloween Horror Nights in Orlando. While nothing has been announced, it would be a pretty safe bet to say that if the Kickstarter (click here and donate! ) is succesful, there very well could be a live show at Halloween Horror Nights Orlando in the future. If not HHN, then perhaps another huge haunt? The possibilities are endless and to get started and in your hands!
Be sure to purchase the latest collection of Nightmarish music, just in time for Halloween, and also make sure to donate today!