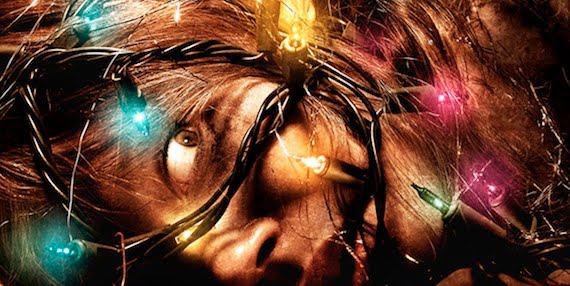 Halloween is over… or is it? Haunted Attractions around the country are swapping out their chainsaws for jingle bells! In fact, they're embracing Christmas as another reason to scream! We put together an extensive list of haunts spreading some holiday fear in 2013!
Disneyland Haunted Mansion Holiday: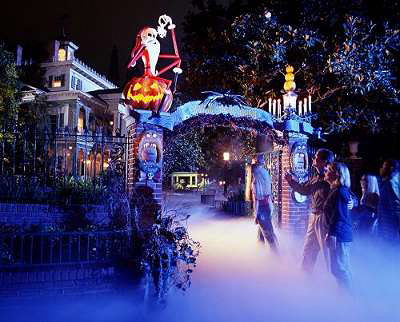 Christmas mixed with Halloween. Every year Disneyland takes their Haunted Mansion and overlays it with characters and a story from A Nightmare Before Christmas. The ride provides a spooky-good time appropriate for the whole family! Official Website
The 13th Floor – San Antonio, Denver, & Phoenix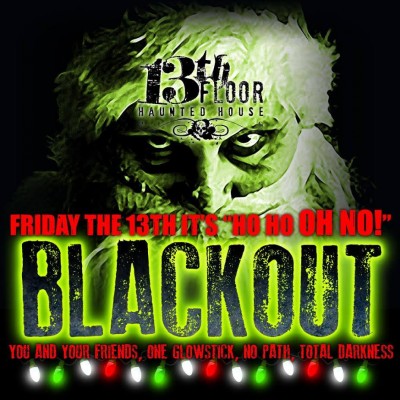 Friday the 13th of December, one night only, a special "festive" version of the pitch black event returns to ALL THREE 13th Floors! The 13th floor is a franchise of Haunted Houses located in 3 different cities. Phoenix, San Antonio, and Denver.
Check their facebook pages for more info:
San Antonio
Denver
Phoenix
Factory of Terror – Canton, OH
The Factory Of Terror will be opening its doors for one night in December, Friday the 13th! Located in Canton, Ohio, Factory of Terror broke the Guinness World Record for largest indoor haunted house in 2010 and 2011. FOT consumes over 55,000 square feet of haunted attraction space. Prepare yourself to walk over 3/4 of a mile! – ALL WHILE BEING INDOORS! Tickets are $16 online pre-sale, or $20 at the door. Get your online tix here
Scare-A-Torium – Columbus, OH
The ScareAtorium in Columbus, Ohio will be open Friday the 13th of December and Saturday the 14th from 7:30 to 11:00 pm. It'll be a Happy HorrorDays at the Northland Asylum as they ring in the dark side of X-mas. Tickets are only $17 for both the Asylum and RIP's Funhouse in 3D. Official Site
The Fear Factory – Mays Landing, NJ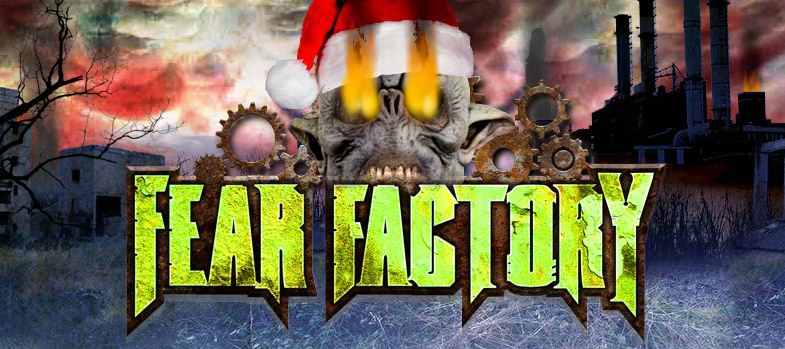 Tinsel Town Terror at The Fear Factory takes you on a twisted trip through "Santa "Claws" home and into the bowels of his dreary basement where his enslaved elves build distorted, ominous toys for the "naughty" while incarcerating the "nice". You'll "stroll" through a winter "wasteland", explore vast frozen "ice caves" and pay a visit to the Deer "Sleigher's" Barn. Open every Friday and Saturday Nov 29 thru Dec 21. Official Site
Brighton Asylum – Passaic, NJ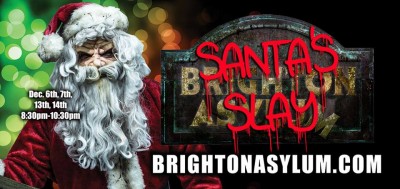 "Santas Slay" gives you the warning that you've made it through Halloween…now make it through Christmas! December 6, 7, 13, & 14 8:30pm-10:30pm Official website
District of The Dead / Final Fear – Buffalo, NY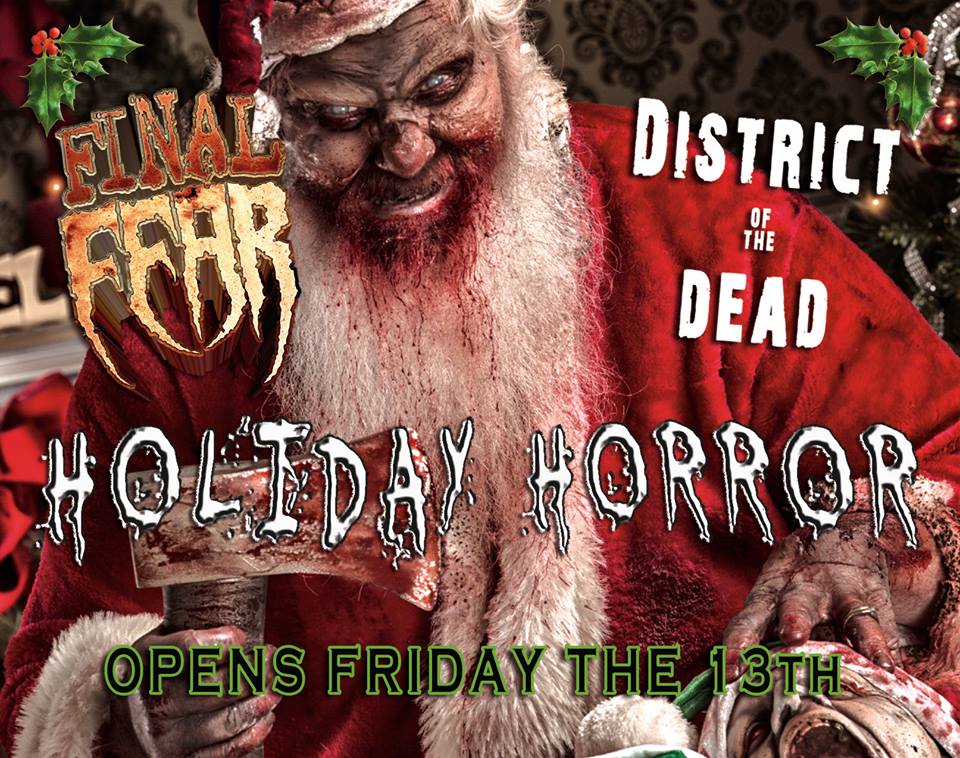 Two haunts collaborated (District of The Dead and Final Fear) to offer a brand new experience as Buffalo, New York's first and only Holiday Horror haunted house! Open select days December 16 thru December 29.
Official facebook pages:
District of the Dead
Final Fear
The ScareHouse – Pittsburgh, PA
Christmas in "The Basement!" – ScareHouse is opening their newest section of fear called the basement for one night of holiday horror! You must be over 18 and you must sign a waiver. Two people enter at once … You will be touched… You will be restrained… You will be scared out of your mind. This event occurs Saturday, December 28 only – Official Website
Castle Blood  – Monessen, PA
"Spooky Little Cryptmas"! It's the perfect place to cozy next to the fire on December 14 & 15. Official Website
The Nightmare Factory – Havelock, NC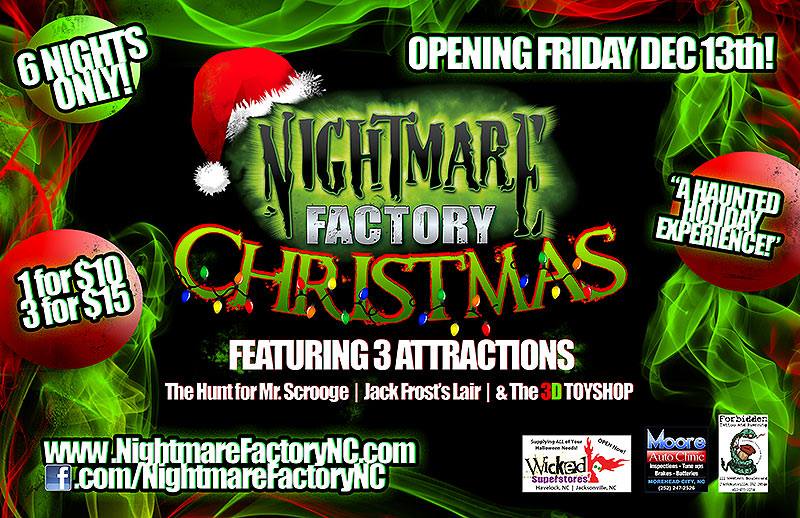 The Nightmare Factory is putting a terrifying twist on your favorite holiday characters! Three attractions redesigned for Christmas featuring "The Factory", "Jack Frost's Lair", and "The 3D Toy Shop". Get you picture taken with Santa Claws! Fridays & Saturdays in December starting Friday, Dece 13. Official Site
Nightmare on Ash Street – Terre Haute, IN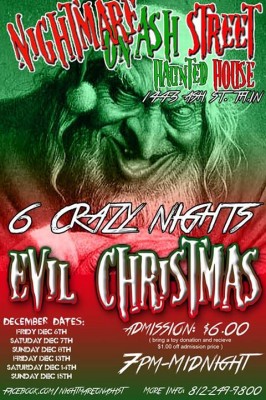 Have a Scary Merry Christmas with Nightmare On Ash Street Haunted House!
December Dates: 6-7-8-13-14-15 – Official facebook page
Fright Kingdom – Nashua, NH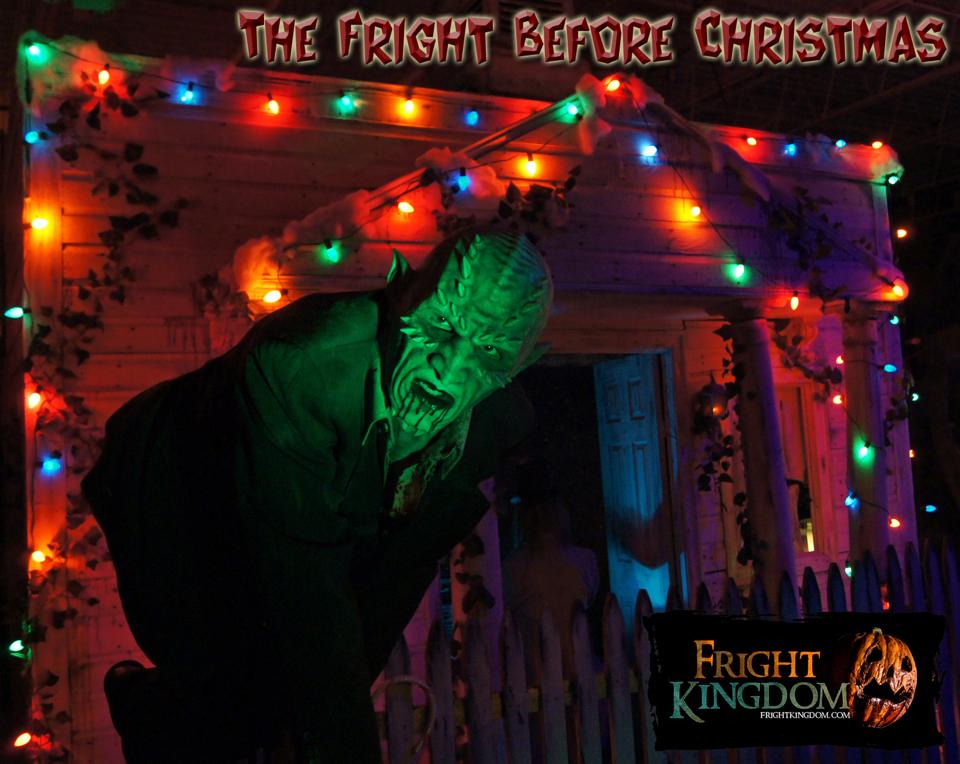 Fright Kingdom presents: The Fright Before Christmas. One Night Only – December 14. Official Site
The Haunted Barn – Charleston, WV
The Haunted Barn is open December 14 and 21 for some Christmas fear with themes such as Nightmare Before Christmas, The Scrooge, and many more! Official site 
The Haunted Hotel – Louisville, KY
The Haunted Hotel's Bloody Christmas event is open December 14 and December 21. Official Site
Scream Acres CT – Covington, KY

Scream Acres will be open for their Black Christmas event December 6, 7, 13, and 14. Official Site
Kims Krypt – Essex, MD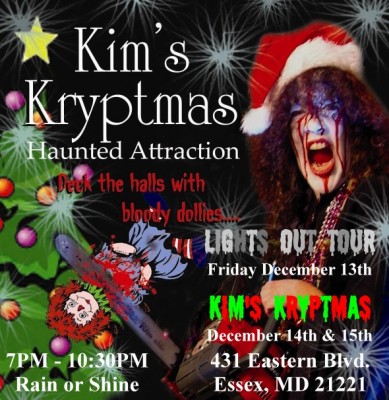 Kim's Krypt will be open select nights in December. Friday, December 13th they will feature a Lights Out event. Their "Kryptmas" event will be open December 14 and 15. Official Site
Dark Hour Haunted House – Plano, TX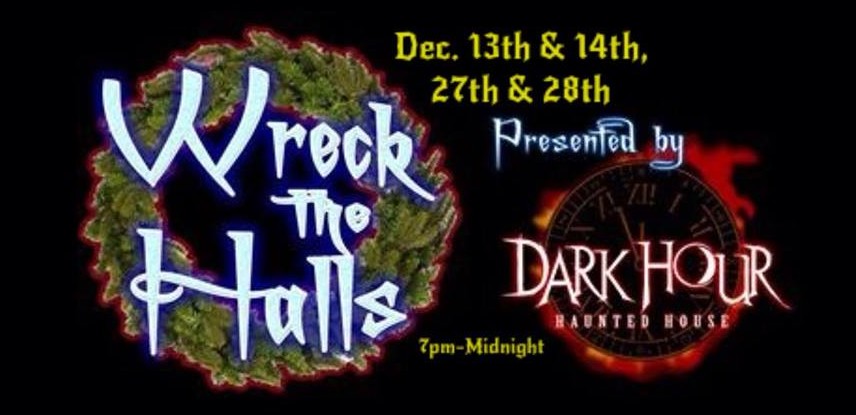 WRECK THE HALLS! Dark Hour haunted House is an all-new 30,000 square foot haunted house located in Plano, Texas. the haunt was created in 2013 by a team with over 80 years of combined experience in the haunt industry. This December they will be open for a special show titled "Wreck The Halls!" Open December 13, 14, 27 & 28 2013. Official Site
Cutting Edge Haunted House  – DFW, TX

Everything is bigger in Texas! In 2010 Cutting Edge Haunted House is the current Longest Walk Through Haunted House In The World by Guinness Book of World Records! Cutting Edge is opening for their 1st Christmas show named Nightscare Before Christmas. Open one night only Friday Dec 13 8pm-10pm. Official Site
Zombie Manor – Arlington, TX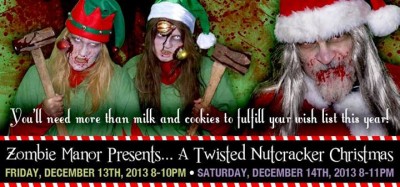 The ZOMBIES have a few new nightmares in store for you with Sugar Plum Fairies, Life size Gingerbread Zombies, Ballerina's, Dolls, Toy Soldiers and more… Open Friday Dec 13 only. Official Site
Moxley Manor – Dallas, TX 


"NightScare Before Christmas" at Moxley Manor gives you the same scares, only with a Christmas twist as evil elves have taken over. December 13 & 14.  Official Website
Tayman Graveyard – Midlothian, TX

Celebrate a very special Christmas with Tayman Graveyard and help raise food for the North Texas Food Bank. They decked the walls in the funeral home in preparation for the holidays, but the zombies aren't ready to rest. Lit by the lights of the trees, you'll have to find your way through the cold and lonely mortuary in the chill air of December! Open Dec 13 & 14.  Official Site
All Saints Lunatic Asylum – High Desert, CA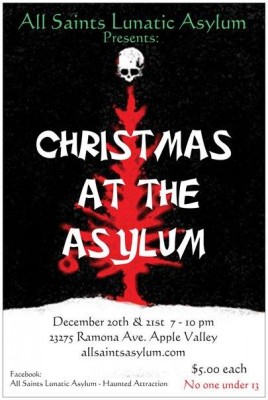 Christmas at the Asylum is open December 20 and 21. Official facebook
Sinister Pointe – Brea, CA


A Not So Merry Holiday Haunt is open December 13, 14, 20, and 21. Official Website
13th Door Haunted House – Portland, OR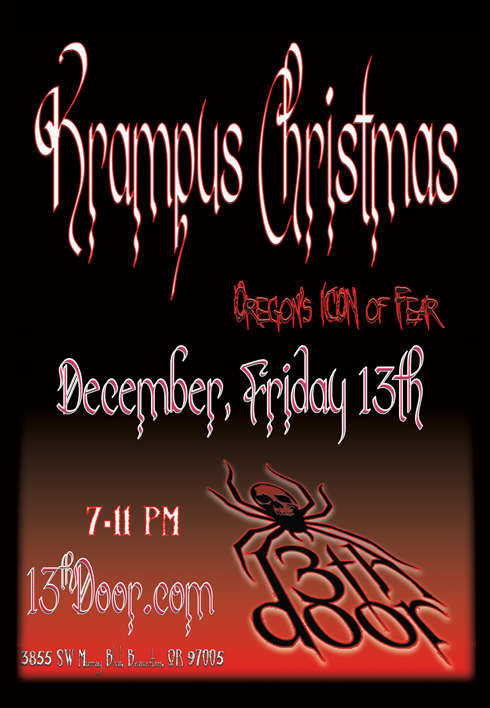 13th Door presents Krampus Christmas! Krampus is the dark companion of St. Nicholas, the traditional European winter gift-bringer who rewards good children each year in December. The kindly old Saint leaves the task of punishing bad children to a hell-bound counterpart known across the continent as Krampus. Krampus punishes the naughty children, swatting them with switches and rusty chains before dragging them in baskets to a fiery place below. Official Site
Frightmare Manor – Knoxville, TN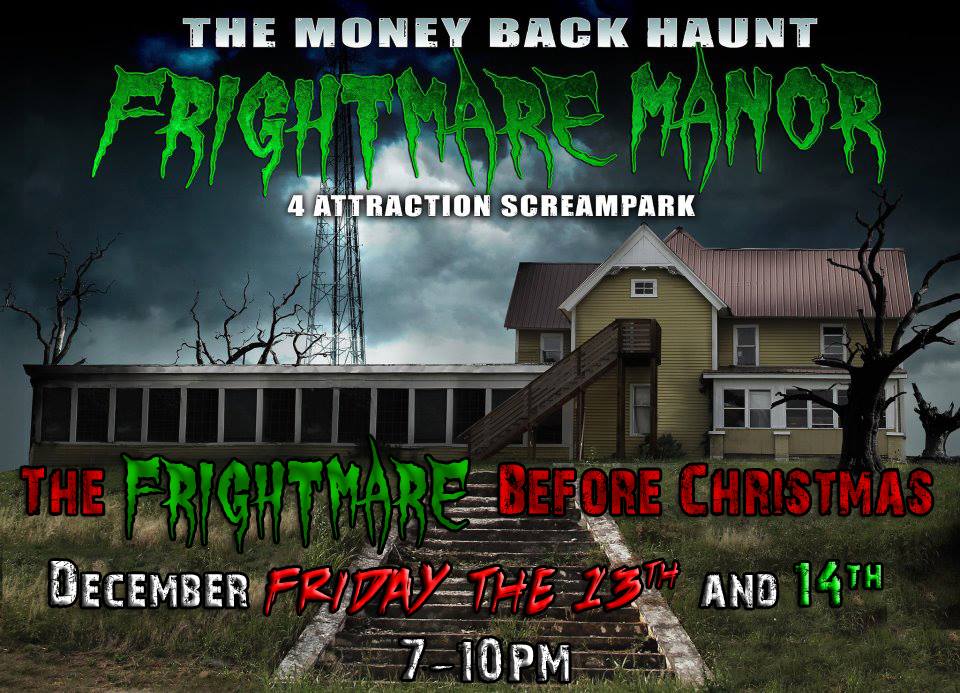 "Frightmare Before Christmas" event December 13 & 14. Official Website
Frightworks – Knoxville, TN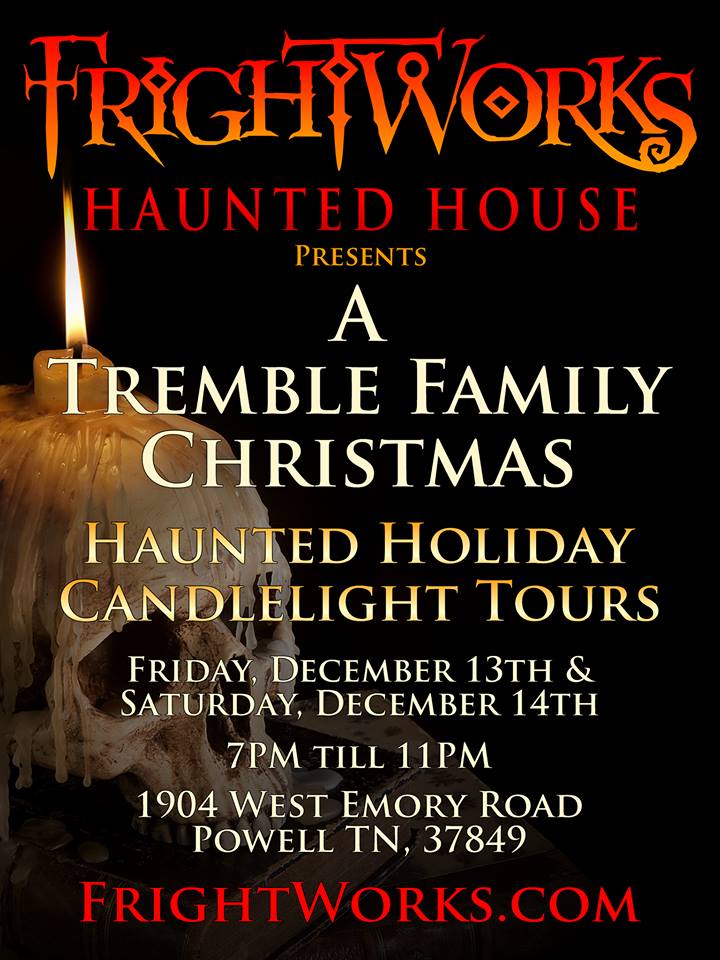 FrightWorks invites you to celebrate the season with humor and fright at the Tremble Morbidtorium Friday Dec 13 and Saturday Dec 14. Official Site
The Dungeon of Darkness – Maryville, TN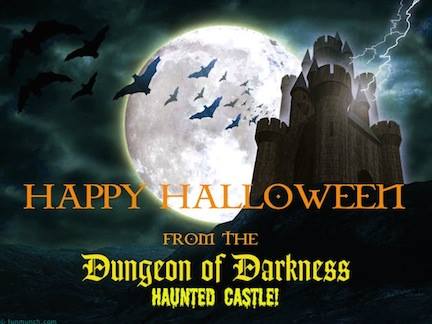 The Dungeon of Darkness Haunted Castle is not doing a Christmas themed event BUT, they will be open for a special encore performance Friday, December 13th. proceeds will benefit the Blount County Food Pantry over the holiday season. Bring a canned food item and admission is only $10! Official facebook
Scare Kingdom – United Kingdom

Manormortis, the UK's newest permanent scare attraction, will unlock its doors this Christmas season as guests are invited to 'feel the chill' in a 20 minute four dimensional theatrical experience for fearless families, thrill-seeking adrenaline junkies, and courageous kids. Christmas Festevil will unlock its doors on December 13 & 14, 2013. Official Site
Legends: A Haunting in Old Town – Kissimmee, FL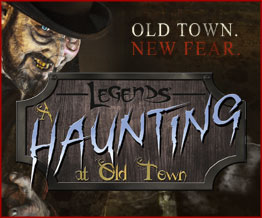 Legends is totally revamped and redone by a completely new crew for 2013. Although they don't offer a holiday themed event, they are open year round. The new haunt is definitely worth checking out! "A Haunting at Old Town" combines live actors, detailed sets and state of the art effects to deliver the perfect combination of fun and fear! Official Site
The Bates Motel – Glenn Mills, PA

This attraction includes a ride on one of their sound equipped hay wagons through the rolling hills of Arasapha Farm, which has been transformed into a winter wonderland filled with huge light displays, decorated trees and buildings, bridges, and brooks. Patrons come face-to-face with real, live Reindeer and see a beautifully animated Santa's workshop. Select days November 29 thru Deceember 29, 2013. Official Site
Ghostly Manor – Sandusky, OH


"Winter Wonderland 3D Christmas Walk-Thru" is returning to the Ghostly Manor Thrill Center in Sandusky, OH. The winter event is open November 29 thru December 31, 2013. Official Website
Headless Horseman Hayrides – Ulster Park NY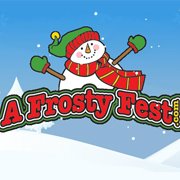 "A Frosty Fest" Light Spectacular – the haunted house is not open but it's a holiday event at a haunted house location! The creative team at Headless Horseman Hayrides and Haunted House presents a family fun holiday light spectacular that will prove to be unlike any other event in the country. November 29 thru December 22. Official Website
Evil Dead the musical – Las Vegas, NV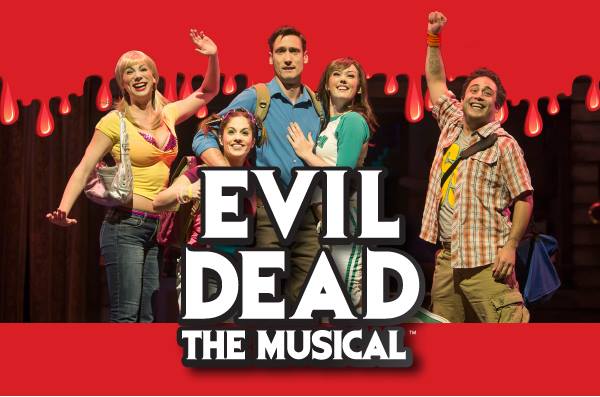 The cabin in the woods has never been so much fun! It's a musical based on the hit film series. It's hilarious, gross, and it even has a splatter zone! The show runs through Jan 4. Official Website
Check the out the official haunt websites for pricing and hours.
SCARY CHRISTMAS EVERYONE!