Nearly 30 Haunted House tours in January? Tradeshow floor sales? Halloween social activities? Education from the industries top professionals? HAuNTcon presented by darklight successfully combines the best of all 4 into one amazing haunt convention!
Instead of staying in one signature location year after year, HAuNTcon is hosted in a different city each year. In 2014 HAuNTcon will take place in sunny Houston, Texas from January 23-28 at the George Brown Convention Center in conjunction with the Halloween & Party Expo! This is the first time in over FIVE years that the H&P Expo has teamed up with a haunt convention! To team with the HPE, HAuNTcon had to move into January, which means this will be the show many vendors such as Distortions Unlimited, darklight, and Froggy's Fog will be showing off their new products for 2014!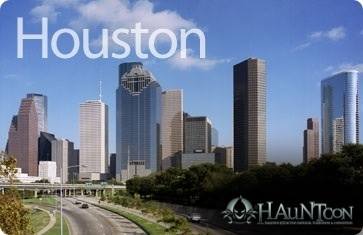 HAuNTcon always stays on the cutting edge of what attendees want to see in the perfect tradeshow for haunters. If you didn't attend last year's HAuNTcon, you really missed a GREAT show in Texas! The good news is that HAuNTcon is back in Texas with bigger and better plans for 2014, so book your hotel and plane tickets before it's too late!
After the exceptional reviews complimenting what a great show HAuNTcon already is, HAuNTcon board members took critics' suggestions to heart and made changes accordingly. The most noticeable change about HAuNTcon 2014 is that the show will now take place in the month of January. To accommodate the new venue, all activities will be pushed forward one day except the Costume Ball, which will remain Saturday night.
The pre-show haunt tour will take place Thursday and Friday.
The Tradeshow and haunter education will start on Saturday morning and run through Monday afternoon.
The HAuNTcon Garage Sale will be on Sunday.
Spotlight haunt tours on Friday night, Sunday night, and Monday night.
The All Day Hands-On Workshops will take place Tuesday.
Results from a recent survey revealed that education is the number one factor why haunters attend HAuNTcon. HAuNTcon features over 50 hours of business seminars, creative sessions, demonstrations, and hands on workshops. Unlike many tradeshows, education at HAuNTcon IS INCLUDED FREE with paid admission to the show. For 2014, HAuNTcon has increased the level of knowledge by adding more advanced classes with more accomplished speakers. Furthermore, some presenters are outside of the haunt industry, which will bring fresh, cutting edge information to attendees. The 2014 education program is rock solid featuring instructors from many top vendors, Face Off contestants, and well known haunts such as Universal's Halloween Horror Nights!

A few respondents did remark in a survey that they wished the HAuNTcon tradeshow was bigger and that more of the larger industry suppliers would attend the show. The HAuNTcon staff has taken drastic measures to make that happen. In 2014, for the first time, HAuNTcon will be in an actual convention center (George Brown Convention Center) in Houston, Texas! The show will be detached from the host hotel, so free shuttles will run between the hotel and show during the conference hours, and for the Costume Ball that will also be at the convention center.
HAuNTcon will be in conjunction with the annual Halloween & Party Expo increasing the caliber of exhibitors! The Halloween & Party Expo will feature a massive tradeshow floor with 1,400+ vendor booths spanning over 600,000 sq. ft!
Tickets are now available for the Saturday night Costume Ball! This is always the "must-attend" social of the year for haunters! Join Haunt owners  actors, makeup artists and Halloween fanatics from around the world for a fun night of networking and haunting fun. Costumes are suggested but not required for this up scale event. Included in your ball ticket are party favors, t-shirt toss access, prom photo, Texas Bar-B-Q buffet, free beer sponsored by Froggys Fog and a cash bar. A DJ will keep the haunted dance floor rockin' all night! The costume ball will take place on Saturday night from 7:00pm until 2:00am in the George Brown Convention Center.
Registration for the tradeshow, haunt tours, and costume ball can all be purchased now here.
If you are interested in vending at HAuNTcon 2014, there's still time to reserve a booth.
On a side note, we would like to point out HAuNTcon still has some left over 2013 event shirts and Limited Edition Retro shirts available for only $10.00 while supplies last! Once these shirts are sold out, they will be gone for good, never to be printed again! Click here to purchase yours today!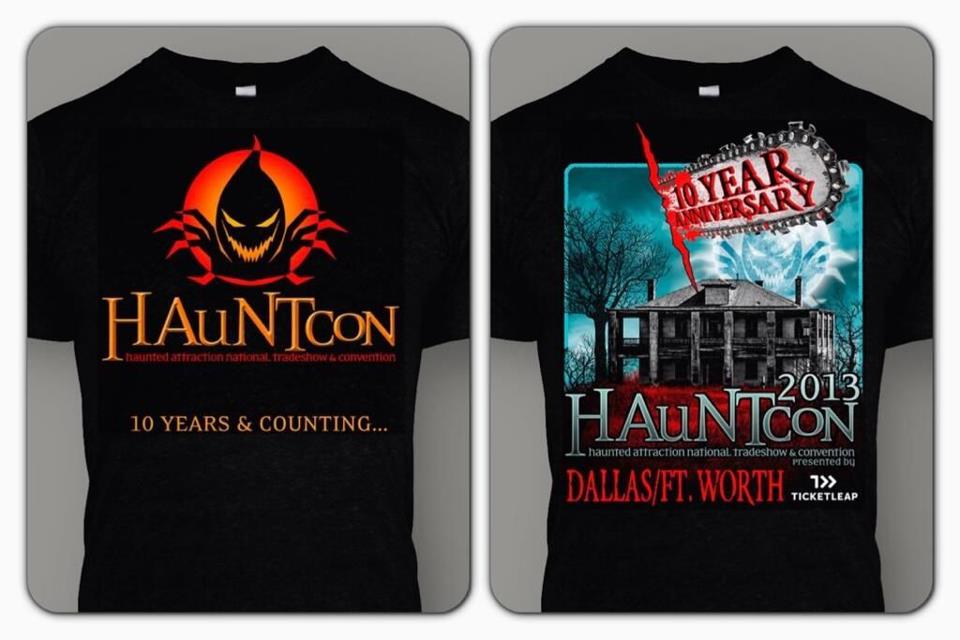 The host hotel for HauNTcon 2014, the Crown Plaza Houston Downtown,  is almost sold out. There are only a few rooms left! If you have not made your room reservations, do so soon. HAuNTcon special discount price is $119 a night, $10 per night for parking. For more information on HAuNTcon please visit the official website at www.hauntcon.com
Dont forget to check out the costume runway shows, huge tradeshow floor, and exclusive parties also happening via the Halloween & Party Expo! www.halloweenpartyexpo.com
Below is a video highlighting the 2013 Halloween & Party Expo runway costume showcase!
There are still new education classes and updates taking place daily. Anything can change, so check their official HAuNTcon website often. Follow @BehindThrills on twitter as we will be tweeting LIVE from both shows! SEE YOU IN HOUSTON!
Follow the socials!
twitter: @hauntcon
facebook: facebook.com/hauntcon