Six Flags stunned coaster enthusiasts everywhere when they announced that they would be closing the legendary Colossus. The Coaster was an American Icon for the better part of 30 years, and was featured in several films and TV shows that cemented it's place in Americana forever. However, while the coaster is closed, it's going to be reborn as an amazing new beast-TWISTED COLOSSUS. It's going to do many things that no other wooden coaster has done before, and it's going to stretch the limits of it's own track. Six Flags, and Rocky Mountain Coasters unveiled the amazing new trains this week at IAAPA, and it's a bit of a surprise.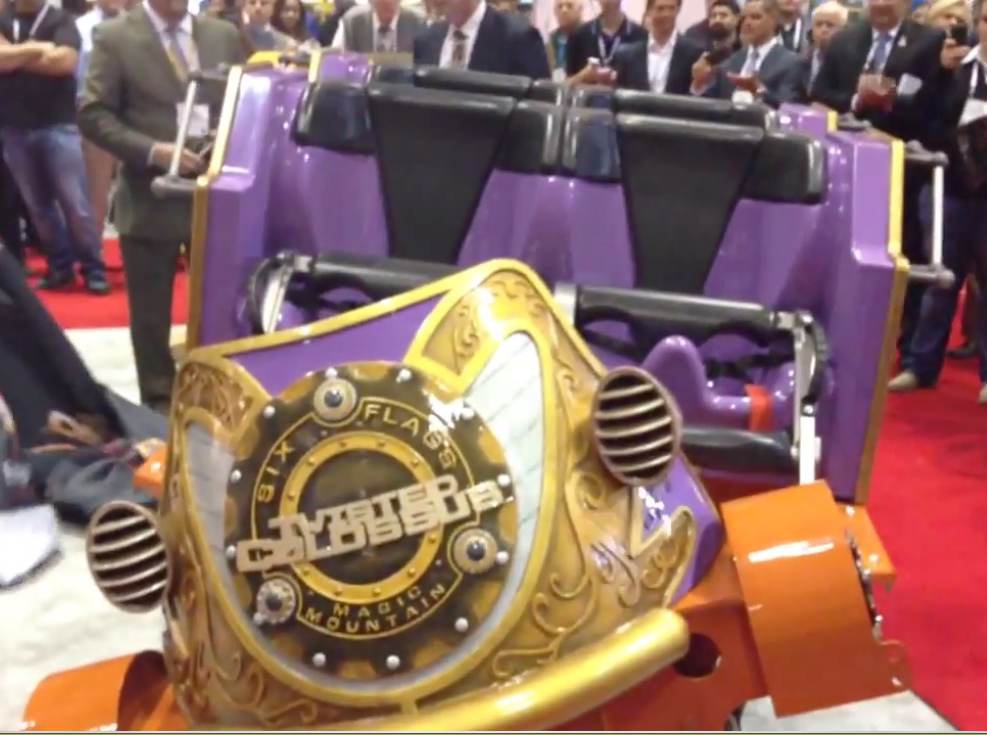 The very first thing that is noticed about Twisted Colossus is the very steampunk looking train. The purple orange and gold trains have a very unique, riveted design. They are very wide, perfect for all riders, and use lapbars and seatbelts.
Video-Twisted Colossus Unveiled at IAAPA 2014

The coaster will be an all out assault, as it twists and turns through nearly four minutes of record breaking thrills. The ride will feature the first "high five" element in the western hemisphere, where two cars passing each other will come within inches of each other. The coaster will also feature a jaw dropping "Top Gun Stall" where the coaster will go upside down and slow down as it goes through the inversion, and so much more. This new coaster will mix the thrills of steel coasters with the feel and fun of a wooden coaster.
Slideshow-Check out even more pictures from IAAPA

Twisted Colossus opens at Six Flags Magic Mountain in 21015!
Stay tuned for more from IAAPA 2014, and be sure to get social with us on <a href="http://facebook.com/behindthrills" target="_blank">Facebook</a>, and follow along with us on <a href="http://twitter.com/behindthrills" target="_blank">Twitter @BehindThrills</a> for the latest updates!
<a href="http://sixflags.com" target="_blank">For more information about Six Flags, including tickets, visit the official website by clicking here!</a>