Last year, during the celebration for the 59th birthday of Disneyland, it was made public that there would be a bigger, even more fantastic celebration for the 60th anniversary. Boy did Disney deliver! At long last the big announcement has finally come and Disney has officially announced the plans for the long awaited 60th Anniversary. The announcements were made through a live event taking place in Disneyland as well as on the Disney Parks Blog simultaneously. So what can you expect at the new celebration? The question really is, what can you NOT expect, as the park has so much planned to celebrate the Diamond anniversary, including…lots, and lots of diamonds!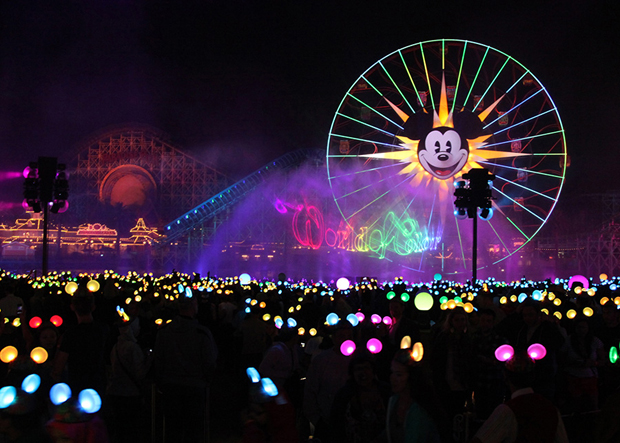 Eagle eyed Disney fans will notice that World of Color will be under refurbishment through May 22. This is no coincidence, this is for an all new show called World of Color – Celebrate! The Wonderful World of Walt Disney. The show is expected to take the perspective of Mickey Mouse and bring to life the store of how Disneyland was created and evolved through the years using stunning live action footage, fountains, lasers, brand new special effects all with a never before heard score that is intended to send chills down the spine of all Disneyland fans.
"World of Color – Celebrate! The Wonderful World of Walt Disney"  – Mickey Mouse will entertain guests as mischievous host of this fun-filled new presentation of the popular, nighttime "World of Color" spectacular in Disney California Adventure. Illuminating the night in a contemporary and moving celebration of Walt Disney and his dream of Disneyland, Mickey Mouse will take guests on an inspirational journey through the unparalleled imagination of Walt Disney, exploring his decades-long legacy of memorable animated moments and the dream of Disneyland Park. Both epic and intimate in scope, "World of Color – Celebrate!" brings to life the remarkable story of Walt and The Happiest Place on Earth with animated imagery, live-action film, fountains, lasers, special effects and a stirring musical score, all on the magical water canvas of "World of Color."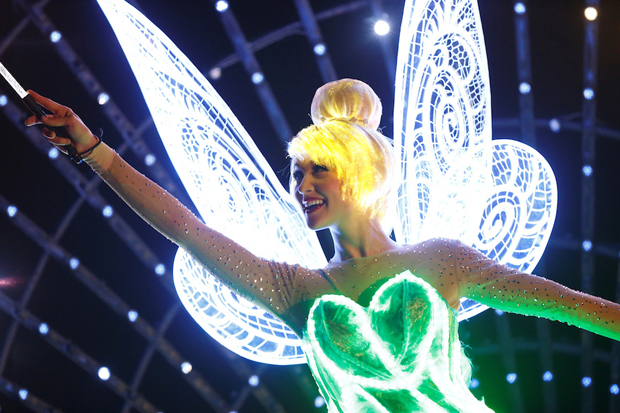 At Disneyland, we've got 2 brand new night time offerings. The first will be the all new Paint The Night parade. This parade debuted last year at Hong Kong Disneyland to rave reviews. It's only natural that it finds a new home at Disneyland in CA.
"Paint the Night" parade – New technology and unleashed imagination permeate this after-dark parade, flooding Main Street, U.S.A., in Disneyland with vibrant color and more than 1.5 million, brilliant LED lights that flash and glow as they bring Disney stories to life. The luminescent parade introduces a new era of magical entertainment, as Mickey Mouse uses his imagination to harness the power of Tinker Bell's pixie dust and "Paint the Night" in dazzling Disney dreams. Those dreams include special appearances by Mickey's pals and beloved characters from tales such as "Monsters, Inc.," "Cars," "The Little Mermaid," "Beauty and the Beast," "Toy Story" and "Frozen." The parade features special effects, unforgettable music, energetic performances, fun surprises and spectacular floats, with Mickey leading the grand finale.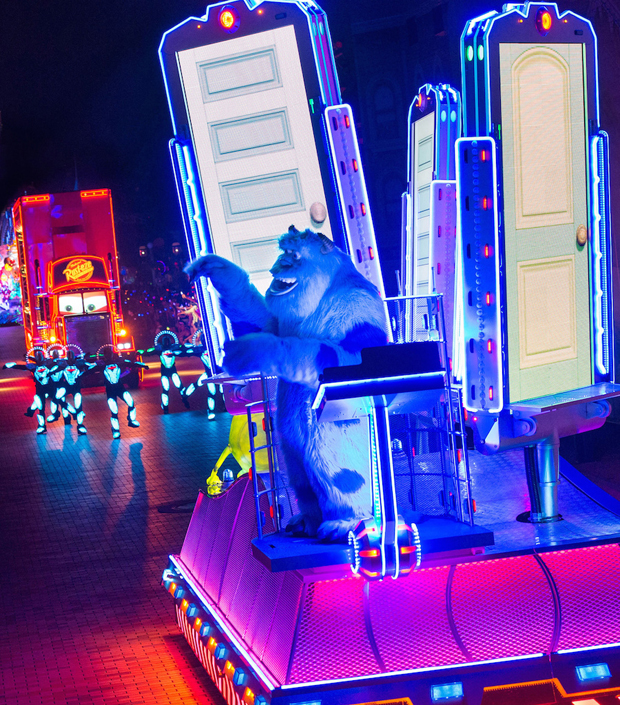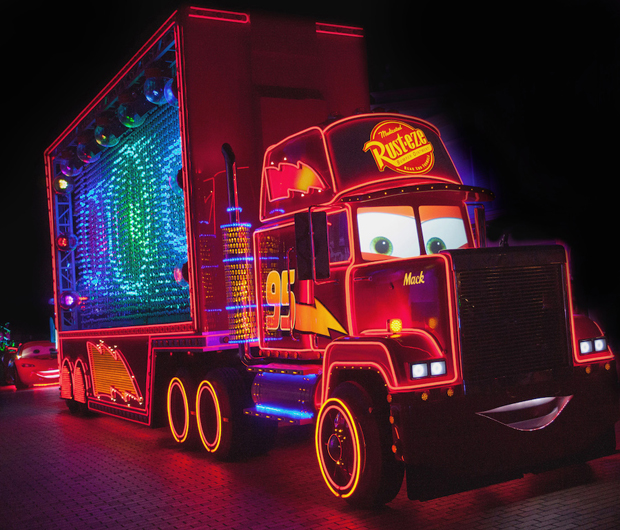 This plussed version of Paint The Night will feature  beloved characters and stories from "Monsters, Inc.," "Cars," "The Little Mermaid," "Beauty and the Beast," "Toy Story," "Frozen" and more. It's a massive parade that is wildly successful in Hong Kong, so we can only imagine how fans are going to react to it when it comes to the happiest place on Earth.
The last new entertainment offering is "Disneyland Forever" a brand new firework show expected to take tradition Disney firework shows in a brand new direction, by becoming the biggest and most elaborate fireworks show that Disney has ever done.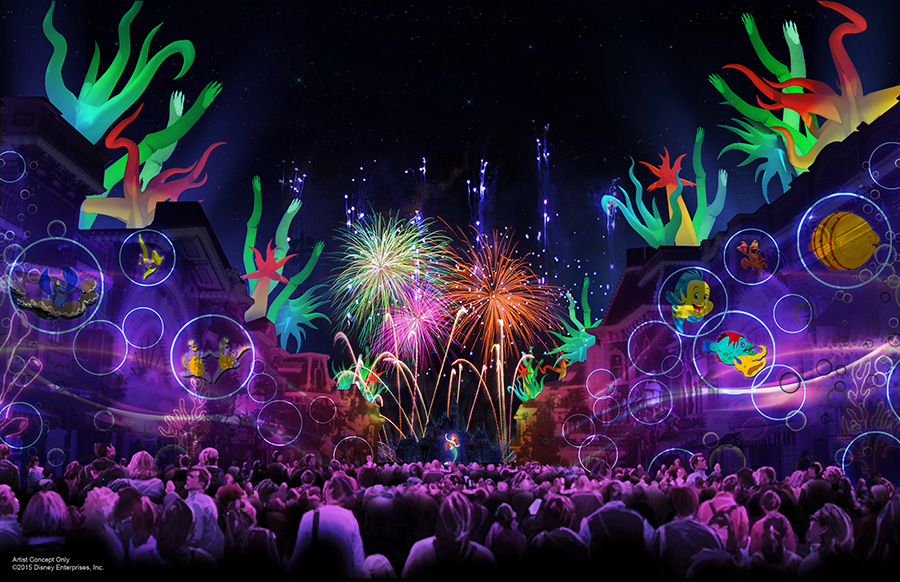 Disneyland Forever will envelope park guests on Main Street in one of the largest projection mapping surfaces, Main Street itself! This all new show will include scenes from Peter Pan, Tangled, The Jungle Book, and much much more utilizing Sleeping Beauty Castle and the Matterhorn as projection surfaces as well. "Disneyland Forever" also features two original songs, the theme "Live the Magic" and the inspiring closing song "Kiss Goodnight," written by Richard Sherman.
"Disneyland Forever" fireworks spectacular – The Disneyland Resort tradition of creating big, dazzling fireworks shows will soar to new levels as "Disneyland Forever" immerses guests in stories from the tips of their toes to the sky high above. Thanks to the largest installation of projection mapping technology in a Disney park and surprising special effects, guests will find themselves transported into the worlds of beloved Disney and Disney●Pixar films, including a dance with King Louie from the "The Jungle Book" and a flight over London with characters from "Peter Pan." Showing just how magical the Magic Kingdom can be, the fireworks "stage" will extend to Main Street, U.S.A., "it's a small world," Rivers of America and the Matterhorn as projections transform familiar park icons into stunning story scenes. Two original songs also will be featured, the theme "Live the Magic," and the inspiring closing song "Kiss Goodnight," written by Disney Legend Richard Sherman. "Disneyland Forever" will be visible from Main Street, U.S.A., and several Disneyland locations.
It was also announced that the parks would celebrate the Diamond anniversary by getting diamonds! Maybe not real diamonds, but the park will have an amazing diamond overlay on their iconic Sleeping Beauty Castle. Not only Sleeping Beauty Castle will get a diamond makeover but DCA will bedazzled in diamonds as well. The Carthay Circle Theater marks the first time that two Disney park icons will share the same decorative overlay.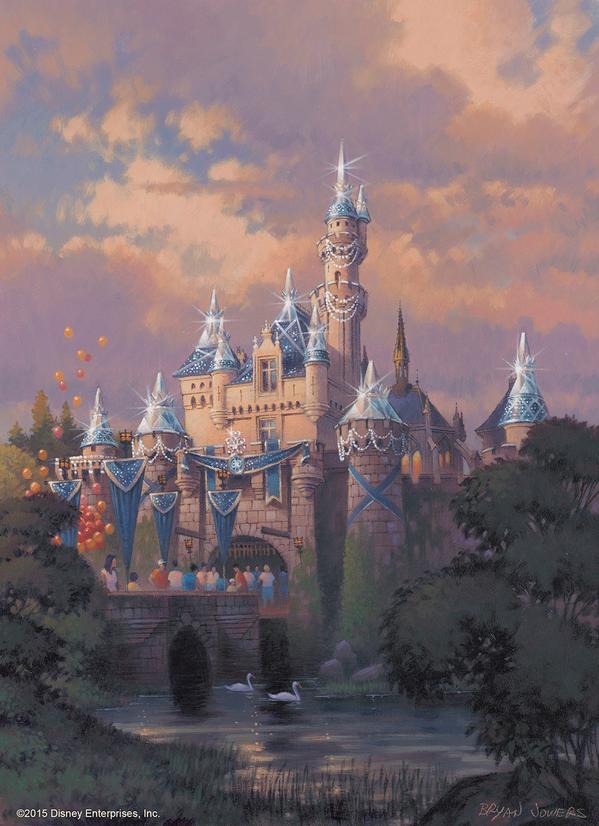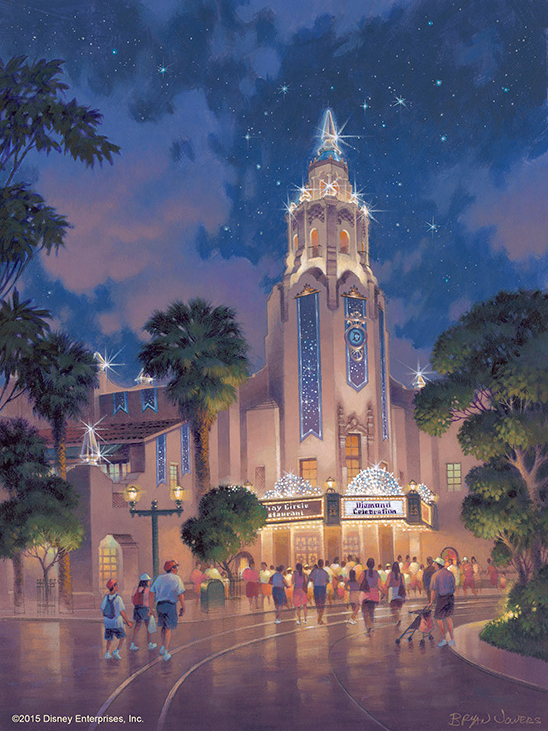 As Disney fans we have so much to look forward to and have already started counting the seconds until May 22. Judging by the sound of things, this is only the tip of the iceberg in terms of what is coming to Disneyland for the 60th. There's still a lot of time between now and May 22nd, plus this is going to be a huge year for Disney in terms of entertainment as well. There will be so many films premiering, as well as Star Wars Celebration coming to Anaheim, as well as the return of the D23 Expo. We can bet that the announcements for Disneyland, and the entire Disney chain, are just about to get ramped up!
For highlights of the event that took place, be sure to check out the video below!
Stay tuned for more from Disney, and be sure to get social with us on Facebook and follow along with us on Twitter @BehindThrills for the latest updates!
For more information about Disneyland's 60 Anniversary, including tickets to The Disneyland Resort, visit the official website by clicking here!