Disney Springs construction has devoured much of the Downtown Disney area, making it all but impossible to navigate. Trying to find a parking spot is still an exercise in patience, and there are more walls up than stores open. However, there is a silver lining. The transformation will start to see some completion within the next few months, and tons of new shops are opening, or have opened. To get a little perspective on just how massive the construction is, we take to the air…via balloon.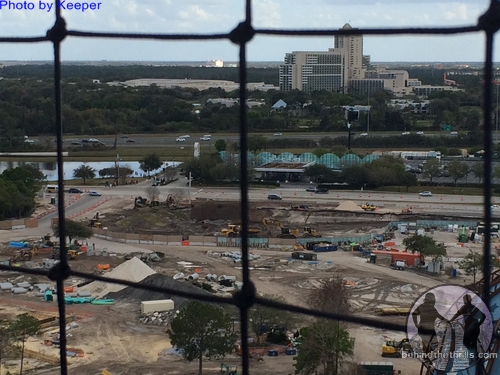 Through all the construction and mayhem, Characters in Flight at Disney Springs (Downtown Disney if you still must), remains open and operating. The plus side is that you can get a huge birds eye view of all the new additions coming to the area. From the beginnings of the actual springs to the formation of new buildings, Characters in flight lets you see just how massive this project really is.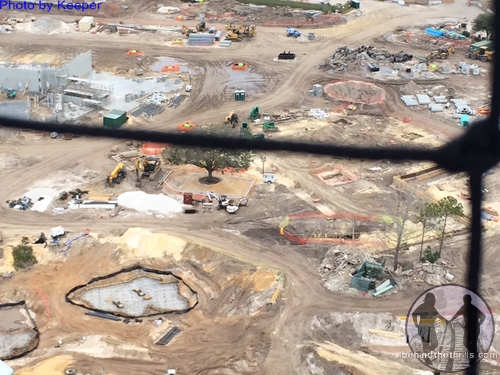 Actual springs will bubble to life all throughout the new area, as the shopping, dining and entertainment district is transformed into a little Florida town that was built around these new springs. The area will bring back a variety of new shops, restaurants and fun with that special Disney touch.
Over the past few weeks, there have been several new shops that have opened.
Here's just a few:
The Art of Shaving– A boutique retail offering that sells high-end shaving supplies and related grooming products for the modern man. Founded by a husband and wife in a Manhattan apartment, The Art of Shaving has grown to a worldwide organization. Guests can receive expert shaving advice on products and techniques, or make an appointment for a luxurious grooming experience at the Barber Spa.
Apex by Sunglass Hut- A first-of-its-kind sunglass store that was built with the athlete in mind. This retail location showcases the industry's best selection of sport performance and lifestyle eyewear including Oakley, Ray-Ban, and Under Armour. In order for guests to choose a lens to best suit their needs, Apex has developed environmental simulators so guests can test out how a specific lens will perform under a variety of light conditions.
Chapel Hats – A fashion forward shop that specializes in an assortment of hats for guests of all ages.  The location carries stylish hats including fedoras, cowboy hats, floppy hats, outdoors hats, kid's hats and more. Every Chapel Hats location is themed to a different time period and is built by using old pieces of shops, factories, schools, pubs and The Downtown Disney location is themed to the 1920s.
Havaianas – A Brazilian-based shoe store that offers fashionable flip flops made with the highest quality rubber — with hundreds of styles to choose from. This store will feature a large assortment of colorful Havaianas for women, men and children, plus kids' rain boots. There's also the "Make Your Own Havaianas" and "Embellish Your Own Havaianas," option, where guests can customize this casual footwear.
Sanuk– Innovative, fun and comfortable footwear with more than 175 designs will be available at this 1,000-square-foot venue. Taking its name from the Thai word for "fun," Sanuk strives to make more innovative products that are as much about funk as they are about function. Favorite styles including Yoga Mat Sandal Collection and its patented "Not-A-Shoe" Sidewalk Surfers will be showcased.
Sound Lion – A new retail concept that offers the latest technology in headphones, docking stations, wireless music players and other products. Before purchasing a product, guests can hang out at their Listening Barand find which product works best for them.
Erin Mckenna Bakery NYC – A unique bakery with savory offerings and an all-vegan and gluten-free menu. Look for a full selection of award-winning donuts, cupcakes, cookies, bagels with vegan butter, and other delicious items daily. Some of their fan-favorite cupcakes from their flagship bakery in New York and sister bakery in Los Angeles include vanilla cupcakes with zesty lemon frosting, red velvet cupcakes with creamy vanilla frosting and brownie cupcakes with rich chocolate frosting.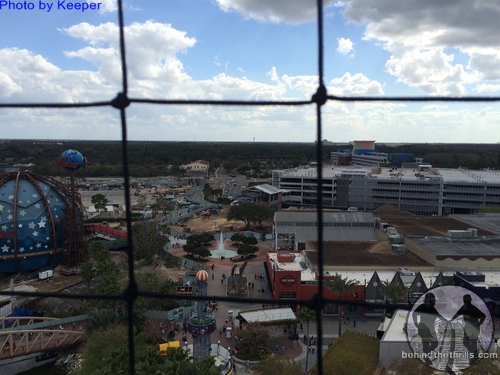 Planet Hollywood will also make some major changes over the next year, as the familiar globe will be transformed into "The Observatory" will feature an updated menu, and projections on the ceiling. There will still be movie memorabilia, but it looks like restaurant will try to stray away from being a "movie version of Hard Rock" by offering something new and unique to the area.
Also coming to Disney Springs in 2015 is STK by the ONE Group. The ONE Group is known for their upscale, high-energy restaurants. The STK Orlando restaurant will be the largest of the restaurant chains, and will mix an upscale, high-energy lounge with a steakhouse. It joins Morimoto Asia, and The Boathouse on The Landing area of the park.
Slideshow-Check out even more pictures from Disney Springs from the air!
Disney Springs will start to make a huge debut later this year, with the rest coming online in 2016.
Stay tuned for more from Disney Springs, and be sure to get social with us on Facebook, and follow along with us on Twitter @BehindThrills for the latest updates!
For more information about Disney Springs, visit the official website by clicking here!