Knott's Berry Farm in Southern California is known for a lot of things. It's Old Ghost Town, built in 1941 by Walter Knott, their famous chicken dinners, the amusement rides and of course their jams! But during the spring, you'll find Knott's like to incorporate their Boysenberry into EVERYTHING! Seriously! Pies, cakes, coffee, beers and wines, ketchup, candies, butter, glazes, and even tarter and BBQ sauce! I know I'm using a lot of explanation points!!!! But I can't help it, I'm Excited! Me + Food + Boysenberry = Josh The Foodie. You too can join my boysenberry excitement during the Boysenberry Festival happening March 28th – April 12, 2015, included with admission.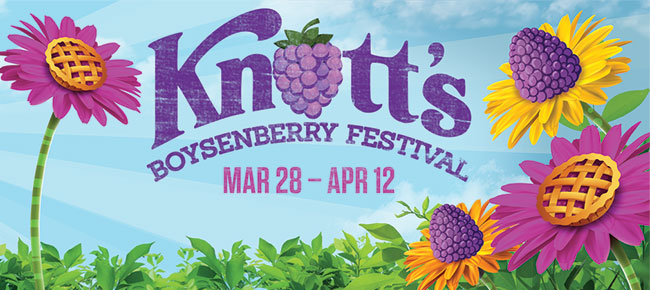 We were invited by Knott's to taste, see and experience the new #KnottsSpring (Official Hashtag), event, food and attraction gatherings. The official event doesn't start until March 28th, but we get to give you an very early sneak peek at the event, and show you all the delicious goodness in store.
Video-Get a sneak peek at the Knott's Boysenberry Festival, beginning March 28th!

As far as park experiences go, you can expect:
Transformation of Ghost Town-The area has been transformed to a Boysenberry heaven! Cutouts, live performances, and even crafting, all with that delicious Boysenberry theme
Boysenberry Festival Plants and Merchandise-At a recreation of Walter & Cordelia Knott's Original Roadside Boysenberry Stand near the Gold Trails Hotel, guests can purchase authentic Boysenberry plants!
Interactive Pie Making-Bear-y Tales characters will have their own kitchen, where little guests can create their own boysenberry tarts, complete with a crumble topping. Additional cost applies for pie making.
Easter Beagle-Camp Snoopy is the festive home to the Easter Beagle, where guests can meet and greet with the festive pooch, Snoopy!
Folksy Festival Fun-It's a traditional Pie Festiveal, with pie eating contests and silly games for everyone!
Knott's Berry Farm isn't forgetting about new live entertainment either. You can look forward to the following shows during the festival:
Peanuts Party in the Park-The iconic Charleston Circle fountain transforms into a beautiful floral fountain, adorned with colorful flowers and boysenberries creating an iconic centerpiece for the celebration, with the Peanuts gang in a huge interactive celebration!
Jammin' in the Dark-When the Peanuts clear out and the lights go down, DJ HowLy takes over Charleston Circle for a huge interactive dance party, with glowing vines and boysenberries!
Lucy's Really BIG Spring Show-The Peanuts gang will celebrate all the fun of Spring with a huge dance show full of music!
Salsa Dancing in Fiesta Village-Take to the floor and learn to dance, and just have fun
Krazy Kirk and the Hillbillies-What's a good festival without Bluegrass music? The world famous band is at Knott's performing a toe-tapping round of fun hits
We saved the best for last. The Food! Here's a list of the specialty foods you can look forward to during a visit to Knott's Berry Farm's Boysenberry Festival:
Boysenberry Bites
Chicken Wings with Knott's Famous Boysenberry BBQ Sauce
Fried Alligator with Boysenberry Aioli (Yes Real Deep Fried Alligator)
Boysenberry Chocolate Bars and Candies
Sweet Corn on the Cob with Boysenberry Butter
Fish & Chips Sandwich with Boysenberry Tarter Sauce
Boysenberry Chicken & Italian Sausage Sandwich Served on Knott's Fresh Boysenberry Bun
All Beef Hot Dog with Boysenberry Relish and Boysenberry Ketchup
Fried Cheese Curds with Spicy Boysenberry Dipping Sauce
Ribs with Knott's Famous Boysenberry BBQ Sauce
Boysenberry Dessert Flautas
Boysenberry Pie
Boysenberry Cheesecake
Boysenberry Bundt Cake
Boysenberry Chocolate and Cream Cheese Mousse
Deep Fried Boysenberry Ice Cream (Also Available without being Deep Fried)
The Famous Knott's Berry Farm Culinary Creation: The Fun Bun
Boysenberry Trifle
Boysenberry Cotton Candy
Fresh Boysenberry Lemonade
Boysenberry Tea
Starbucks Boysenberry Lattes & Frappuccinos
Boysenberry Wines and Craft Brews (Beer Garden)
Well if you didn't gain 14lbs just reading the food list above like I did, congratulations on your self control. We also had a chance to taste almost all of the delectable goodness of the Boysenberry. While partaking in the Boysenberry Festival treats, I found myself having to pinch my skin to make sure I wasn't dreaming. I never knew I could love Boysenberry invading all of my favorite foods and beverages.
My theme park partner-in-crime, Skyla, said it best after eating part of the "Fun Bun" when she exclaimed "Where the !&$# have you been all my life!?" I think they're married now. The fun bun is basically a cinnamon roll, smothered in a thick sugar glaze, dipped and fried in a donut-like shell, covered in a boysenberry sauce, topped with some powdered sugar and I think it weighed 7.5 pounds. It was amazing and a spectacular display of the culinary team's ingenuity to bring a boysenberry flavor to a new level with a cinnamon roll.
Slideshow-Check out even more pictures from The Knott's Boysenberry Festival!

With so many treats that include boysenberry flavors and combinations, you're bound to find something you'll love. Is there something you want to see Boysenberry added to? Did you visit Knott's and try the food? What's your favorite Boysenberry treat? Get social and leave a comment below and on the Twitters and Instagrams tag #KnottsSpring and #BehindThrills to share your thoughts.
Stay tuned for more from Knott's Berry Farm, and be sure to get social with us on Facebook, and follow along with us on Twitter @BehindThrills for the latest updates!
For more information about The Knott's Berry Farm Boysenberry Festival, including tickets, visit the official website by clicking here!