The summer hasn't even begun, but Busch Gardens Tampa is already hard at work on their next big attraction for 2016. While no one is quite sure what it is, the common consensus is that it will be a new coaster. The work has already begun on the train area, which has the Serengeti Railway closed down to make room for a new bridge that will take the train over the new attraction. This has the railway closed. We take a look at some of the progress happening this week.
Construction crews are hard at work getting the new additions made. The railway is currently closed, leaving guests only the SkyRide to take them across the park. While that's nothing new, it leaves the SkyRide and the "Edge of Africa" exhibits as the only way to see animals that are on the Serengeti Plain.
Steel pilings are being put into the ground, and it looks as if work is getting ready to start on tunnels that will allow the new attraction to pass underneath the railway. The new attraction is taking up much of the space by the Tut's Tomb attraction, which is also closed. This leads many to believe that the new attraction will take on a mummy, or King Tut theme.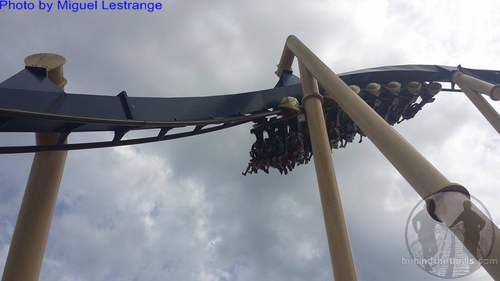 There has been no official confirmation on exactly what the new attraction will be, but given the close proximity to the nearby Montu, it's going to be fairly compact. Some have speculated that the new attraction will be a coaster. Many believe the new coaster will be an indoor Mack Spinning coaster, but if past history is any indication, the coaster will be similar to the all new Tempesto, which opens at Busch Gardens Williamsburg this week. That coaster is a launch coaster with a very small footprint, and is underneath the park's much larger, Apollo's Chariot coaster.
Details on that coaster were kept under wraps until the park was ready to open for the 2015 season. Like many projects at BGW, Tampa has a tendency to get a similar attraction or coaster (and vice versa) after the other park gets it first. After Tampa opened Cheetah Hunt, a multi-launch coaster, Williamsburg opened Verbolten. After Mach Tower was opened in Williamsburg, Tampa opened their own drop tower-Falcon's Fury. While the attractions aren't exactly the same, it is a good indication that the park could see a similar attraction in their future.
Slideshow-Check out even more pictures from Busch Gardens Tampa
Stay tuned for more from Busch Gardens Tampa, and be sure to get social with us on Facebook, and follow along with us on Twitter @BehindThrills for the latest updates!
For more information about Busch Gardens Tampa, including tickets, visit the official website by clicking here!