Monday night, The Wall Street Journal released an exclusive look at the all new Frozen ride coming to Epcot's Norway Pavilion at Walt Disney World.  The new ride is the latest in Disney's attempt to cash in on Frozen mania. It will open sometime in 2016, and will take place in the world of Frozen, without retelling the entire story.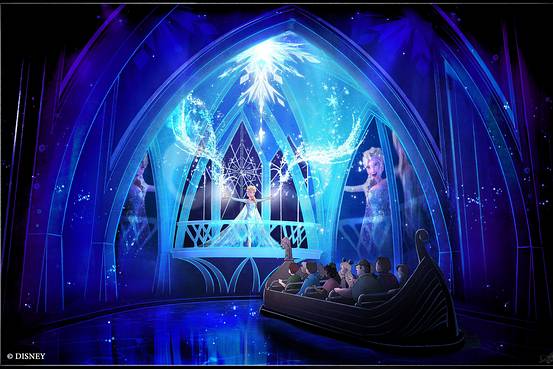 The new ride takes over for Norway's Maelstrom,  which was closed in late 2014.
The new ride will be called "Frozen Ever After" and will take place in Arrendelle during the town's winter celebration…in summer. Yes, instead of celebrating winter in the winter, they'll celebrate in summer. The only reason we can think of is that Olaf has an excuse to sing "In Summer".
The ride will last 4 minutes, and will include state of the art audio animatronics which will include Anna, Elsa, Kristoff, Sven and of course,  Olaf. Grandpappy troll will also make an appearance in the ride, as will Marshmallow and the snowgies from "Frozen Fever".
The ride will use the same boat system to float guests on their Frozen adventure,  but will use different boats from the former Maelstrom. Those boats were removed last year, and could be seen going down the highway on on a flatbed truck.
The centerpiece  scene of the ride will be a show stopping rendition of "Let it Go" and will have a room where snow flies and swirls, just like in the film.
Wandering Oaken will also make an appearance, in the queue rather than in the line. His Trading Post will have fogged up windows that gets cleared up occasionally with a hearty "Yoo-Hoo".
The animatronics will use the same technology as the Seven Dwarfs Mine Train figures, which uses projections on the faces to allow for more lifelike, and articulate movements.
The area will also have an all new meet n greet area, where guests can meet Anna, Elsa,  and more than likely the entire crew.
So, are you excited about the new attraction,  or are you ready to "Let it Go"?
Frozen Ever After will open in 2016 at Epcot's Norway Pavilion at Walt Disney World.
Stay tuned for more from Walt Disney World, and be sure to get social with us on Facebook and follow along with us on Twitter @BehindThrills for the latest updates!
For more information about Walt Disney World, including tickets, visit the official website by clicking here!