Quassy Park in Middlebury, Connecticut may be a small park, but that hasn't stopped it from making a huge mark in the industry. Their Wooden Warrior coaster is consistently rated among the best coasters in the country, and it has a great line up of family friendly attractions. Now the park is about to get even bigger as Quassy is gearing up for an extra wet season in 2016 and an even wetter one in 2017.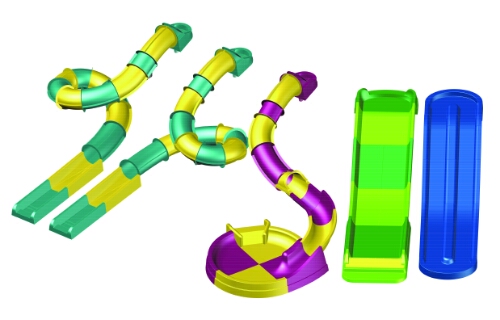 Splash Away Bay at Quassy Park will expand over the next two seasons, and add eight new slides. The first expansion will hit in 2016 and will be geared towards families with smaller kids. Slide City will see five all new slides and will be right next to the current Saturation Station. Two serpentine slides called KIDZ Twisters™, a two-person ProRacer ™, KIDZ Bowl 14 ™ and a KIDZ MiniRiver™ will make up the Slide City area.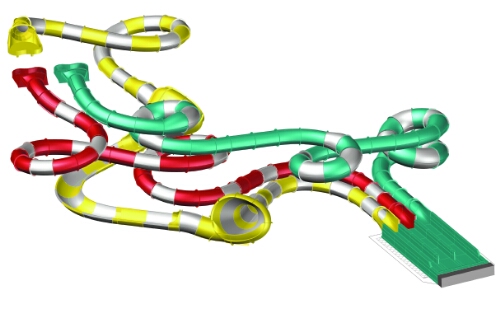 In 2017, the park goes a little more extreme with three huge ProSlide attractions. The largest of the three giant slides will be a TantrumTWIST™.
  The patented funnel shape flushes riders up the TANTRUM™ walls, oscillates each tube multiple times and generates the suspended-weightlessness sensation that is unique to ProSlide funnel rides.
  After dropping into the funnel, riders are swept up the wall to the equator line, which is actually perpendicular to the ground. The ride creates the illusion of going over the edge keeps even the craziest thrill enthusiasts returning for more.
  Two gigantic PIPEline™ serpentine slides will round out the three-ride attraction. The new slides will all depart from one platform and conclude in runoff troughs near Saturation Station.
  "We're excited about further expanding the waterpark as it has become a venerable part of the guest experience here at Quassy," Park President Eric Anderson said of the project.
The park is also adding to it's old world charm with some very unique new additions. The park will be tearing down the existing popcorn stand near the Grand Carousel, and be building an all mew sweet shop, complete with an antique taffy pulling machine.
"We have purchased a taffy puller (machine) and wrapping machine that will not only provide great candy, but are also entertaining to watch," said George Frantzis II, a park owner. "The wrapping machine dates back to around 1915 and has been completely restored by an industry expert."

  "This will be the same type of operation you see at many boardwalk locations that have produced taffy for years," he added. "Guests will be able to mix flavors into a take-home package and we are also planning to do online sales."
Taffy isn't the only new addition, as the park also plans on building a new deck and cafe in the Splash Away Bay area.
The park recently opened Frantic for 2015, a huge new thrill ride that takes riders through a mess of turns and twists.
Stay tuned for more from Quassy Park, and be sure to get social with us on Facebook and follow along with us on Twitter @BehindThrills for the latest updates!
For more information about Quassy Park, including tickets, visit the official website by clicking here!