The evil is not resting as Howl O Scream at Busch Gardens Tampa is getting even closer to Unearthing more evil than ever. The latest Evil comes in the form of the Voodoo Queen that calls Death Water Bayou home. Can you make it out with your soul attached?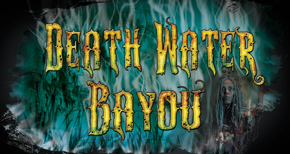 Death Water Bayou is the fourth house to be announced of the seven terrors of Howl O Scream. The house is returning for it's third year, and the terror is better than ever.
Zombies, a Mardi Gras feel and of course voodoo make this house shine. It joins Circus of Superstition in 3D, The Basement, and Zombie Mortuary in this year's line up.
Three houses are left, and it looks like the event will keep most