Kings Island has had a relatively quiet year, after the resounding success of Banshee in 2014. After no major attractions in 2015, Kings Island is ready to unveil something new for the park for 2016. The park held a special announcement in the park for passholders, and media. The prevailing rumors came after the park continuously teased pictures of their Racer Coasters. Would the racer be getting a Rocky Mountain Coaster makeover? Would the park perhaps be the first park to get a dark ride similar to Knott's Berry Farms' own "Voyage to the Iron Reef"?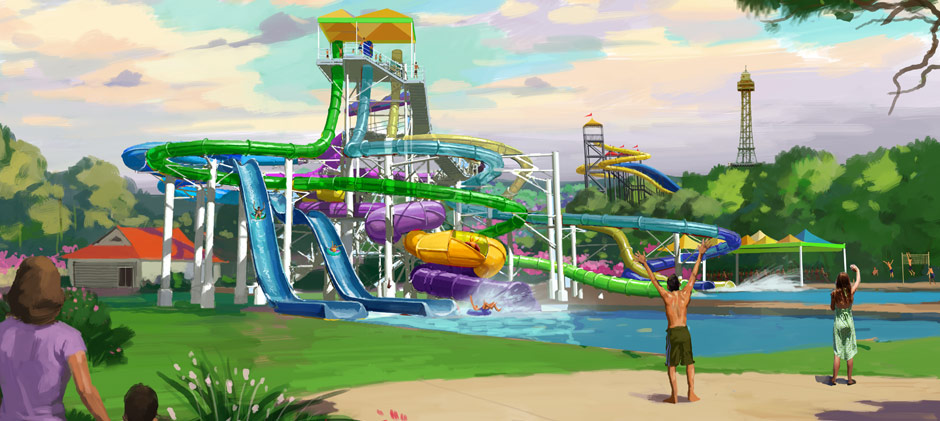 An all new waterslide complex is coming to Kings Island for 2016. The new complex will be seven stories tall and feature three drop slides. It will also feature three regular tube slides. The name of the new slides will be called Tropical Plunge.
"This will be a high-adrenaline attraction that will increase the thrill factor for our park guests," Kings Island's Vice President and General Manager Greg Scheid said. "They have been asking for new and more thrilling waterpark attractions they are able to enjoy with family members and we think this answers their feedback plus brings another element of FUN to the overall experience of Kings Island."
The park is also redoing the entrance, and parking area plaza. It will now have 13 lanes.
Many
Stay tuned for more from Kings Island, and be sure to get social with us on Facebook, and follow along with us on Twitter @BehindThrills for the latest updates!
For more information about Kings Island, visit the official website by clicking here.