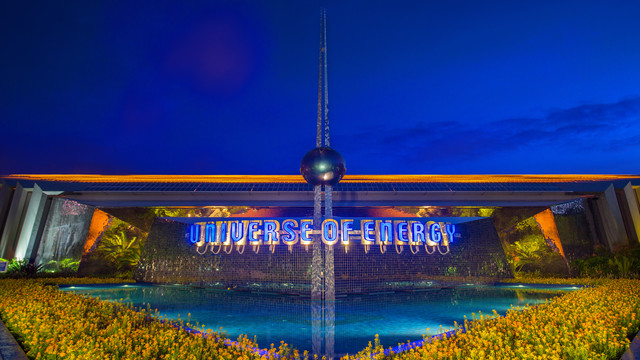 The folks over at WDWNT have another huge rumor, one that we are kind of not sure can happen. According to the site, Ellen's Universe of Energy is slated to close forever, and it could happen as early as this fall. The reason? They are getting a Guardians of the Galaxy attraction. The new attraction is said to take over the spot inhabited by the original Epcot attraction, which uses screens and animatronics, as well as moving rows of seats. There's no word on just what kind of ride system it will be, but rumors point to it being completely new, and possibly a thrill ride.
While it comes as no surprise that Universe of Energy is allegedly under the knife, the ride received it's last rehab in 1996, what is surprising is the strong Guardians of the Galaxy rumor. Guardians is a Marvel franchise, and many know that Universal has a contract that forbids (by and large) Disney from building anything Marvel. There may be some clauses that allow them to get around it, but they are very careful to not use the Marvel name IN the parks. In other areas, sure, but not in the parks. The rumor previously had the Guardians going to Hollywood Studios before, replacing Tower of Terror. But now? While it could make sense in Epcot, the licensing simply does not support it. There have been rumors of Disney and Universal coming to an agreement, where Universal allows Disney to use certain Marvel characters, in exchange for being allowed to build more Marvel attractions based on franchises they do not own, such as X-Men. However, that is just a rumor. Could it actually happen? It doesn't look likely.
However, that's not to say that big things are coming to Epcot. The park, as an "Experimental Prototype City of Tomorrow" will more than likely differ greatly from what you've known it to be, and it will end up looking like a very different Disney park, with tons of Disney characters and properties calling it home.
The rumor is that interest in Frozen is pretty much to blame, as the park is now looking at new ideas for several of the countries in World Showcase. However, it started with Finding Nemo way back when that film hit theaters. The Living Seas was transformed, and the area that was once a deep sea base was now just an area for kids featuring their cartoon clown fish.
And that's just the beginning. Here are just some of the rumors for Epcot:
Tron Light Cycles-This rumor will take over the Body Wars Pavilion and will see the coaster stretch into the section around the park that is fairly empty now. It will be similar to Shanghai, but different enough to make it's home at Epcot
Mission:Space- A major rehab has been recently put on hold, but it will change a bit of the storyline, the narrator, and add a few Disney characters in there. Gary Sinise will be gone, and the area at the end of the ride will change drastically.
Journey to Imagination- This one is a bit weird. It seems like Disney could be listening to fans, and may bring back Dreamfinder. The ride will be less about senses and anything that we've seen, and go straight for the nostalgic jugular. The ride system will stay the same, but everything else could be updated including the look of Dreamfinder. More figment is always a good thing.
The Land will get a major overhaul to their Circle of Life theater and Living with the Land. Soarin will be the only thing that remains open during the major overhaul, which could see the tour through the greenhouse changed into a bit of a thrill ride.
France in World Showcase is pretty much set on getting the Ratatouille attraction from Disneyland Paris, which could be fast tracked
A new land is said to be back on the table, with something like Brazil in the works. The area will feature a ride through Brazil, but not much is known about it
There are rumors to bring rides to Japan, China, and Canada eventually. No details are known about any of them as of yet, but they are all on the table
As Disney gains more and more properties, and the ones that they have gain popularity, you'll start to see more of Epcot being transformed into something different. While many of you may love the changes, it marks an end to the original Epcot that opened in the 80's. Still it's progress and more rides equals better experiences for everyone.

Stay tuned for more from Disney, and be sure to get social with us on Facebook and follow along with us on Twitter @BehindThrills for the latest updates!
For our latest theme park videos please be sure to subscribe to us on YouTube!
For more information about Walt Disney World, including tickets, visit the official website by clicking here!