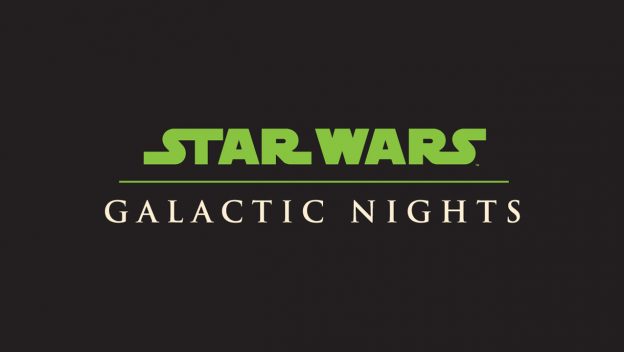 Next weekend, Star Wars fans will be engulfed in an all new Star Wars adventure, as they visit familiar friends, go to new planets and see how familiar places came together. Of course we're talking about Star Wars:Galactic Nights! What? You thought there was a new movie or something?
On Sunday, May 27th fans have the chance to check out another amazing edition of Star Wars: Galactic Nights. The fan event will take place at Disney's Hollywood Studios from 7p.m.-midnight, after the parks closing. It will give guests the chance to have Star Wars themed dance parties, see rare Star Wars characters, and will include appearances by the new actor behind Chewbacca, Joonas Suotamo who plays the wookie in the new film, as well as the Last Jedi.
The night will include specialty merchandise, exclusive food and drink options, and a huge array of entertainment. The Tower of Terror will transform with scenes from the different films, as it is mapped out to become a giant movie screen.
Plus, there's the huge Star Wars: A Galaxy Far, Far, Away stage show, which will showcase not only the previous Star Wars films, but also nods to Solo: A Star Wars Story. And of course, there's the huge fireworks show, which will also feature huge nods to the new movie.
What more could you want?!? Oh…how about a new look at the new Star Wars: Galaxy's Edge coming to Disney's Hollywood Studios and Disneyland next year?
An all new panel will take guests behind the scenes of the new land at Disney's Hollywood Studios. Here's some of the things to expect during the panel:
See new photos of the land's progress, including construction updates
Learn more details about the planet Batuu
Plus, other special surprises!
There will be a huge list of Disney Imagineers on hand for the panel.
Scott Trowbridge, Portfolio Creative Executive, Walt Disney Imagineering – A global creative leader, Scott oversees the strategic concept development and production of the Star Warsfranchise at Disney Parks, a first-of-its-kind franchise-based portfolio. He also oversees Star Wars content across all lines of business at Walt Disney Parks and Resorts, including merchandise, food & beverage, marketing and operations.
Eric Baker, Creative Director, Walt Disney Imagineering – As a Creative Director for Walt Disney Imagineering, Eric is responsible for creating and developing stories and places for Disney theme parks and other Disney venues, as well as the implementation to bring these stories to life, from props to creatures. Some of Eric's past projects include Tortuga Tavern, the extended Haunted Mansion queue and Star Tours – The Adventures Continue.
Margaret Kerrison, Managing Story Editor, Walt Disney Imagineering – Margaret is responsible for the overall story direction in the Star Wars portfolio and guides and manages Star Wars-related story initiatives throughout all Disney lands, resorts, and attractions. To create an authentic, compelling, and interconnected galaxy, she works collaboratively with other Imagineers and the Lucasfilm story team. Margaret has also worked on projects including Hyperspace Mountain in Disneyland, and Grand Avenue at Disney's Hollywood Studios.
Jon Georges, Executive Producer, Walt Disney Imagineering – With over 30 years of experience at Walt Disney Imagineering, Jon has produced many projects around the world, including the recent updates to Fantasyland at Magic Kingdom Park. Currently, Jon is producing Star Wars: Galaxy's Edge at Disney's Hollywood Studios.
Also joining the fun is Star Wars fan favorite, Warwick Davis. Warwick will be hosting the Galaxy's Edge Panel, and will be making several appearances throughout the night. Davis has been in every single Star Wars movie since Return of the Jedi, most famously playing Wicket the Ewok in Return of the Jedi. He's also been a huge force in the Harry Potter films.
Will you be braving the Galactic Nights on May 27th? Tickets are now on sale, and will likely sell out.
Stay tuned for more from Disney, and be sure to get social with us on Facebook and follow along with us on Twitter @BehindThrills for the latest updates!
For our latest theme park videos please be sure to subscribe to us on YouTube!
For more information about Walt Disney World, including tickets, visit