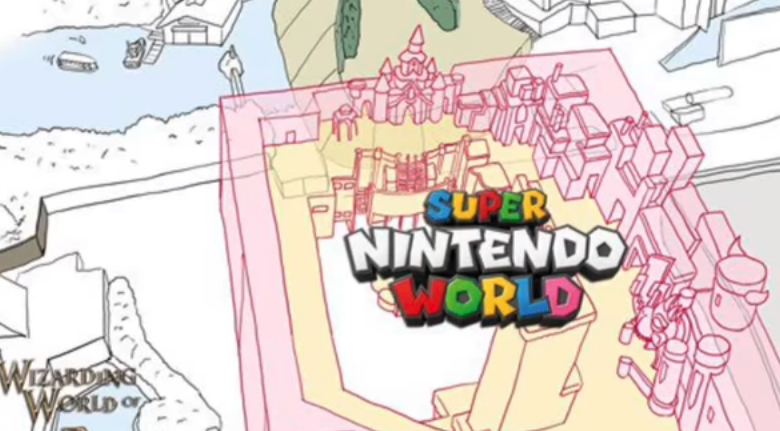 Universal Studios Japan will be the first theme park that will introduce the characters from Nintendo with Super Nintendo World. Our friend, Yukendoit has a brand new video that showcases what could be a very unique feature about the new land.
Video-Super Nintendo World Update
What's the big deal about the land being two stories? We've had two story rides before. This is very true, but the big deal here is that the land itself will be two stories. The coolest part of it all is that when you enter the land, the thought is that you'll go through a pipe, and actually travel underneath the main area.
Think of it as the ground floor being the staging area, where it's likely we'll see characters and shops, and the second floor will house attractions and maybe play areas. So as you walk in through the pipe walkway, you'll go underneath all the rides and attractions, and come out into a main courtyard. All indications show that the area will be like Diagon Alley in the fact that it's completely hidden from the outside world. Once you're in Diagon Alley, you can't see what's happening in the rest of the park, and from the park, Diagon Alley is hidden by the London Facade. The same will be said for Super Nintendo World. Kind of a big deal, as most parks and lands are just a single story, with the rides being two stories or more. This would be the first land that utilizes a stacked look, and could have it looking like the concept art, with guests actually able to go through Mario type landscapes.
We should start hearing more about it in 2019, as the expected 2020 opening date gets even closer. It's strongly rumored that a Mario Kart attraction will allow guests to race against other riders, and do battle with things like turtle shells and banana peels. There's also the Donkey Kong Country attraction, which will use a robo arm to move a mine train along a track, with rumors of guests controlling the train like a game.
Stay tuned for more from Universal Japan, and be sure to get social with us on Facebook and follow along with us on Twitter @BehindThrills for the latest updates!
For our latest theme park videos please be sure to subscribe to us on YouTube!
For more information about Universal Japan, including tickets, visit the official website by clicking here!