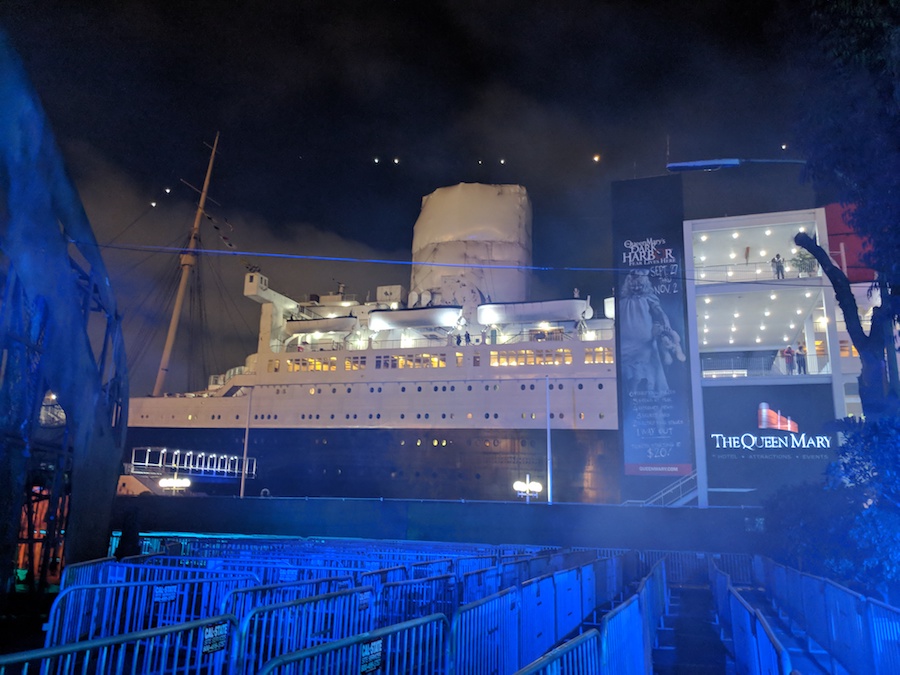 The Queen Mary is a legitimately haunted vessel, with a long and rich history that spans over 100 years. From a luxury ocean liner, to a ferry for troops during the war, and now a historically recognized tourist attraction that is moored permanently in Long Beach, California. However, there's a dark side to the ship, one that comes out every October and spills from the decks and corridors of the ship, down to the docks and surrounding areas. Welcome to Queen Mary's Dark Harbor.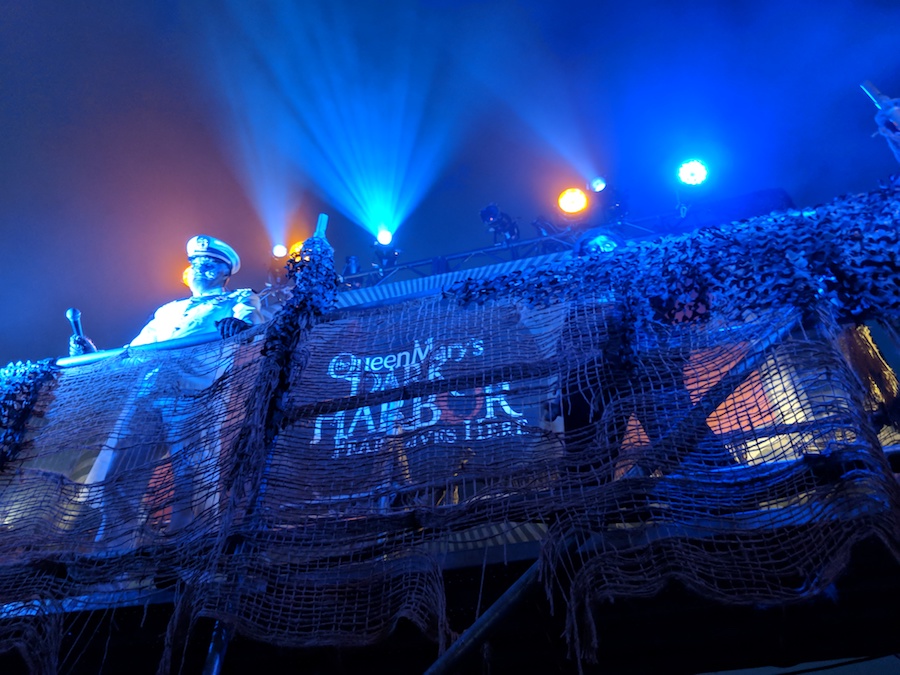 Dark Harbor is the annual haunted party that the Queen Mary throws, with six haunted houses, a fun and spooky street atmosphere, shows, clubs, pubs and tons of food. This year, Dark Harbor is stepping up their game in a big way, and while the atmosphere is definitely fun, you can't get past the frights. One thing I had to say off the bat was that Dark Harbor seemed to be incredibly eager to show both the media and their guests all of the changes they have made this year as they bring the event to a much darker and scarier place than ever before. As they prepared to open the gates they certainly reminded us that the even had received an overhaul… in their own raunchy and hilarious way, of course.
Video-Dark Harbor opening Ceremonies
From, the moment that the gates were opened you could feel the fun party vibe this haunt loves to bring, as the monsters poured out while the guests poured in. You feel like you are in a crazed and bizarre carnival that is inhabited with strange denizens who all have a story to tell… and tell they will.
The haunts themselves this year have a story that flows from house to house that tells of the doomed ship and its most famous passengers. You really do get an interesting sense of the story as you move from house to house, and they each have their own unique character to them. The story goes from your arrival to the ship, to your demise, and all points in between. We'll take you through a spoiler free review of each of the houses, and give you an idea of what we liked, what we didn't, and an overall ranking.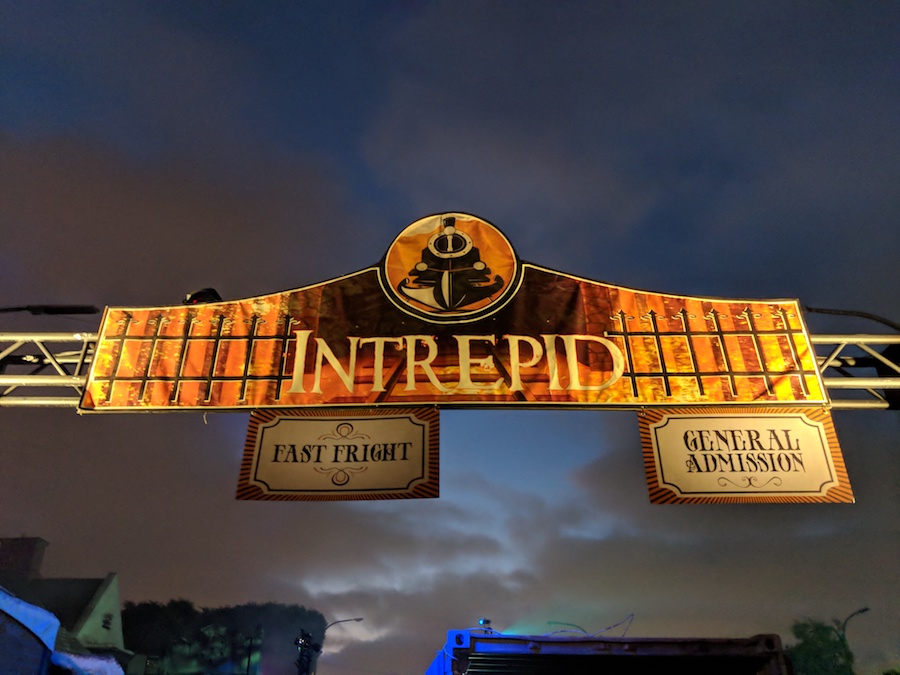 Intrepid: 9/10 – A phantom coach forces the Queen Mary's original ship builder to relive his wicked wrongdoings to shipyard mates, Scottish brethren and plagued family that led to the Iron Hell his soul rots away in. Follow the spine-chilling path to an evil sea witch where a deadly pact was made spawning the horrific half-metal, half-creature known as the Iron Master.
Video-Go face to face with Intrepid 
This house had such an interesting look and feel to it, as you start off on a train and slowly move your way to sea caves and the sea witch whom the Iron Master made a deal with for eternal life. Really loved the way they used a laser and fog effect in here to simulate being in chest deep water. The sounds and visuals were amazing and immersive as well.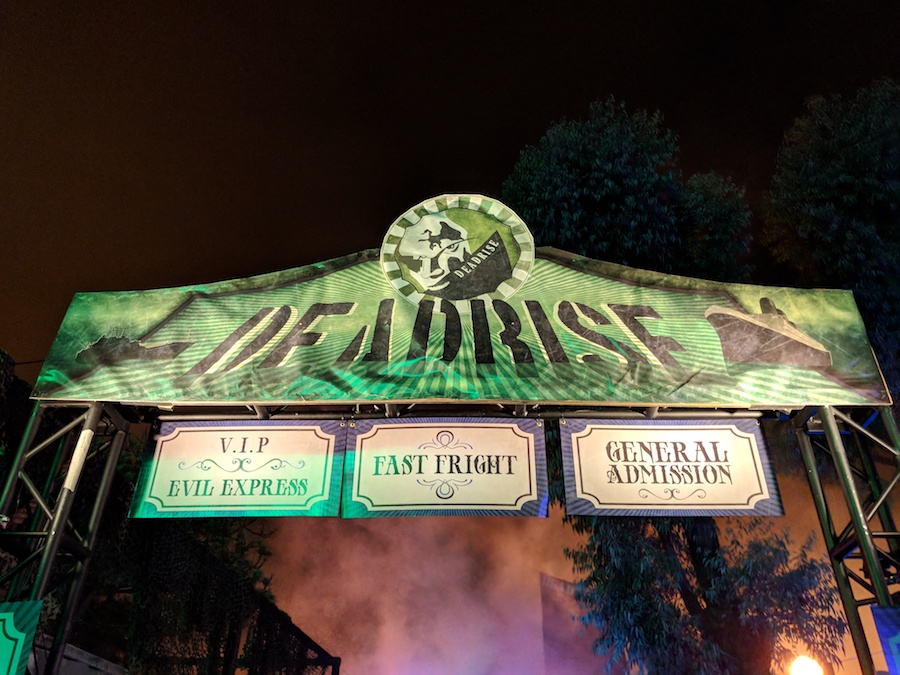 Deadrise: 9/10 – The Grey Ghost rises once again, set out on its annual ghastly voyage damned to its eternal battle on the living. With the fearless captain at the helm, guests will walk among the rusted carcass of the Grey Ghost as its full steam ahead into the flames of war.
This house may have been my favorite. It was so simple, but so effective at being an actual maze. We spent roughly 9 minutes in this maze the first time through, as the scareactors led us in circles while moving walls around. The maze also has some alternate pathways that require climbing on rope or up and down steep inclines, and the last stretch of it is so incredibly disorienting you will feel lost in the darkness. We had a token for the hidden bar in this maze, and we visited it on our second run through. They have great drinks and some buttons you can press to scare people who are walking through the maze below.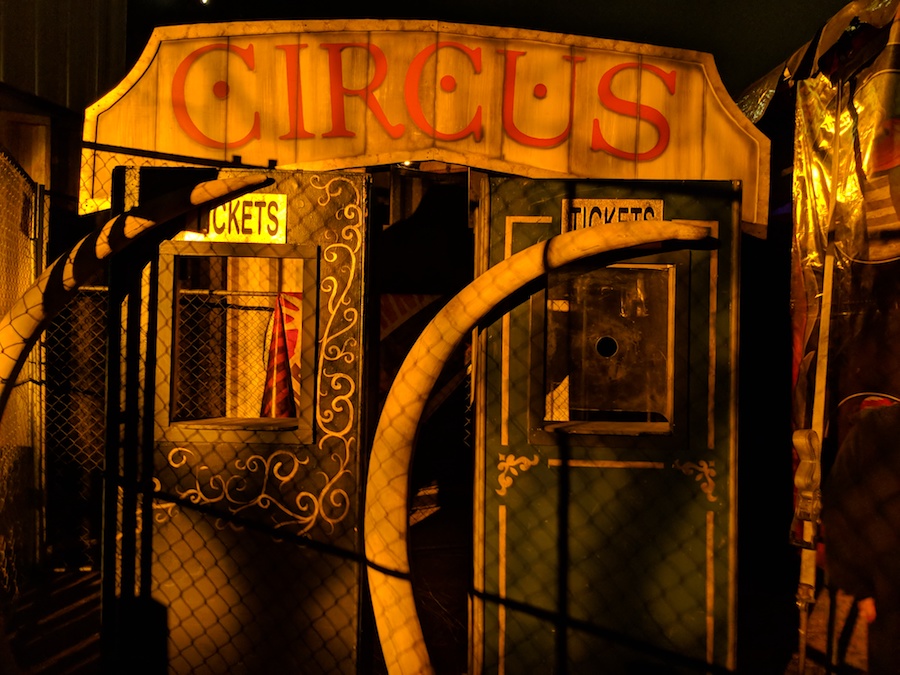 Circus: 8/10 – It's the night before a dust-covered, rickety old circus opens to the public. Sneak beyond the curtains to unveil the horrors lurking within the shadows of the big top. Hosting a menagerie of monsters and sinister creatures, the one and only Ringmaster returns with unadulterated and unbelievable horrors.
This house does what it says on the tin, you are backstage at a circus being led through some fun traps and corridors. I do not know what happens when you go to the right but going to the left at a fork in the path meant wading through a ball pit and an encounter with a knife throwers wheel. The moving floors were a nice touch to really… throw you off.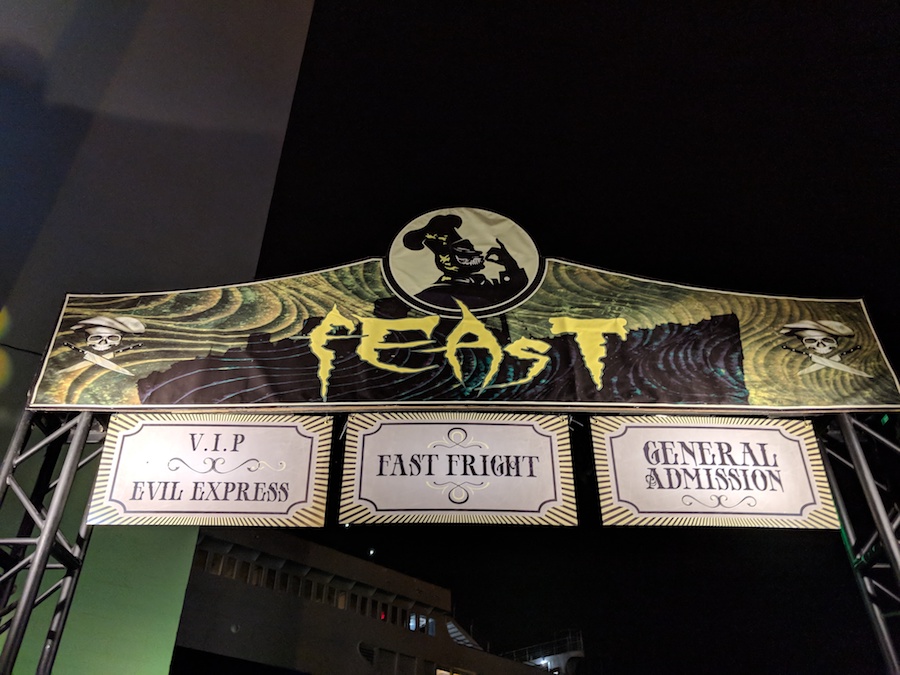 Feast: 7/10 – It's time to report for duty as the new line cook on board the world famous Queen Mary. However, all is not what it seems as the kitchens have gone dark and the smell of rank, rotting meat fills the air. From dinner service to the kitchens, the angry spirit of an evil Chef washes back from a watery grave to serve the high-class Queen Mary passengers of 1948.
This was actually our first maze on the ship and it was beautiful with some great visuals.The scares were pretty on point too, and as you enter the bowels of the ship you get a feeling of claustrophobia that comes with that as well.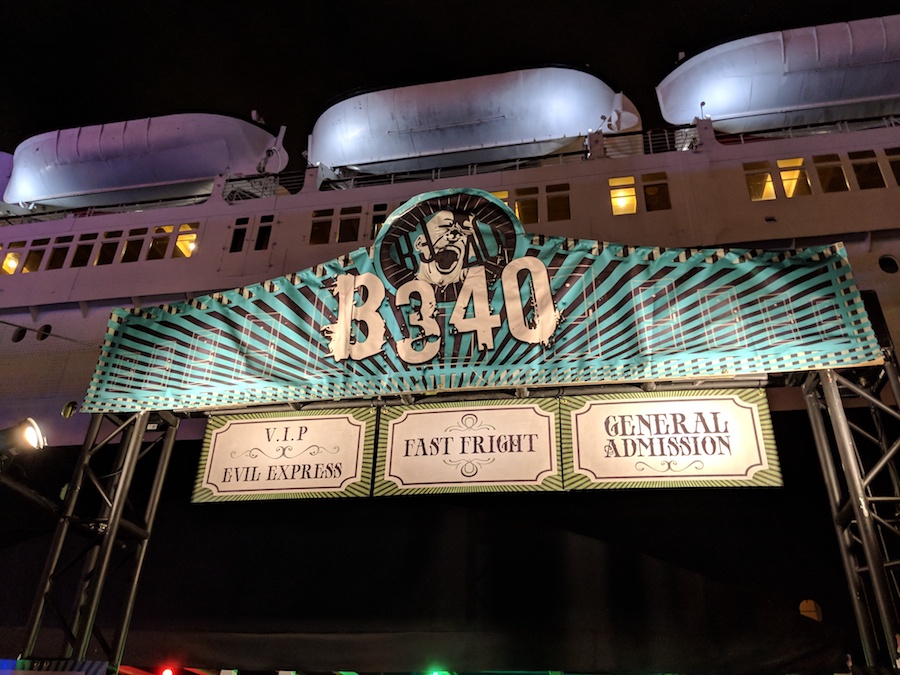 B340: 6/10 – A series of inhuman crimes tormented the Queen Mary passengers during a routine cross-Atlantic voyage in October of 1948. Follow the lead detective on the scene as he uncovers the evil truth behind one of the most notorious criminals to ever invade the luxury liner: Samuel the Savage.
Video-Go face to face with Samuel the Savage
This was probably my least favorite maze this year, but despite that, it was still a lot of fun. The story felt a little out of place and disconnected to all the others, but evil nuns make for a good time. There did seem to be a few too many dead spots in the maze though, which might be due to all the up and down stairs that you do in it. The catwalk that overlooks the engine room below certainly gives you a good sense of vertigo if you are looking down at it.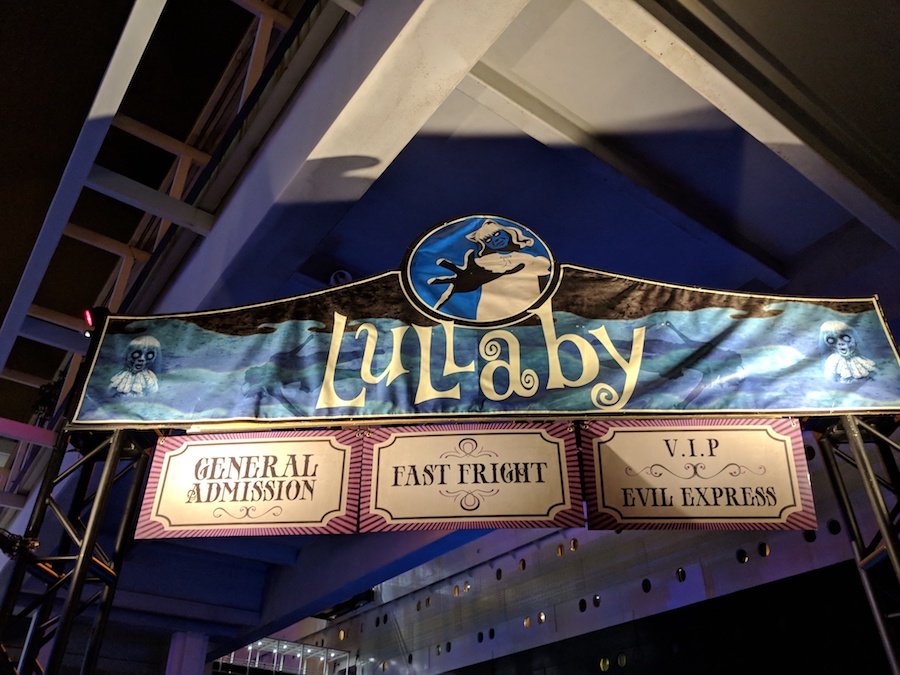 Lullaby: 8/10 –It has been long rumored that Mary, the little girl who drowned in the Queen Mary First Class Swimming Pool in 1952, has haunted the dark corners of the luxury liner since her untimely demise. Many experts theorize the haunting derives from Mary's spirit attaching itself to the little girl's stuffed toy bear. Perhaps the bear holds the gloomy secrets behind the wicked ghost of Scary Mary and why she still sings her eternal Lullaby.
This maze had some very interesting scares in it, like a girl sliding down a slide to scare you. We get a smaller version of the laser water gag as well, and while it doesn't work as well as it did in Intrepid, it is still pretty great. We ended up in the secret bar in here as well, where you can get your fortune told by a tarot reader while also enjoying some playful libations. Watch out for that last scare at the end.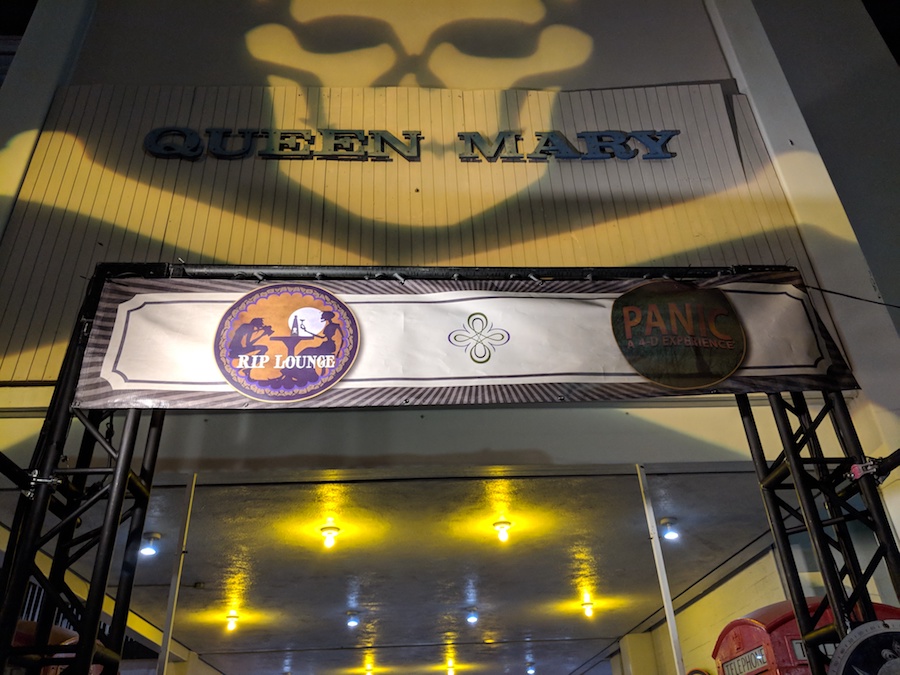 Panic 4D: 4/10 – I wish that this movie was better, and while it had some fun in theater effects… overall it was very basic and run of the mill. If it was included in admission I would ray it is a nice way to rest your feet, but for a $5 surcharge I am not sure it is worth it unless you are a really big fan of this particular style of attraction.
Streets: 7/10 – Look, the streets are not exactly scary… but they are fun and immersive. Plus, the performers are incredibly talented. You also get shows including drummers, sliders, aerialists, contortionists, fire dancers and more. There's also tons of food and drink options, but the real highlight here are the characters that roam around. The atmosphere is seriously charged, and it completely makes for a great time in between houses.
Video-Walk through the manic streets of Dark Harbor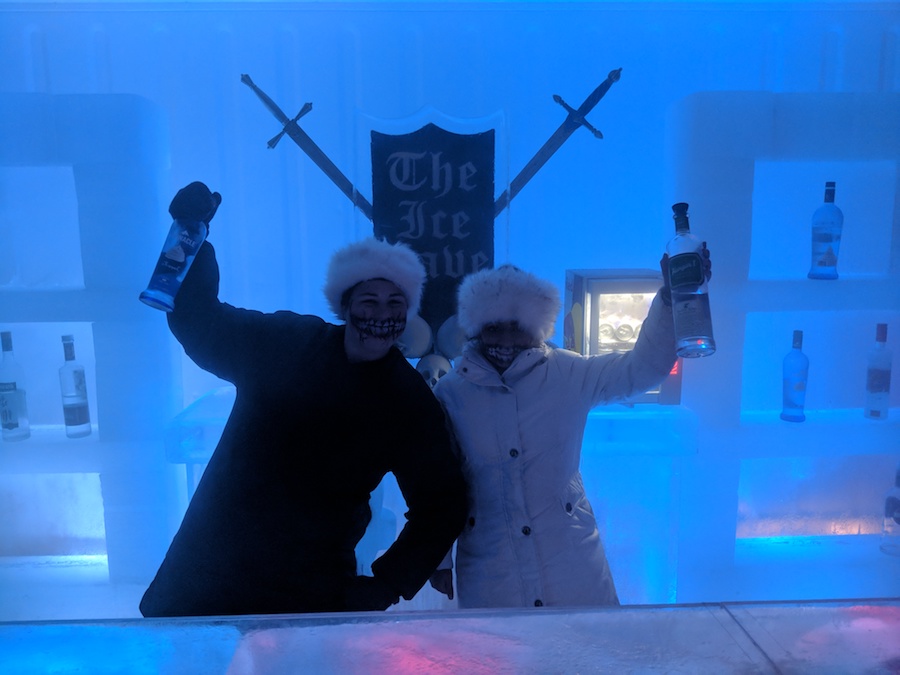 Ice Cave: 7/10 – You get two shots of flavored vodka in a ice filled and carved bar. Worth it for the drinks  (Beware: DO NOT GET PB+J VODKA, LEARN FROM MY MISTAKE), but only if the line is not very long.
In a time when we see just about every major theme park haunt relying on characters and movies to bring in crowds, Dark Harbor creates it's own story. The story has one leg in the real history and stories of the legendary Queen Mary, and the other on the other side. It's a delightful mix of original story, and characters…and when I say delightful, I do mean it in the most gruesomely giddy way. It's also filled with original characters that bring the stories of Dark Harbor to life.
Overall this is a great event that brings a lot of fun back to the haunt game, along side plenty of scares. Solid 9/10 and it was the most enjoyable time I have had at a haunt event in the past 10 years. Do not pass this one up!
Want more? Check out over 300 pictures in our slideshow below!
[flickrpics type="flickr" user_id='49755663@N02′ view='photosets' photoset_id='72157696607243110′ media='photos' tag_mode='any' sort='date-posted-desc' layout='no-strip' caption='title-desc' thumb_size='s' main_size='z']
Dark Harbor runs on select nights from now until November 2nd, and does sell out! Be sure to get your tickets early!
Stay tuned for more gory goodness, and be sure to get social with us on Facebook and follow along with us on Twitter @BehindThrills for the latest updates! 
For our latest theme park videos please be sure to subscribe to us on YouTube!
For more information about Queen Mary Dark Harbor, including tickets, visit the official website by clicking here!