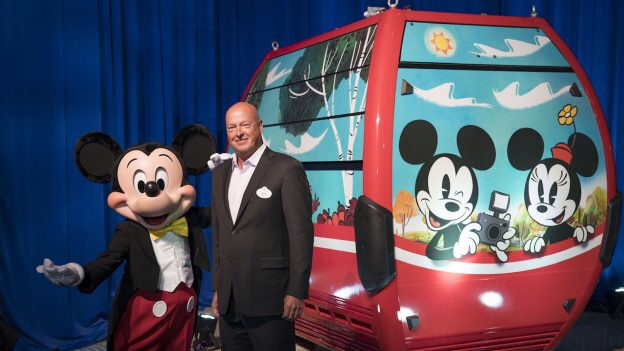 Details and a target opening date were released over the weekend about the all new Disney Skyliners that will be transporting guests over the Walt Disney World Resort, and will give new connecting service to Disney's Hollywood Studios, Epcot and several Walt Disney World hotels.
However, according to a report by Kenny the Pirate , the Skyliners could have guests missing out on one very important thing. Air Conditioning.
According to the report, the new Skyliners will not have AC, but instead will have a "flow of air" to keep things cool. This was pretty much confirmed at the IAAPA European Expo in September, by the Skyliner Manufacturer, Doppelmayer. Kenny the Pirate also says that Disney has confirmed the report.
We've talked with people who have ridden Doppelmayer systems in other parts of the world, and has said that on "mild" days in places like Taiwan, the cable cars are pretty uncomfortable. In other places like Singapore, which has a climate and temperature similar to Central Florida, the cars were air conditioned and were barely able to keep up with the heat.
Will that be the case with the units being installed at Walt Disney World? Each car will hold 8-10 people, and should not be stopping for a long period of time, but if you've ever experienced Summer in Florida you'll know that the temps reach over 90 degrees and the humidity levels spike to 100%. While there may be a flow of air coming into the cable cars, I can't imagine them being very cool with a ton of hot and tired tourists crammed in.
Then there's the issues of stalling and breaking down. If one of those cars happens to do that, then you'll have a car full of people inside a glass box, baking. Temps in cars in Florida can reach over 100 degrees in Florida within five minutes, can you imagine a cable car surrounded on all sides by glass, suspended in the air? It sounds like a recipe for disaster for Disney. But then again, it could all be something that is being blown out of proportion.
Another rumor is that the cable cars will not have any seats. Instead there will be one central area, with a ridge type surface that would be good for a few people to sit on. However, the main operation of Disney will be volume, so that means that tons of people will be crammed and sitting may not be an option for pretty much anyone.
We hope that this isn't the case, and we'll reserve judgement for when the Skyliner goes into operation in the fall of 2019. Fingers crossed.
Stay tuned for more from Disney, and be sure to get social with us on Facebook and follow along with us on Twitter @BehindThrills for the latest updates!
For our latest theme park videos please be sure to subscribe to us on YouTube!
For more information about Walt Disney World, including tickets, visit