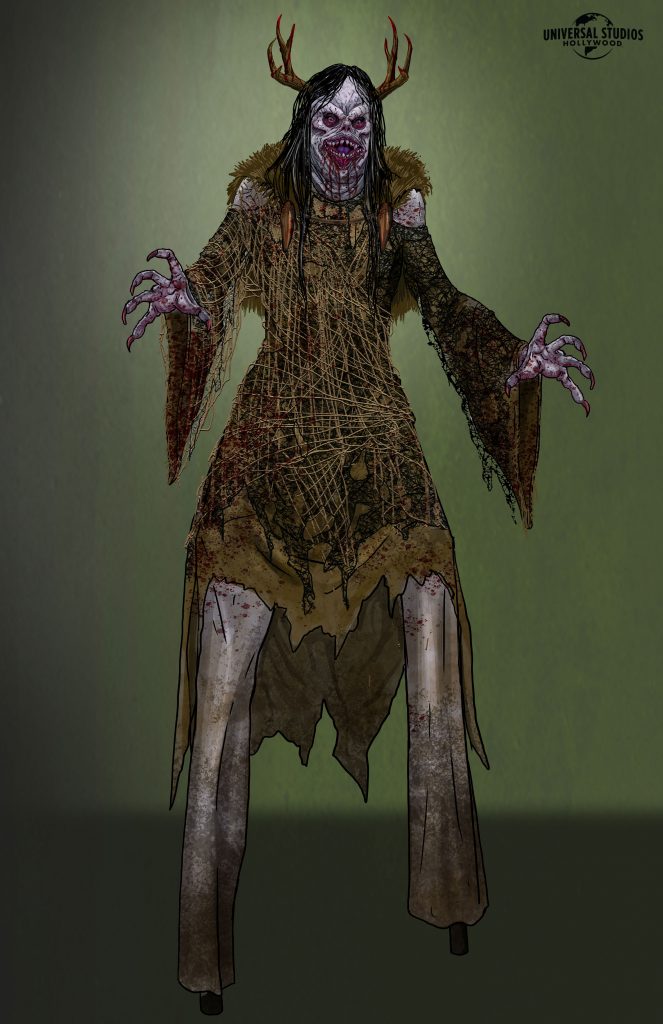 It's the 4th of July, so that can only mean that Halloween Horror Nights is gearing up! Yes, while it may seem a little early for some, the demented minds at Halloween Horror Nights Hollywood are busy toiling away. They've released the line up for this year's Scare Zones, which includes all original content and based on a plethora of unique inspirations. The park also promised that "No Place is Safe" indicating that there will be roaming hordes of characters throughout the park, though Horror Nights Creative Director will only say that there will be "something mobile that we're rolling out" and that it will be mostly in the lower lot scare zones.
So what are the scare zones? We'll break down each of the five and what you can expect.
The first up is All Hallows Evil. (pictured above)
Halloween isn't the only holiday that happens this time of year. The Celtic festival of Hop-tu-Naa is celebrated on October 31st as well. There's also All Saints' Day, followed by All Souls' Day, and of course Mexico's Dia de Muertos; all of which share this season with the centuries old Gaelic festival of Samhain. Samhain celebrates our transition into the "darker" months at the end of the harvest season. The souls of the dead are thought to return home on this night, and are welcomed with costumes and bonfires. Some say the costumes were actually intended to protect oneself from these otherworldly beings. Here's hoping they're relatively peaceful during your visit…
All Hallow's Evil is definitely inspired by Celtic and Pagan rituals and festivals of Samhain and other ancient harvest festivals. This is actually what Halloween is all about, and why we've celebrated it for centuries. The whole thought on chasing away evil, or welcoming the dead back into our world is what all the myths and legends of Halloween and the horror built on the back of that was inspired by.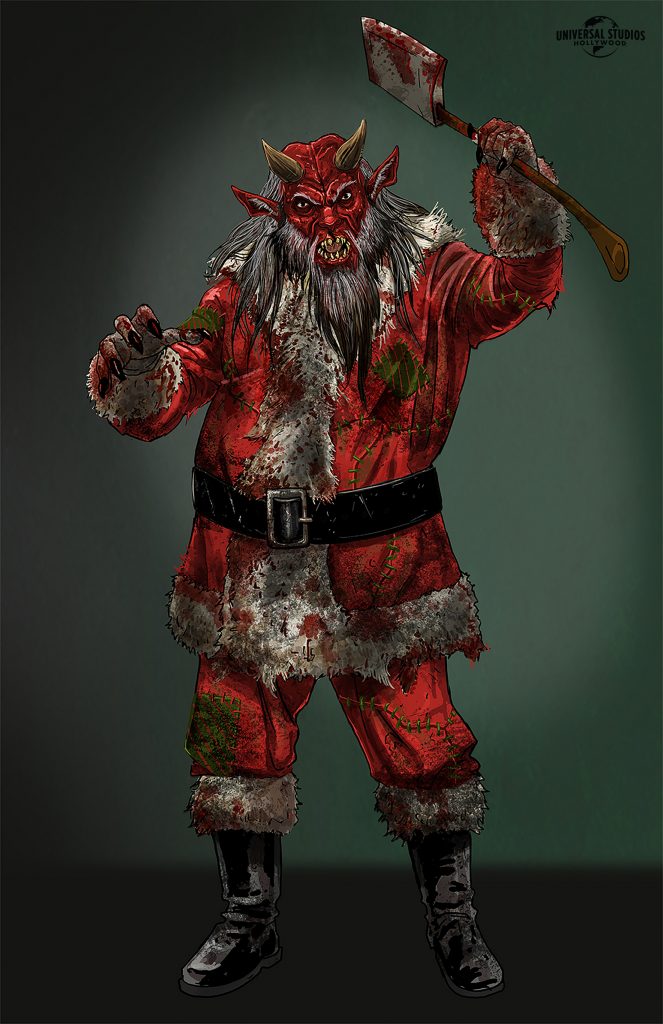 Christmas in Hell
You'll likely feel a faint sense of relief as you exit the Holidayz in Hell maze, but it won't last long. Navigate through the Christmas trees littering French Street and make your way through our twisted takes on many holiday traditions. A giant nutcracker may be looking for a skull or two to clamp down on. The Winter Witch and Jack Frost himself will be celebrating as well, and they may not take too kindly to you interrupting their festivities. And just when you think it's over, beware of the New Year's Baby. He's… cranky.
The holiday scare zones seem to be a favorite of HHN Hollywood, as they've done several over the past few years. This one will be located at the exit of the Holidayz in Hell maze, and will feature a lot of favorites from other scare zones, such as Black Christmas. Christmas is another one of those holidays where are traditions are steeped in Pagan and Celtic rituals and customs. So it's really not out of the ordinary to see the scary side of the holiday explored as well. It's always a blast.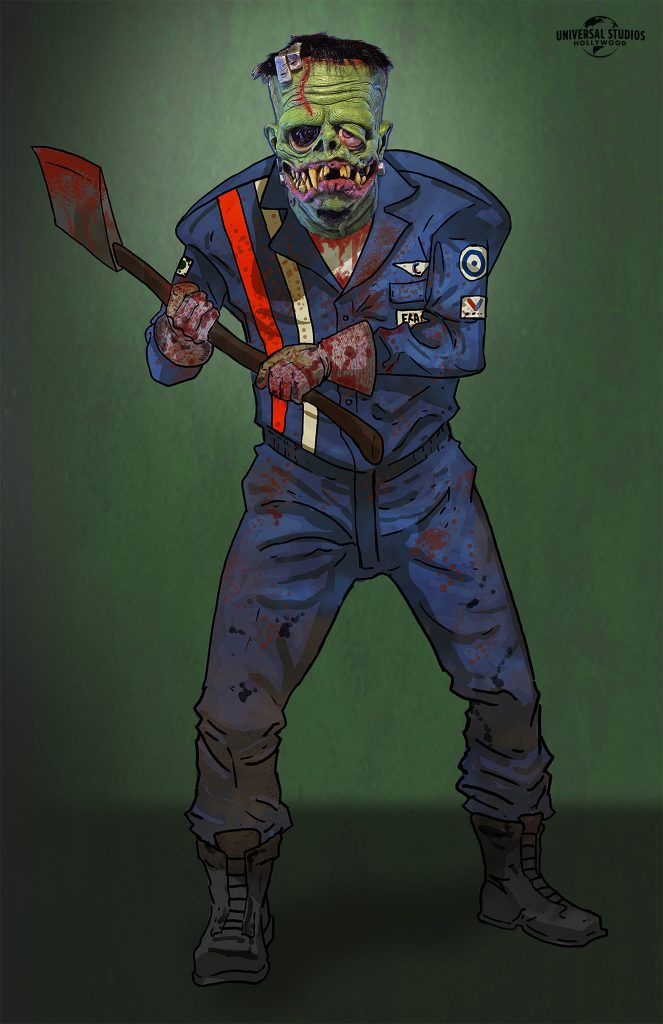 Toxxxic Tunnel
Yes, if you wish to experience the mazes on our Metro Lots, you'll have to get through the tunnel once again. This time, the warped and cartoonish members of a demonic custom car club have taken over, and they don't plan on letting you get very far on foot.
I get a very huge "Rat Fink" feel from the art work. If you're not a child of the 70's or 80's, then let me educate you on Rat Fink. Rat Fink was a series of drawings, centering around a character shaped like a weird rat…kind of an anti-Mickey Mouse.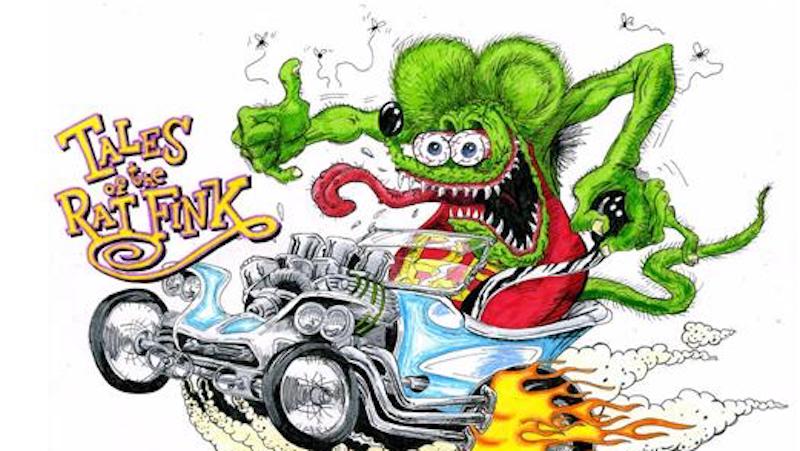 There were other characters as well, all of which were riding on "Hot Rod" cars. The bulging eyes, goofy bad teeth and exaggerated lips and tongue seem directly inspired by the Weirdos and the cartoons and car models that they inspired. They're all amazingly fun and with this "custom car club", it's definitely a homage of sorts.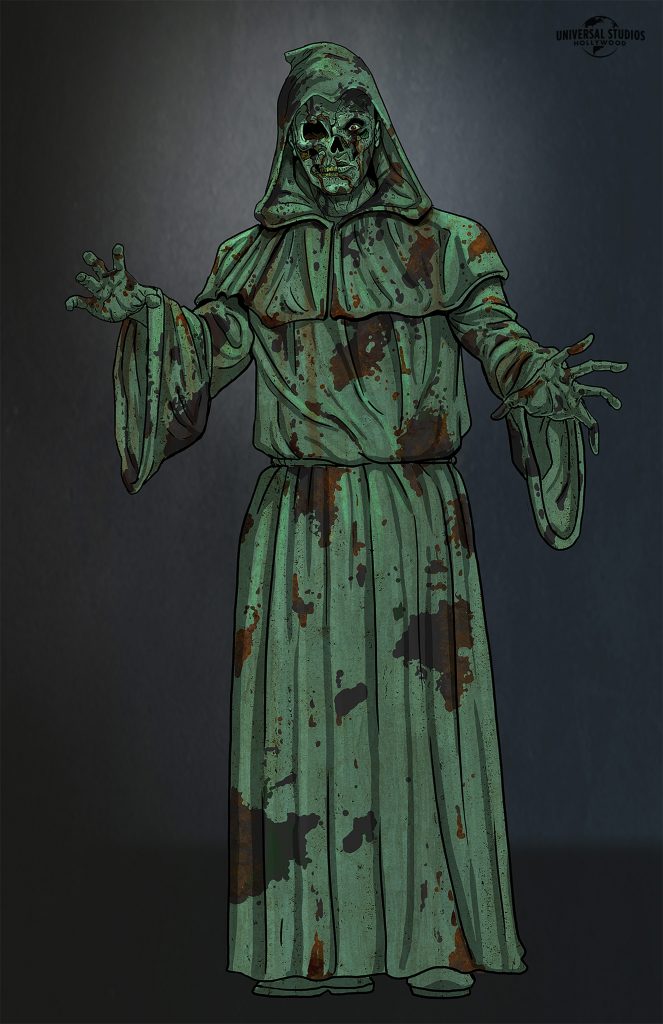 Fallen Angelz
Explore crypts packed with restless ghouls and escape angry skeletons that have taken over Main Street. If you think the aged statues are creepy, wait until you encounter the wraith who will be literally watching over you. You can also spread your own demonic wings while you're here, but be sure not to antagonize the Angel of Death.
While not the "Angels" that you might have been expecting, this definitely fits the aesthetic of the event. Decayed angel statues, and the Angel of Death overlooking everything is going to make for some great character moments in the scare zone.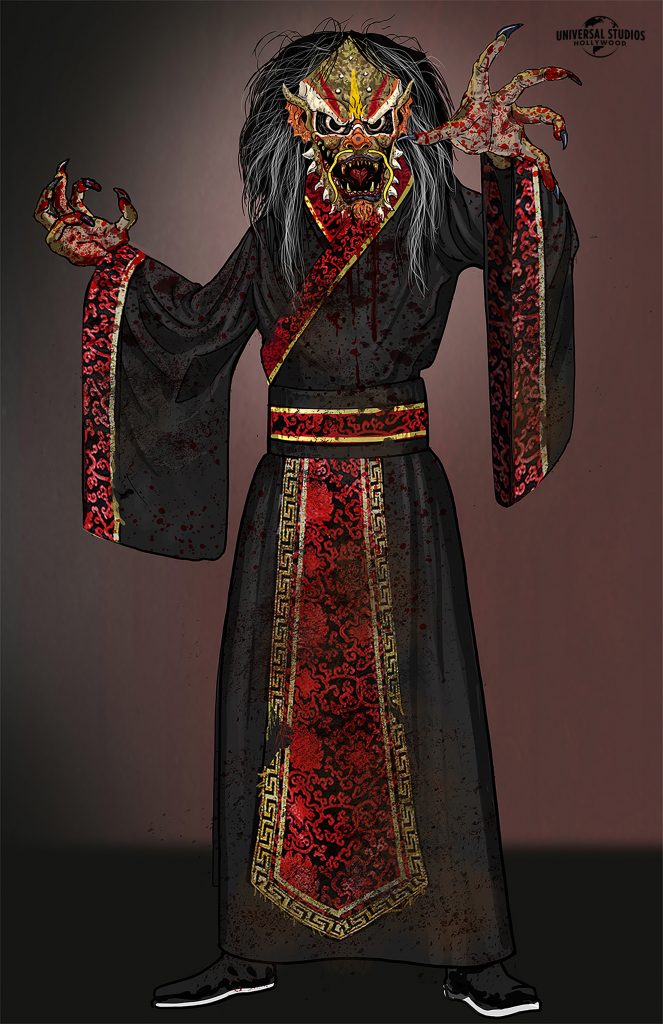 Spirits and Demons of the East
Sacred antiquities have just been shipped over from the Far East, and they didn't come alone. Many of these artifacts were stolen from ancient temples and carry angry spirits with them. Now the spirits roam New York Street, looking to exact vengeance on anyone who would dare steal such sacred relics. Be careful out there, these powerful demons can look like anything – even innocent school children.
This is a culture rich scare zone, as it will incorporate a lot of real legends that haunt the country sides and temples of Asia. This feels like it's going to be the sleeper hit of the event, with very detailed costumes and hopefully music and architecture to go along with it. Some of the greatest legends are the stuff of nightmares and have even stretched over to the states. We can't wait to see what Yokai and Mononoke the creative minds at HHN Hollywood bring to life.
The event starts on September 13th, and runs select nights until November 2nd. If you're wanting to get a jump start on the terror, there will be a special Fan Event on September 12th, with limited admission sold!
Stay tuned for more from Halloween Horror Nights, and be sure to get social with us on Facebook and follow along with us on Twitter @BehindThrills for the latest updates!
For our latest theme park videos please be sure to subscribe to us on YouTube!
For more information about HHN, including tickets, visit the official website by clicking here!