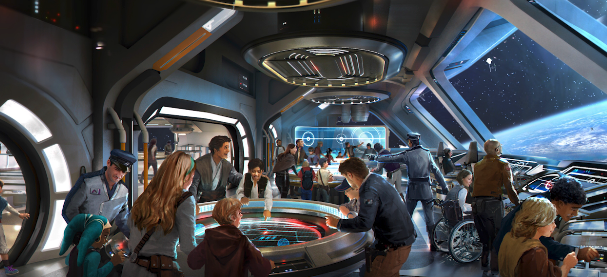 Star Wars Galactic Starcruiser. That's a massive new name. And it kind of has to be a massive name, doesn't it? The new Star Wars Hotel is going to be a "cruise to space". It will take guests away from the reality of a theme park vacation, and have them embark on an adventure.
At the D23 Expo, we got a first look at not only more details but also what the hotel should look like, or what Disney hopes you think it will look like. We got up close and personal with the model of the new hotel.
Video-Check out a look at the model for Star Wars Galactic Starcruiser Hotel
Okay, it looks really cool. But what will it actually be like? Well, the hotel will be a destination, with guests taking a trip that will last two days and two nights. It will be just like leaving on a cruise ship, in that everyone will board the hotel at once, and everyone will come back at once.
Want more details? Check out the full Star Wars Hotel panel below.
It sounds like an amazing idea for a hotel, and definitely a way to keep you on property for a few days. We are very curious on how the actual park trips will go, and if that's something that Disney has factored into the visit. Also, while the idea of going on a "space cruise" sounds great, the reality is that you're in a hotel in Florida. Things happen. What if you have to leave, need to go to the hospital, or forget something in your car? Will the Disney Magic be extended for those scenarios as well?
Let us know what you think.
Stay tuned for more from Disney, and be sure to get social with us on Facebook and follow along with us on Twitter @BehindThrills for the latest updates!
For our latest theme park videos please be sure to subscribe to us on YouTube!
For more information about Walt Disney World, including tickets, visit the official website by clicking here!