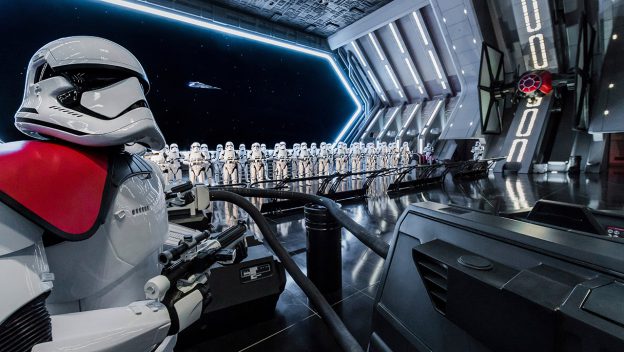 Today, Walt Disney World released their first look inside the all new Rise of the Resistance. This concept art shows…wait…hold on.
Okay, this carefully detailed promo photo shows what we might be able to expect the inside of the new attraction to look like. The Disney Parks Blog also released this official synopsis:
Star Wars: Rise of the Resistance will be one of the most ambitious, advanced and immersive experiences ever undertaken by Walt Disney Imagineering. The attraction is also one of the largest Disney has ever created. Its massive show building is a world unto itself, housing two full-size AT-AT walkers and a Star Destroyer hangar bay – complete with a TIE fighter and a garrison of Stormtroopers – plus more thrills and surprises.
Okay, that's a great write up. But there's no way that it could actually LOOK like that, or be that amazing. Right?!?
Today also happened to be media day for Galaxy's Edge, and they actually gave the groups there a tour of the new attraction, well at least part of it. And what did they say?
Not much. I asked a few friends that were there, and they all seemed annoyed to talk to me about it, directing me instead to their Facebook and social media posts. All of which said the same thing. "UH WOW!". Hey that's great, but it doesn't really paint a picture of what we can expect, now does it. I'm glad you liked it, but let's get real. What was it really like, and what can we expect? For real?
Luckily, Theme Park Insider not only got a great look inside, but Robert from TPI also had a great interview with Imagineers about the attraction. Jump over to Theme Park Insider for a video interview, and a lot more detail. But essentially, that picture above? That's not doctored in any way. That's what they saw, that's what we will see when we ride. That's a full scale Star Destroyer hangar. We've been hearing that you will see a row of First Order Stormtroopers, and as you can see…you do! That picture is EXACTLY HOW IT IS! That's pretty damn amazing.
SPOILERS AHEAD
The ride will have multiple ride systems. Just as we heard in rumors, you will get off the ride, only to get back on at a later date. You'll start outside in a Resistance Camp, and you'll board the first ride system, which is like a stand up tram. You'll get captured by the first order, you'll see Kylo. There will be another ride vehicle, like the one that you see in the D23 footage from the weekend.
Without going into details, that ride vehicle is the trackless system. That trackless system somehow ends up on a motion base like Star Tours, which will have a drop somewhere in there.
I'm going to wait until I actually ride the ride to declare if it "raises the bar", but it certainly seems to aim for it quite hard, and I'm now definitely excited for this ride, and Galaxy's Edge.
While Bob Chapek was taking digs at Universal by saying "we don't judge an attractions success by a 10 hour wait", what he should be hoping for is bringing in new guests. That's the success. True, a ride can have a ten hour wait and not bring in new guests, or you can open a brand new land, black out all your passholders and have no guests. Neither one does the park any good. The goal is to bring in new guests with innovative and immersive attractions, and from the early buzz we get, we could see that actually happen with Rise of the Resistance.
The attraction will open December 5th at Walt Disney World and in January at Disneyland.
Again, check out Theme Park Insider for a full, more detailed (and better) write up about Rise of the Resistance.
Stay tuned for more from Disney, and be sure to get social with us on Facebook and follow along with us on Twitter @BehindThrills for the latest updates!
For our latest theme park videos please be sure to subscribe to us on YouTube!
For more information about Walt Disney World, including tickets, visit the official website by clicking here!